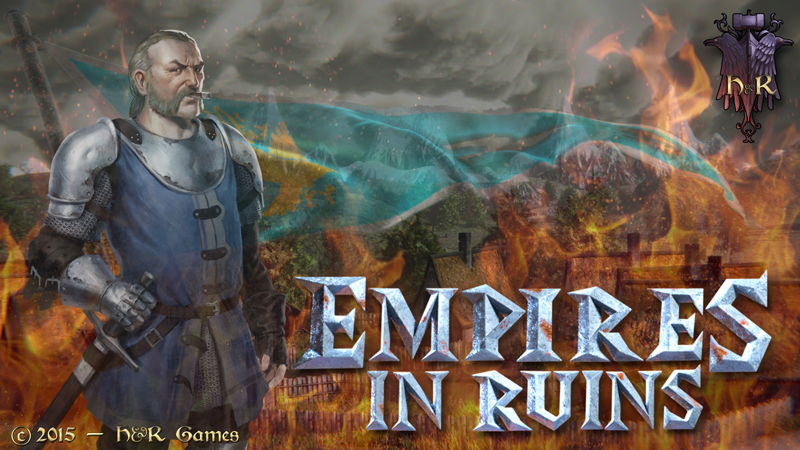 Dear friends and followers of Empires in Ruins,
After a month's time, our Kickstarter campaign has come to an end. First things first; our heartfelt thanks to each and every one of our supporters and backers. It was your comments and eagerness to spread the news about Empires in Ruins that kept us going! Although we ultimately were not able to reach the campaign's goal, we are still very thankful of what the experience taught us.
This was our first crowdfunding campaign and we were pretty much experimenting with the platform. We were not aware or all the minute details and content that would be necessary to successfully run it, when at the same time we were knees deep developing new features for Empires in Ruins.
But we still feel content! In these 30 days the campaign lasted, Empires in Ruins received the attention we believed it deserved.
We made a lot of new fans and most of them got back to us with feedback, suggestions, and ideas about how the game should grow. We found ourselves making changes to our approach even before the Kickstarter campaign ended: our videos got a serious level up and we became more involved with the communities of the indie scene, striking up some great conversations with other developers and Tower Defense aficionados. We also managed to get a lot of attention from the IndieDB crowd, where Empires in Ruins has been in the top-100 games for the past two weeks.
And all that… was simply amazing!
We will offer again to our fans a chance to become heroes of EiR, Kickstarter or not
So, what's next?
Well, only time will tell whether we'll run another Kickstarter campaign in the future or not. For the time being, we decided to take advantage of the calm after the storm and use this
time to re-focus on the game. Our work is far from over, and to be quite honest, we are so happy of all the attention Empires in Ruins received this past month, we feel we have a lot to
give back to our fans!
So, what follows is another month of hard work for us. What we're aiming for is:
A new playable demo
New gameplay and lore videos
Less placeholders and more original in-game assets
New music and sound
A brand new website
More concept art to better display the setting and plot of the game
We also already started preparing a very long and very detailed report on the whole campaign and we will post it here soon.We well tell you what failed and what succeeded, which websites provided the highest flow of backers and which magazines reacted more friendly to us approaching them. We think and hope all of that will help others to avoid some "stupid" and less stupid mistakes that we made this time!
How can you help?
That's the easy part! The only thing we need from you is to stay awesome. Since we crave for your feedback, we will need your opinion on all the updates we implement. You can stay tuned by following us on Facebook, Twitter and Steam or subscribe to our newsletter so we can keep you in the loop.
If you feel more creative and adventurous, there's another way you can help us. To speed up the development of Empires in Ruins, we will need a few more hands on deck. Right now, there's only two of us. If you, or any of your friends, feel like helping us out with either UI graphics or sound design – while learning a thing or two about making games – drop us a line!
Now, time to go back to creating amazing content for Empires in Ruins

Stay tuned!
Emiliano & George
The GHULL'arts artisans are still at work on the resin models of EiR's towers and we will definitely
find a way to use them. 27 cm tall and hand sculpted the towers will be a little unique promotional
jewel for our future campaigns.