Empires in Ruins is a Turn based strategy/Tower defense/Empire management hybrid, with a black humour infused plot, set in a grim, disillusioned world.
Empires in Ruins on Kickstarter : Kickstarter.com
Empires in Ruins on Steam Greenlight : Steamcommunity.com
We are now live on Kickstarter and Steam Greenlight, vote for us indies, give us some love!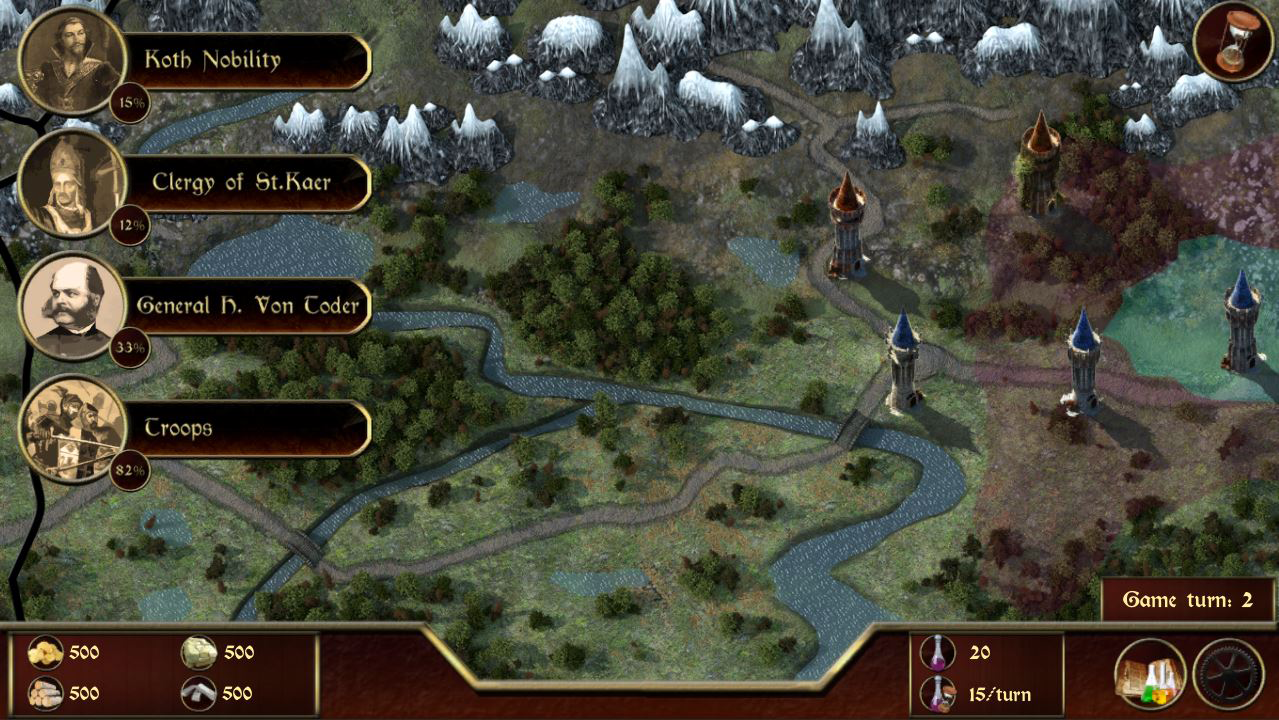 Empires in Ruins gameplay mechanics revolve around two main components: the main map (turn based strategy and empire management) and the combat map (real time tower defense).
Decision-based evolving plot.
Conquer regions, fortify them and improve their productivity. Defend them from the internal rebellion and from the enemy in fast paced strategic Tower Defense maps.
More than 20 well specialized towers with unique special abilities (Flaming arrows, Caltrops, Dog Kennels, Harpoons, Throwing nets, Critical attack, etc..).
Towers experience based ranking (levels) and multiple upgrades options
Non-combat buildings (Lumberjack, Mine, Quarry, Builders tent, Barracks, etc).
Enemy Sappers open new paths in the map during the game. Ground, water, air, amphibian, and special secret paths for incoming enemies.
25 unique maps each with special unique events.
Advanced Scout-based recon system.
Advanced construction system with workers, construction sites and construction times.
More than 100 specialized technologies to research and unlock
Hire Heroes to command your towers and Governors to rule your regions. Beware of betrayals.
Two bands for a unique game soundtrack: Red Dew Hellpipes (Folk Metal) and Tribauta (Traditional Celtic Music)
You are Hans Heimer, the grumpiest, unruliest Sergeant of the Koth Army, sent on a punishment assignment: taming the rebellion that is raising in the Western Marches of the Principality of Koth. But as everything in the world of Empires in Ruins, every stinky rotting horse crap is covered by a plating of fake gold. If Sgt. Heimer thought that the mission was awful, it is only because he didn't see the rest of it yet.
Is it gonna be more than what the grumpy Heimer can chew or did someone just screw with the wrong Sergeant?