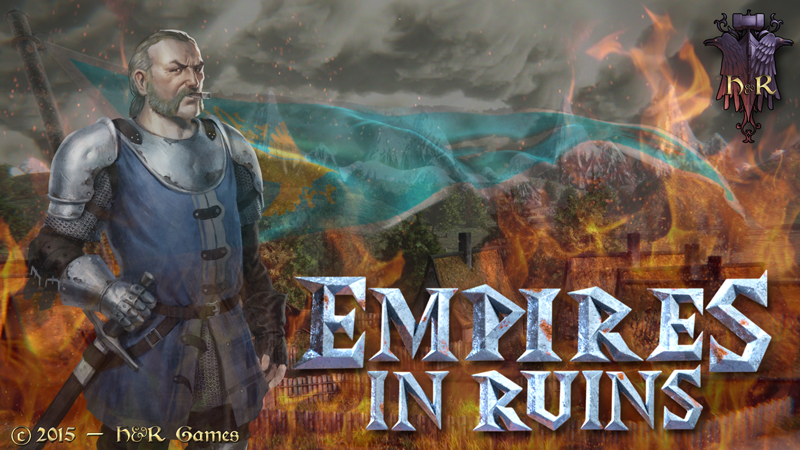 Empires in Ruins now celebrates its third year of life since the first time it was born in Emiliano's and George's mind as the remote idea of making a game together.
How did it begin? Well, that might sound interesting, the first idea was a Motorcycle Club Simulator, then during the brainstorming process it became somehow a fantasy based tower defense. It was our first attempt at making a game together, and in the beginning much (if not most) was about learning. Learning game design, Unity3d, assets creation, teamwork, etc etc.
The first version of Empires in Ruins was in 3d. We moved quite further with the development in the first months (of course with the euforic energy of the novelty, i.e. with not a single line of GDD, and not a clue on where we really wanted to go with the game).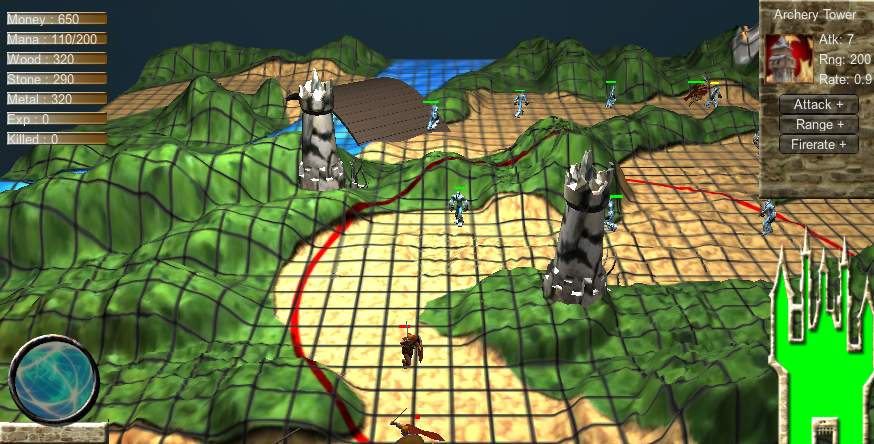 A view of one of the last upgrades of EiR in 3D
Then slowly, when the first enemy units were already walking and dying down our 3d paths, the towers could be built and sold, we both got very busy on other projects and we had to put the project in hold for a couple of months. When we went back to it, in the beginning of 2014, we made some considerations:
1) Making a competitive 3D game for a 2-man team of gamedev beginners was madness.
2) Was 3d any useful for the gameplay? Did that additional rotation and movement freedom give any real benefit to gameplay? In truth not.
Exactly at that time unity came out with the new 2D toolkit, so it was definitely a sign that a change was due.
We then decided for pre-rendered sprites out of 3d models made by George and to give the whole game a perspective-non perspective look (an ortographic topdown with 60 degrees camera angle to have a better view of buildings and units look).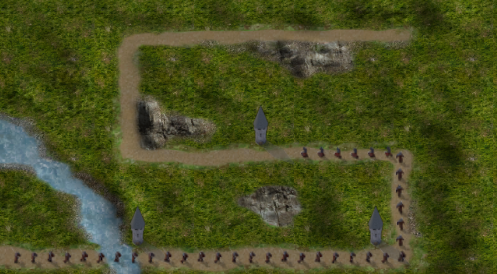 The very first screen of EiR in 2D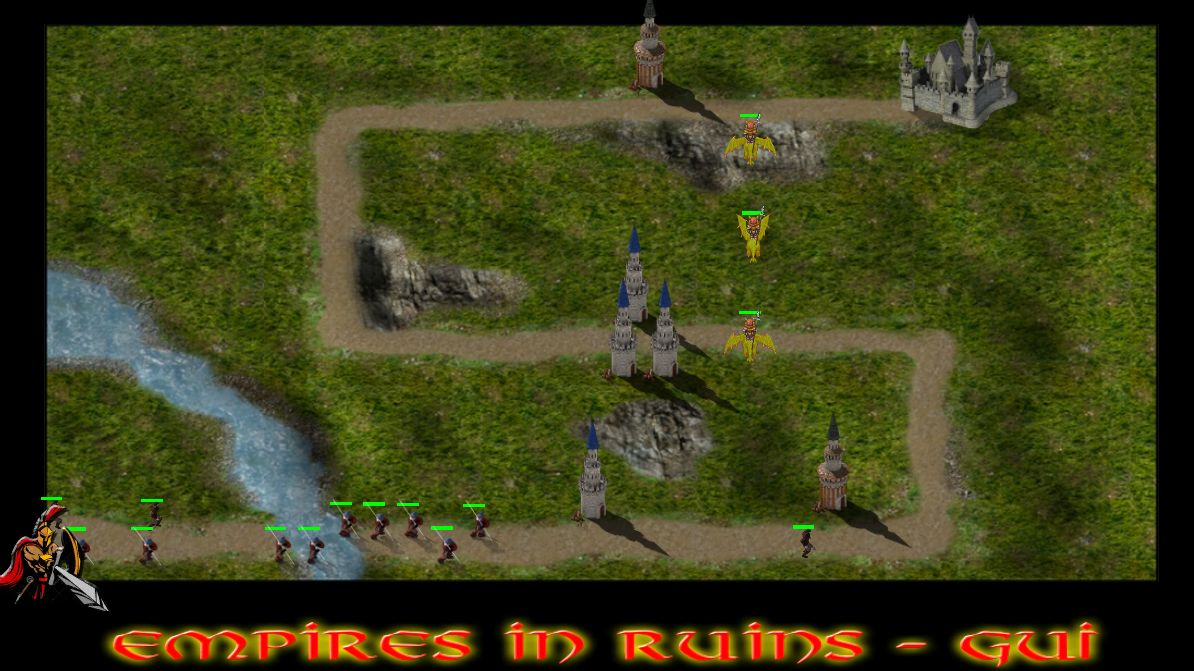 The first semi-working version of EiR in 2D
While working on the TD engine, paying a huge amount of attention to every single detail (only to make the faked perspective trajectory of the arrows looking as nicely as we wanted, Emiliano (notoriously a details freak) spent something like 16 hours on it to fine tune it), we began designing a crazy thought we had: Tower Defense games almost always follow a straight "one-map-after-another" pattern. What if we changed that? What if we used TD maps to fight battles on a strategic map that had the player manage and tame the conquered provinces to avoid losing them again to rebellion or to the enemy?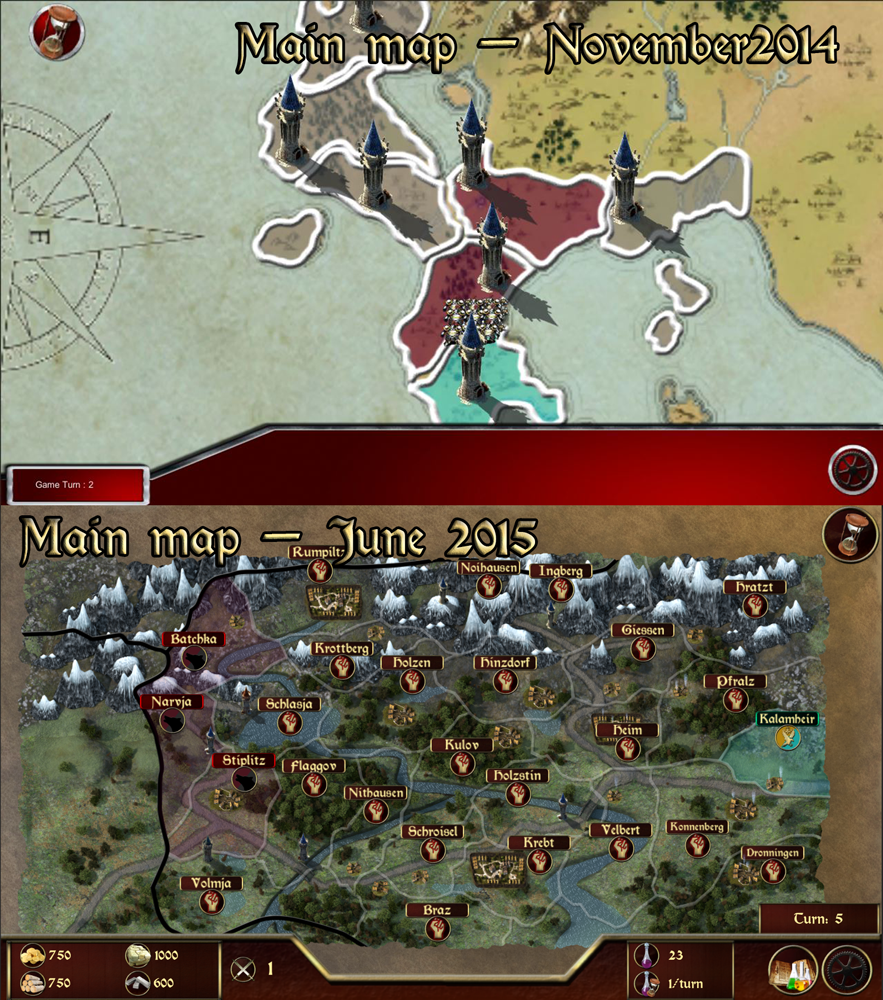 The first version of the main map and the current one
And that's what happened. Such a structure needed a story, and a story need a main character. We didn't want a hero, we wanted a failure of a man to lead the plot, but with at least some interesting features that would have made him attractive and somehow familiar to the player.
And Sgt.Heimer was born. Half-drunk, ill-mannered, unruly, and sent in a punishment assignment to tame the rebellious provinces in the Western Marchers of the principality. To say that we created for the game would be wrong, Emiliano has been writing a Fantasy book as a hobby for a few years, and that's where the whole setting comes from. The game takes place 25 years before the book, with a much younger but already pissed-off Sergeant Hans Heimer (That in the book is otherwise a marginal aged character).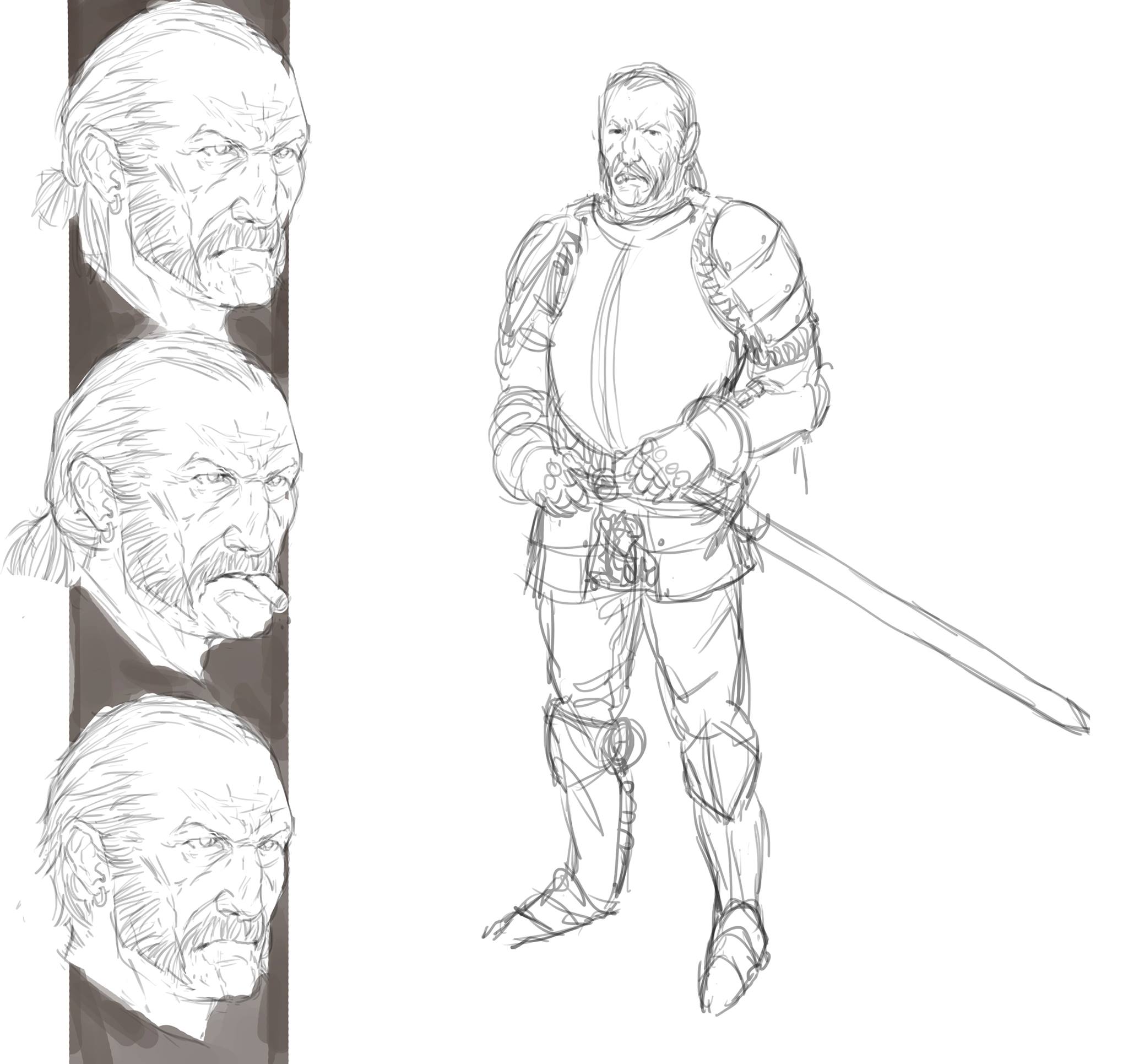 First sketching of Heimer by our illustrator Giacomo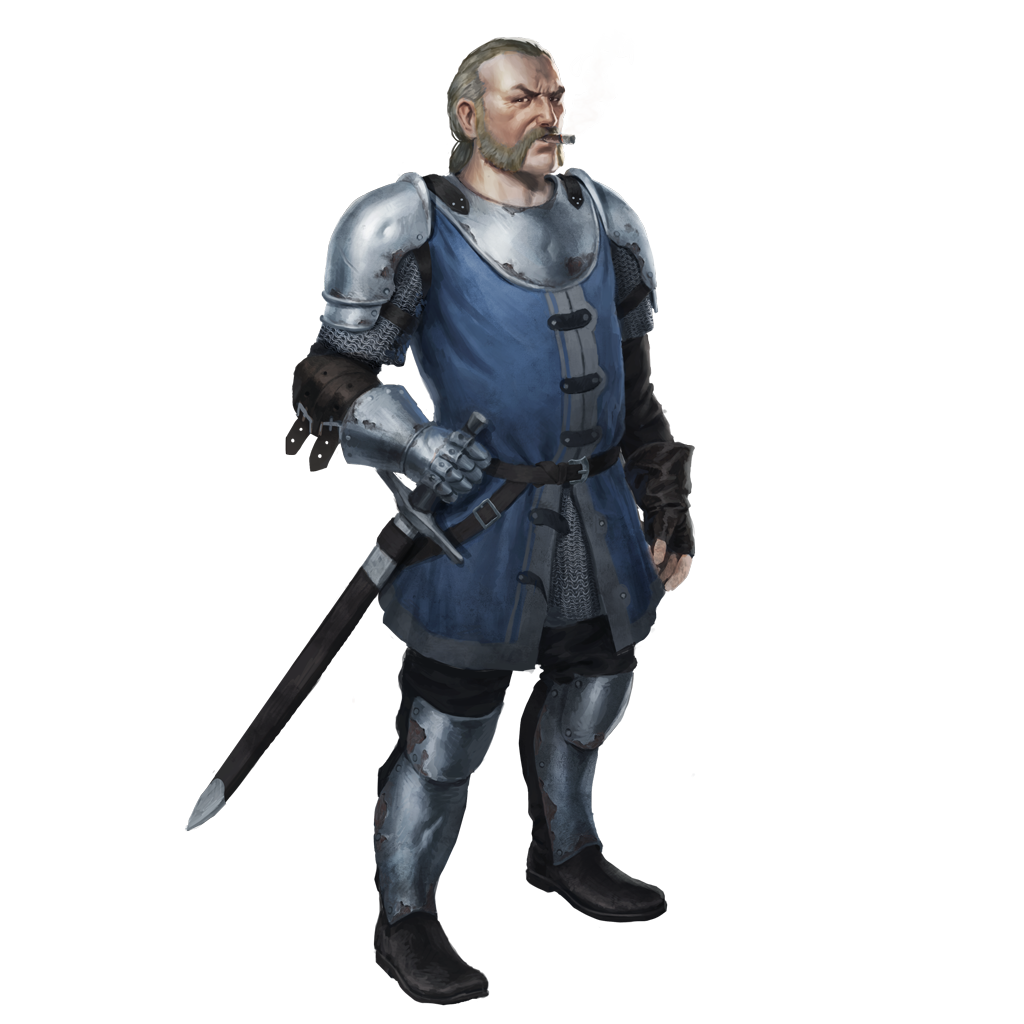 The latest conceptart about Heimer, by Giacomo
From there on we keep evolving and developing. The game still needs a lot of work, but we are now integrating some new members in the team in order to speed up the production without losing quality.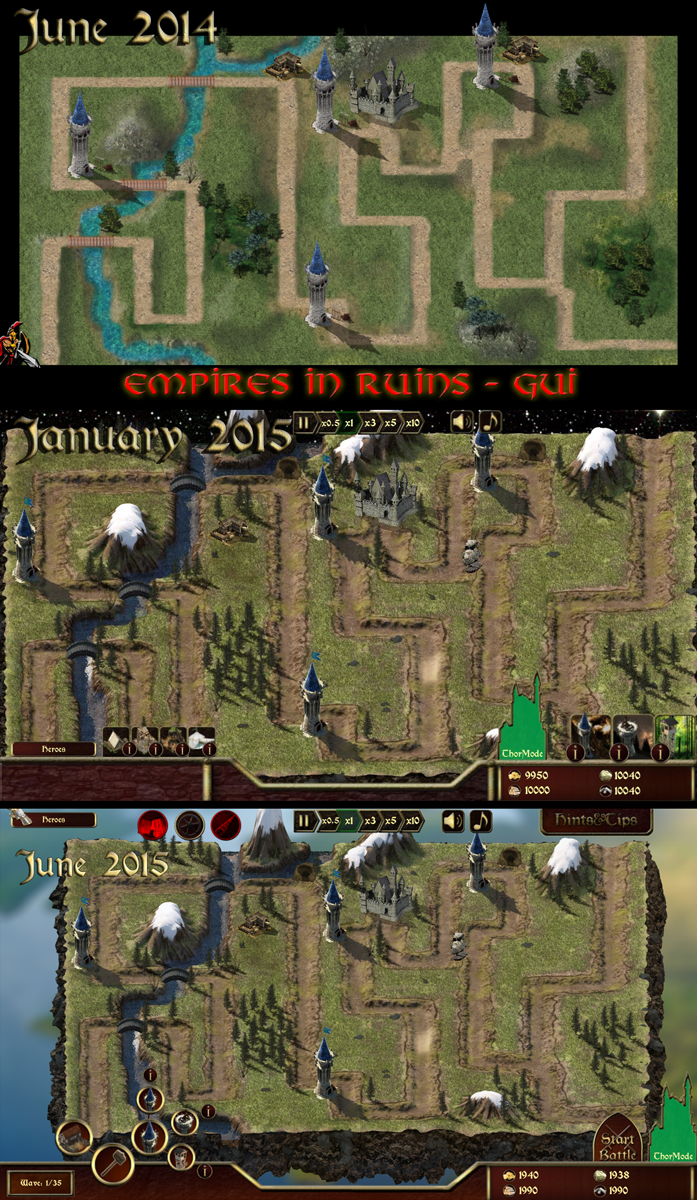 A three steps evolution of the combat map look and UI in one year of hard work.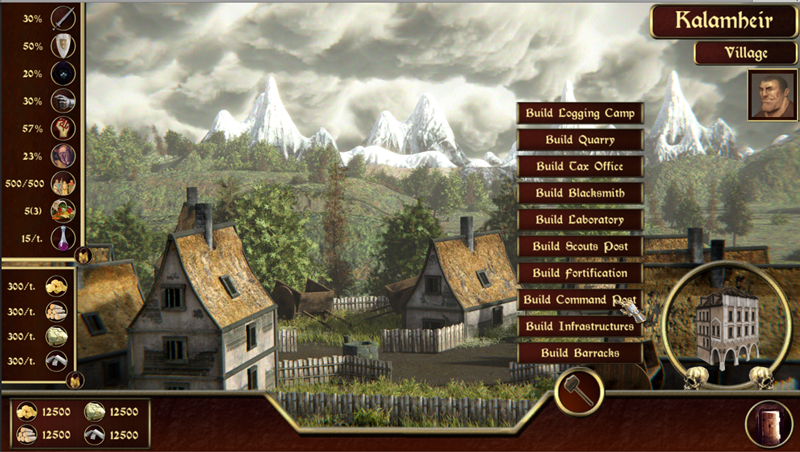 A current view of the Village provinces control screen WIP
A current view of the Town provinces control screen WIP
You can even already vote for it on Steam Greenlight, and our aim is to get it ready and public by december 2015.
(I want to point out, that this deadline comes second after the quality of the product. There is no point in publishing quickly something incomplete or faulty, so if need for more time arises, we will take more time. Quality and features are something that we will NEVER EVER sacrifice.)
Cheers!
Emiliano, H&R