Google Play Download:

PC/Mac/Linux Download:
Play Embersol: Mercenaries
This update focused primarily on pilot upgrades. Before there was only one type of main weapon, alt weapon, and ship type. There are now over 20 different combinations of ships that can support different play styles. If you like fighting up close try using the Minotaur ship with thermal lance and proximity mines. Or you can hang back and let your drones do the work with the assault drone alt weapon.
Future Plans.
At this point the game is at a minimal feature release. Pretty much every aspect of the game is complete with at least a basic implementation. Rogue like pilots, a few different and upgradeable ships and weapons, global territories map, versus and co-op missions, public/private squads, and global/squad chat.
Before starting on expanding the game with new weapons/ships and missions I'll be working on bringing the game to more platforms. So game-pad support is at the top of the list now with releases to some of the major android micro-consoles. Once that is complete I'll be working on bringing the game to the iPad using RoboVM which integrates with the underlying libGDX library.
Screenshots:
Battle capital ships with fearsome weaponry.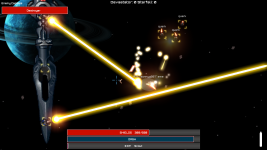 Then glass them with your own nukes!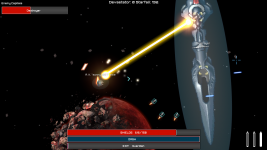 Setting a trap with the new proximity mines.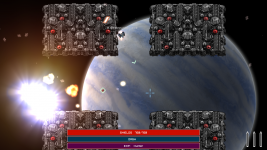 Duel drones and other players for control of the system.