It's been awhile since the last post but I just wanted to give an update on how the MMO features are coming along. There's a ton of new systems that I'm excited about and I'll do a quick breakdown of some of the new features in this post.
Procedural Universe
Embersol Mercenaries is now truly a part of a persistent universe. You no longer start the game in a menu or spin up individual missions that disappear after you finish. Players start the game in the home social system currently called Outpost Delta, a sort of jumping off point in your travels. Here you'll have access to personnel hire boards, a research tree, and markets for both your flagship and mercenary pilots. Other players will appear here and you can fly around, chat, or recruit for your squad. Your flagship has access to an FTL drive that will take you to the galaxy map.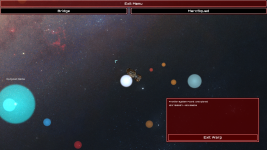 Galaxy Map just outside Outpost Delta
Galaxy Map
Once in the galaxy map you can explore the local section of the galaxy. Most of it is unexplored and star systems will be procedurally generated once you warp into them. Currently, local random players will appear here so you can exit warp and help them out. I'll be adding in support to locate your squadmates before the first release. For future releases I'll be looking to add player and squad generated distress beacons, random events, and PVP conquest zones.
Mercenary Pilots
Pilots are hired at Outpost Delta and will be your main assets in taking out enemy fighters and destroying asteroids for resources. They'll still gain experience to purchase more powerful weapons and ships but it's perma-death for pilots that get taken out.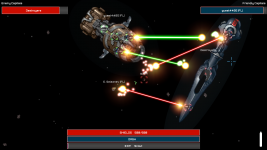 Research energy weapons for your flagship
Flagship
Probably the coolest feature I've been working on! Your identity is no longer tied to mercenary pilots but to your flagship. There's research paths to upgrade the flagship type, new turrets and utility subsystems. You can set it to defend a point or have it follow your active pilot and really start breaking things. In order to support a story line your flagship can not be permanently destroyed. If it takes enough damage it'll make an emergency jump make to Outpost Delta, leaving any active pilots behind. You can also initiate an emergency jump yourself if things look tight although it might mean losing a pilot.
There's still a few more weeks of polish and work left to do but most of the main features are in place. I'll be posting at least weekly on some of the other new features I didn't get a chance to post here or if there's anything you'd like to know more about in detail drop me a line. Embersol Mercenaries was always about bringing a few things together: fast paced action and cross platform multiplayer all on a mobile platform. I'm shooting to have the new PC/Mac/Linux and Android builds out by the end of the month.