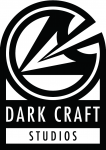 Dark Craft Studios has been around for almost a decade. It was conceptualized during my golden era of gaming interest, and when the realization that following my English dream could be difficult given my niche -- weird fiction, as they call it, -- I created my first modification, The Worry of Newport off the tail end of juggling a few options for what exactly I could do next. Seven months I completed it, having learned Cryengine 2, applied my best written ability (at the time) and used a detailed minds eye to conceptualizing the atmosphere of the story. A few talents joined my team, a name was given to 'us', and Dark Craft Studios was born on the backs of that release.
For my stories and their structures I like to tap into my generally melancholy perspective on things, which first reared its head in my childhood -- due to its inextricable plague of night terrors. These nightly experiences, whose contents aimed well higher than my age bracket of reference knowledge, laid the foundation for the sense of dread and solemnity in my modifications that was first established in dream.
Worry of Newport was a more personal story than Triptych, relating to a lot of interpersonal experiences and tragic events that befell me in time. Triptych, however, is an entirely different creature. The story takes stark roots in my fascination with the occult, pessimistic philosophy, and our inexorable march towards death. From anyone who has played it by now, the story deals with the summoning of a god, the betrayal by two kindred brothers, and the dissolution of morality.
I have established a personal, and cerebral rung on the ladder upwards. What follows next after Triptych is anyone's guess, but a story (or two) are bouncing around our shared folders and eventually something will be settled. The horror, therein, lies in the unknown future. As our years up to now are traced before, it can be seen no profit or true fanfare has followed us. Off the backs of a kickstarter, funding would fail. There's virtually no one "in" this studio, beyond Ian Wiese, myself, and the talented voice acting cast. So that means that development would solely be done by myself, one person, so funding it ourselves is out of the question.
And so, we've settled to audition for a few investors to help realize a future Steam title for you. To whomever this may excite, I will say that it is not a prequel or sequel to any of our prior works, but certainly exists in the same universe. And, yes -- The Newport Mythos as we call them -- are shared between Triptych and Worry of Newport. There's threads and clues between them, and in our hopefully upcoming retail release, it will be in the same fashion.
All future endeavors will be done in Cryengine V. We're in the process of creating a demo for our audition title, and if it's successful, we'll be sure to polish it up and release it as a demonstration for the public to generate interest. Anything more than that comes from this, and we'll have to ramp up our social media so you can follow us.
I know that I announced plans for a Triptych 1.2 update. However, given the general lack of feedback and low volume of downloads we've gathered, we've decided that our best interest is in to move forward with a future project and not stretch out Triptych when no one is even asking for an update yet. As it stands, until the indeterminate future, the latest updated patch for Triptych will be the last one. It is entirely playable from start to finish.
I'd like to thank everyone for supporting us for so many years to Triptych's completion. We're glad to say we completed it, and that those who anticipated it are free to enjoy it. It has been an honor. And now, we look forwards.