Yes finally im working with it again. I am adding things i wanted to add when i launched the mod.
What i did (June 2009):
- Random weapons spawners.
Now you can play Doom 1 and Doom 2 without typing any cheats to get all weapons. Now every time you play Doom1/2, default weapons will be replaced by the ones of EDD? and each time you play again it will be different . Example: You can play and get chainsaw and then you play again and you see other weapon in the same place.
Items too.
-New HUD
Based on the original. I want to replace this bloodbag with the original one that is better.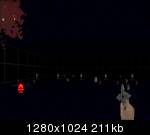 More blood splats, EDD original font and more things i want to add.