Edain Mod Version 3.4 Released On Mod-DB!

Greetings, companions of Edain!
We are proud to present to you the latest version 3.4 of the Edain Mod.
During the creation of this version, we had two goals in mind. not only implemented a wide range of new features, but also sought to adress several points of criticism frequently brought up by the community. As a result, many gameplay aspects have been carefully adjusted to make for an overall much smoother experience, ranging from improved balancing to a far more challenging AI which makes use of all new spells and fields vastly more powerful armies.
The most prominent among the new features is the promotion of Boromir to a possible Ring Hero for Gondor. This seemed only logical to us, as Boromir was among the most vulnerable to the lure of the Master Ring.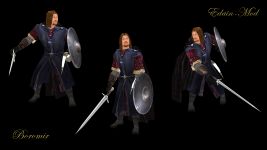 Once Boromir has received the Ring, the player may decide whether he delivers it to his father Denethor or if Boromir himself will give in to the temptation of using it against the enemy. The Captain of Gondor will then use Sauron's weapon to try and make his vision of reviving the ancient glory of Numenor in Gondor a reality. Under Boromir's influence, the faction of Gondor gains huge military advantages, but those come at a price...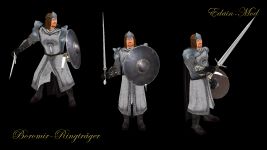 Alternatively, the rightful king, Elessar Telcontar, is able to reunite his kingdom through his return. If Aragorn reaches Rank 10, he is crowned king. As a consequence, the fiefdom units usually only accessible at the Inn will move to the barracks, archery range and stables of Gondor to symbolize the loyalty of all parts of the kingdom to their sovereign. With Aragorn king, Boromir will no longer be allowed to take the Ring for himself or his father.
Another area of improvement have been the three dwarven realms, Iron Hills, Erebor, and Ered Luin, which have been greatly enhanced with new baracks, completely new unit models and new special units like the Iron Hills rune smith to achieve greater diversity between them.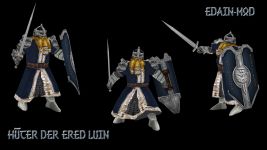 The Dwarven mountain fortress which has been introduced in the previous version has also been a point of criticism from many fans, so we have done a lot of work on making the stone segments fit together more seamlessly and correcting the mountain's fade-out behaviour so that it no longer obstructs the player's view. All in all, the Dwarven faction should now be much more comfortable and exciting to play.
Another aspect that has received special attention has been the Inn unit lineup of several factions. While Edain has already added a lot of content to the Inn, we felt that some factions were still lacking in this area. To remedy this, Imladris now is able to recruit Guardians of Lindon, a swift unit with a sword/bow toggle.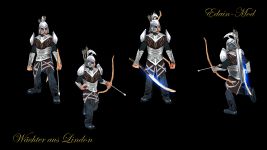 With Lothlorien you may summon the mystical winegrowers and druids from the distant Dorwinion to enhance your economy and support your troops.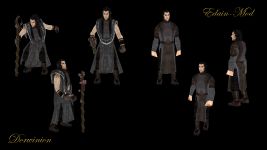 A change that affects all factions are the completely overhauled blue wizards. Alatar and Pallando both received new models and reworked, more powerful abilities to make them a more prominent and useful part of the Edain Mod.
Lastly, we made many cosmetic changes to bring the mod's visual style even closer to the movies. For example, Gandalf has received a new model and now sports a cape like he did in the movies, while Aragorn received a movie-like Anduril blade instead of a blue glow when the respective spell is purchased.
Other heroes and units that have been visually enhanced include Saruman, Glorfindel's Ringbearer form, Grimbeorn the Old and the Castellans of Dol Guldur.
These and many more new features await you in version 3.4 of the Edain Mod. Have fun!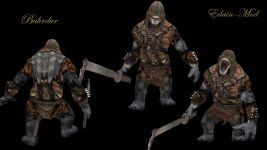 Note: The 3.4 is still only available in german!