Greetings, companions of Edain!
Today we are going to to show you changes we've made to some of Gondor's buildings in 4.5.3. Gondor used to be the only faction without multiple choices for discounts on their settlements. We've been thinking about changing this for quite some time because it offers Gondor no choice with their economy buildings on settlements. Another issue was the Archery Range; we got a lot of feedback saying that it rarely got built and people usually focussed on Stables or more Barracks.

Therefore we decided to move Rangers back into the Archery Range, where they are going to be available at level two, and to transform the Ranger Tents into a rather special economy building.

The Ranger Tent is initially a completely normal economy building that reduces the cost of Rangers. That means it supports a different strategy for Gondor, focusing on infantry and archers instead of cavalry compared to Farms.
Instead of being able to activate a defensive tower at level three, the Ranger Tent will be a bit different. It always spawns a defensive Ranger patrolling the building and scouting the area, and with each level another Ranger gets spawned. The downside is that the Ranger Tents are more vulnerable to melee units than other buildings due to their layout.

At level two, Composite Bows become available for research. At level three, Ranger Tents are able to recruit Rangers, enabling players to recruit strong archers in various positions on the map simultaneously in the lategame.
After making several big changes to the Signal Fire lately, it will also get a completely new model in Edain 4.5.3.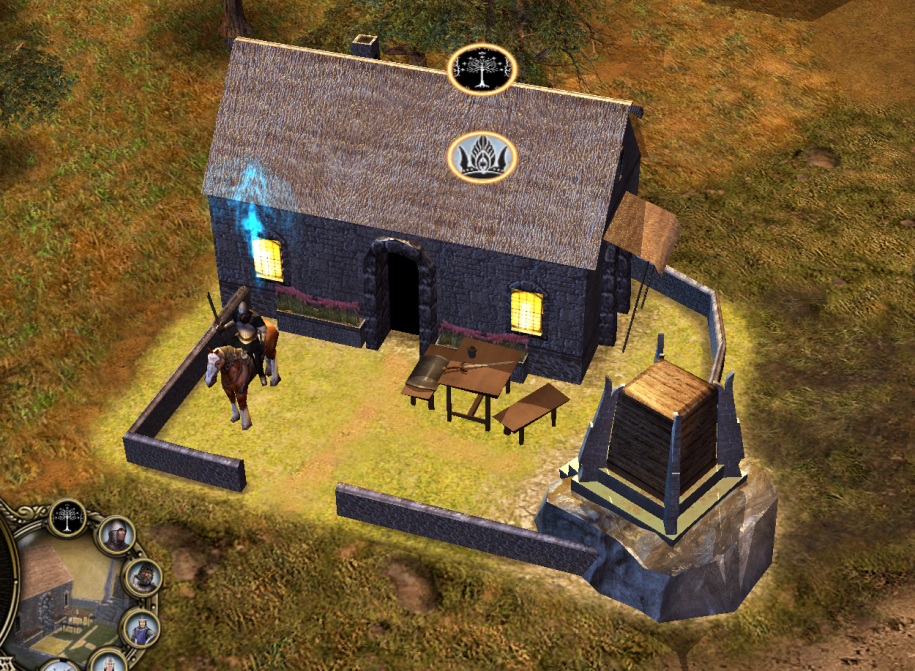 Errand Riders gather near the Signal Fire before being sent out on missions.

This Signal Fire shows a basic guard post, whose inhabitants are stationed near the actual Signal Fire and give important information to Errand Riders who are subsequently sent on their missions.

We also used the chance to finetune the mechanics of the Signal Fire. Instead of summoning units somewhere nearby, the soldiers now leave it just like any other recruitment building. This removes unnecessary klicks and makes it no longer possible to simply summon loads of units near a Signal Fire that's under attack. This streamlines the entire concept quite a bit and allowed us to buff the Signal Fires as well; Errand Riders now gather more quickly and fewer Errand Riders are needed to recruit Veterans of the Fiefdoms.
It also allows us to do some neat things in future projects.
The Farm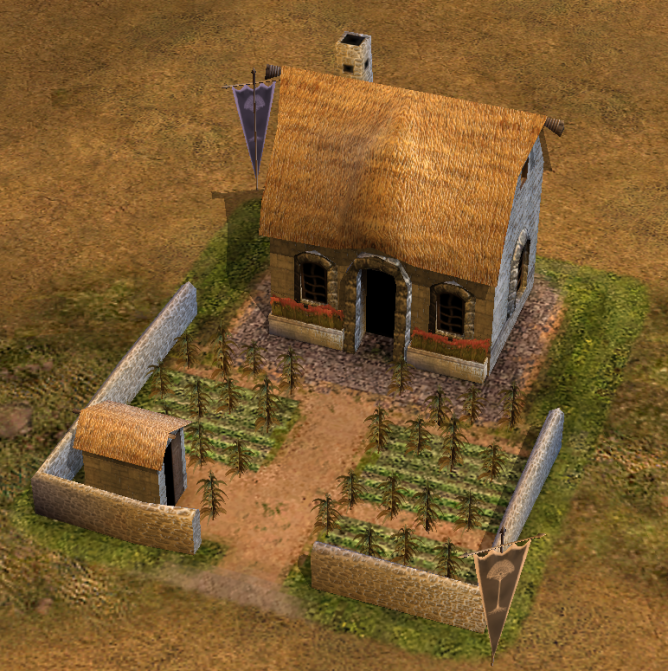 In addition to the new model for Signal Fires, Farms have also gotten some love and received a visual upgrade.

We hope you enjoyed this spotlight on Gondors buildings and we are looking forward to your feedback!
Your Edain Team