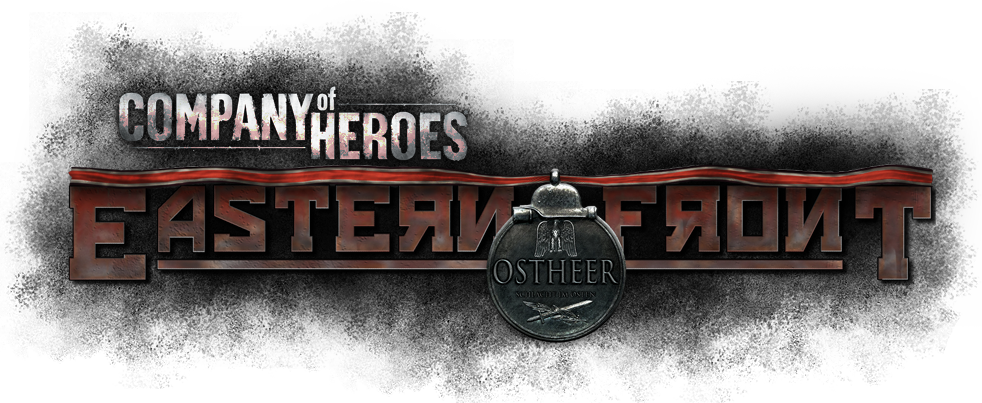 Hello comrades,
It has been a long time since the last announcement we posted. After several months of silence, yet working non-stop in the shadows, we prepare the release of the new version. A lot of things have happened so let's begin with the bad news so we save all the good stuff for the end...
Steam Greenlight
At the moment we are still working on bringing Eastern Front on Steam. So far we have some build to test, but unfortunately Eastern Front cannot run as a Steam game at the moment. Thankfully Relic is helping us with this and they have supported us during all the Greenlight process. Let's hope they bring good news to us soon :).
New Models
We are still working on some of the missing models for Ostheer and Soviets, hopefully we will have them for the Steam version. Which new models we are talking about? The new T-70, T-60, T-34/76, T-34/85, SU-85, SU-100, SU-76 and Katyusha. We have other models to fix but these ones have priority.
Now let's focus on the rest of the announcement on the good news!
Changes for this version
As we said in our previous announcement, the Soviet and Ostheer armies got several changes for balance's sake, in our internal test the gameplay was improved, so we hope you can agree with us. We decided to call this version internally the "Pre-Steam" version, because it will be the last version we release only in ModDB. As such, it is intended to be like a beta of what the Steam version will be, and you shold expect some stuff not properly finished so, please report anything odd you find so we can fix it for the Steam version. This version already works with the latest version on Steam.
The ZiS-3 field gun will be added in the Support Barracks replacing the ZiS-2, while the former will be unlocked when picking up the Propaganda Strategy Tactics Tree second upgrade in the right hand side.
The Commissar call-in was replaced by a "Commissar" upgrade. When you unlock it on your Propaganda Strategy tree, it will enable an ability that allows you to select and instantly upgrade a conscript squad into a Shtrafnie squad. This new squad gets three PPD-38 submachine guns, increasing their firepower in close combat. Regular Conscripts also got an improvement so early game combat against enemy units is better. The most easily things to spot in this new version are:
The Soviet army now has a SG-43 Goryunov as heavy machine gun and anti-blob asset. It can be recruited from the Support Barracks. Thanks to DMz for the new model!
The Mortar team also got a new mortar model, courtesy of The Soldier and DMz.
The new Mustering Tent, Armoury and Support Barracks models are completely done, thanks to Burro and Walki.
The T-34 series now have an additional upgrade: you can replace it's hull mounted machine gun with an ATO-42 flamethrower.
And for the Ostheer army, they also had several improvements, first of all some units were reallocated to another tier and some Command Tree abilities were modified. There is no medic halftrack for Ostheer (at least in this version) and the veterancy has been tweaked according to the feedback received and our internal tests as well. We have changed some infantry squad upgrades to other type of infantry units to create a better gameplay as well, in example: No more light MG 34 team, but Panzerfusiliers can now purchase these ones instead of the submachine upgrade and Landsers now use the MP40/II and at the moment they get the squad leader after they get the MP 40 upgrade(that will change for the Steam version to "when they get Seargant Promotion"); Jagers no longer get the MP 44(or StG 44 as it is known as well) or Gewehr rifles, but now they get a Mkb42(H) that is customized to do both weapon's job.
The Support Army Troops command tree received several changes: the first ability available at the left hand side is a medic kit airdrop. These will be airdropped just like paratrooper units are and you need to "capture" them before using them and they have a fixed time of use before they are depleted and "die"; they can be targeted by the enemy to avoid giving a break to some injured infantry troops or can be captured if the opponent manages to get to the landing zone first and then it will heal the enemy infantry until it is depleted or destroyed. Wespe now comes in it's own call-in at the end of the Support Army Tree, and the Luchs was removed from the Schutzen War Camp along with the Panzerjägers from the Infantry Gefechts Kommand and are now available as group call-in in the second upgrade in this very tree in the right hand side. The Ostheer Halftrack also got some visual improvements and we have a new Elefant model(which still needs to be scaled up btw), but you will see this by yourself soon. Now, we also present a small gallery of screenshots with some visible changes they got:
About the incoming models, we have some pictures of the new T-60:
Once we have more to show, I'll post them here.
Hopefully, they will be finished before we sort out everything on Steam.
At the moment we only have a full installer version, so the launcher is not going to detect it. We will add the mirrors as soon as we can.
Thanks for downloading and continue to enjoy,
Archaic Entertainment Team