Who doesn't like bonus experience and credits weekends? Be sure to mark on your calendar the first two events for this year !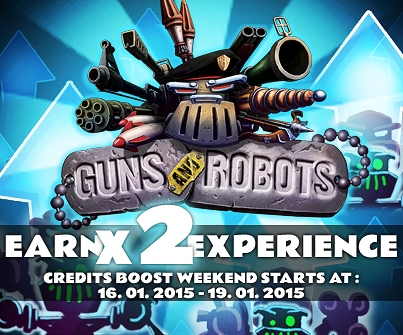 The first event that we have prepared for you is starting at 16:00 PM (GMT) Friday, .January 16th, and will be running until 08:00 AM (GMT) Monday, January 19th where players of Guns and Robots will be able to get TWICE the experience they normally acquire.
Players can enjoy the benefit of double XP event which will run for 48 hours. Using additional XP boosts will help Guns and Robots' players overall progress through the game as it will drive up their rank faster, help achieve levels faster and most importantly unlock upgrades.
What will grant you double XP in Guns and Robots during this event?
- XP gained from killing enemies in game.
- XP gained from victories
- XP rewards from damage done
Next weekend, it's time to make a cash grab! From Friday, 23rd of January (16:00 PM (GMT) till Monday, 26th of January (08:00 AM (GMT) we are doubling the number of Credits that you typically earn, giving you the opportunity to make a big vault full of cash.
Credits in Guns and Robots are primary currency used to buy parts for robots, weapons, ammo, devices charges and consumables.
Want more game details? Like Guns and Robots on Facebook for more fan-exclusive content and follow us on Twitter!