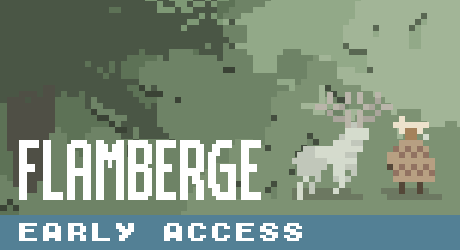 Hey all! I have a few announcements for everyone about the Flamberge Early Access and future plans for release.
Early Access
Flamberge went on Early Access about 2 weeks back, and it's been going alright! Steam provides a very reliable platform for updating builds, so most updates are being published directly to Steam, with occasional builds going out to Humble.
Release Date
On the store page it says April 21, but this will be pushed back until the game is 100% finished. I'm horrible at time estimates, so sorry if I can't be more specific.
Multiplayer, Bugs
The game is relatively buggy, and the multiplayer seems to be only working for a select few.There's a dedicated post about it here.
Content
Right now, the game features 4 missions, and 4 small encounters. The finished game is plannedto feature 20 missions, with more small encounters in-between. Right now, 4 more missions are in the works, and they will be added when they're done.
Story
Almost all dialogues in the early-access are placeholder dialogues, and major plot points are being omitted until the final update. We have a major story written, and I feel like it would be wrong to procedurally spoil it over the course of the alpha.
Pricing
I apologize to everyone who paid $10 for alphas during the Kickstarter. The day-one sale on Steam was actually a mistake on my part (I assumed that the sale would be applied when the game left early access). Here are some of our future plans:
- The game will become available to all Humble/KS preorders the week of April 21.
- The game will drop in price to $7 USD when it is released out of early access (unknown date).
Thanks everyone! Let me know if you have any questions. I'll probably be slow today, but I'll edit the post with any necessary info that comes up.
- MSB