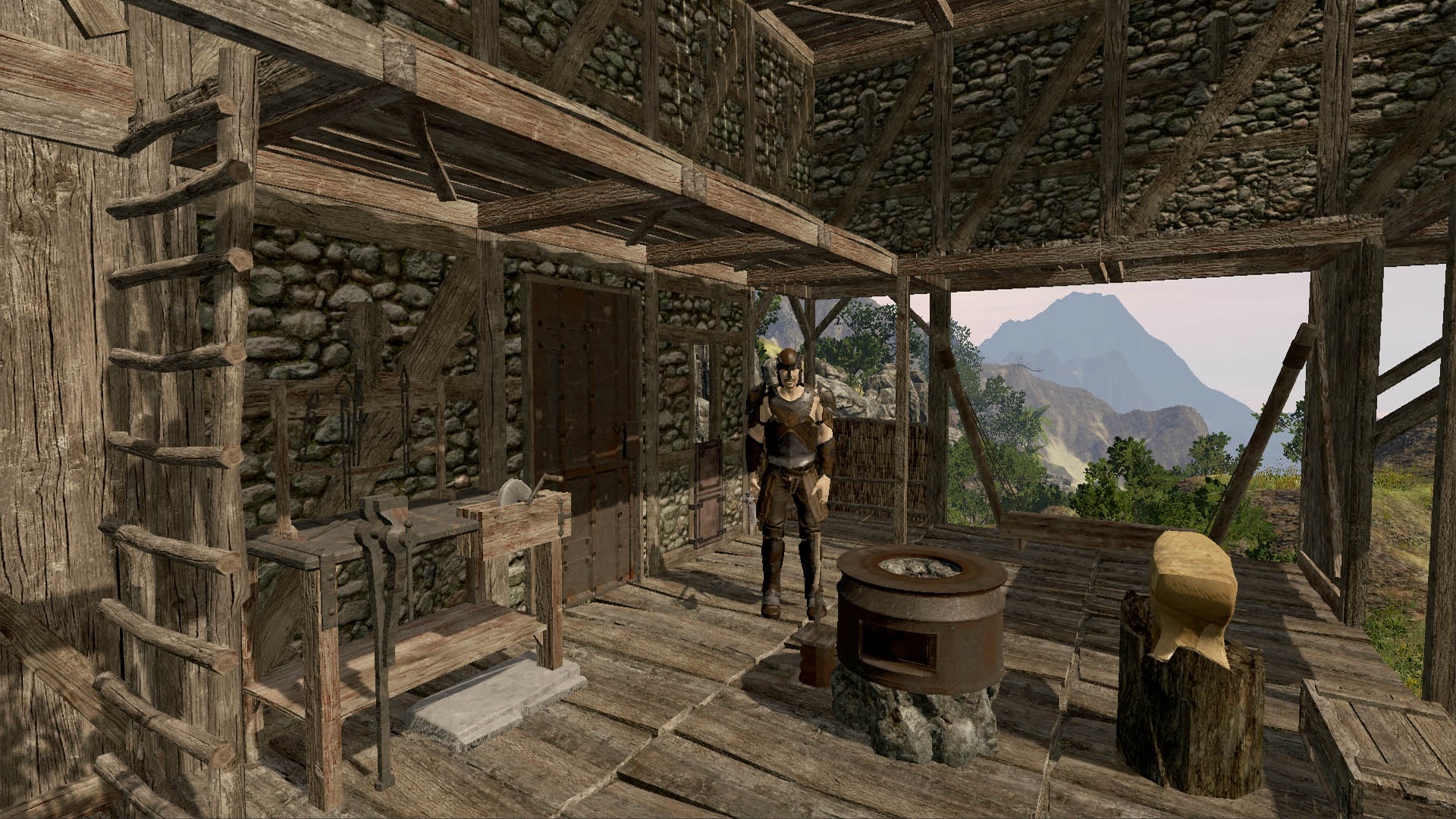 Hi guys!
it's high time to sum up the last days of development before changelogs reach more than 40 fixes and improvements:) Here are the highlights: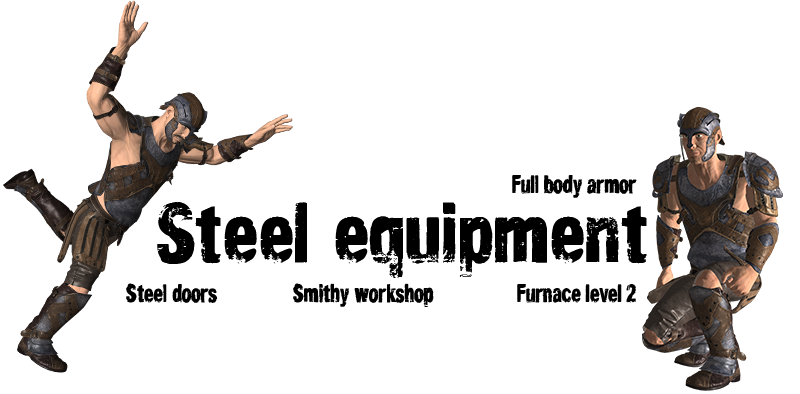 Some of you may already know this one but it hasn't been officially announced yet. The new armor is currently the most durable one on the archipelago, but also the heaviest. Works best in situations when resistance to damage is more important than speed of withdrawn. As shown below - comes in several levels:

Since many players were not satisfied with the durability of bronze doors, we've sped up the development of another tier of constructions. In this patch you get Stone jamb and Steel door to feel a bit safer out there.


We've also decided to let you catch a glimpse of mechanics so raiding and defending is easy to understand. Doors don't have health points, they have a 'chance to destroy' and it looks like this:

Average amount of hits needed to destroy wooden/bronze/steel doors based on chance percentage:
Chipped Stone 200/1400/3000
Stone Axe 33/233/500
Bone Axe 25/175/375
Bronze Axe 20/140/300
Steel Axe 14/100/214
More building elements including a new type of resource and completely new way to mine it should be ready in the upcoming updates!



The new workshop will be needed to craft certain gear made of bronze and steel. It's a step forward to more realistic gameplay, makes the list of objects in "Player workshop" shorter, looks good next to furnaces and anvils and makes players do some more effort to get the best gear - simply the perfect piece of furniture:)


Stone furnace got an upgrade. A small part of its receipts is now moved to the new one. It will be also required to get that new resource that we've already mentioned but haven't announcement yet.


Thanks to our players we've put first translations into the game. Right now you can find other languages in general options and choose which one you prefer. If you would like to help us in translations or you just saw something completely out of context please join our team and make Out of Reach better:
Crowdin.com

A few things to know about current state of translations:
Not completed translations display percentage of translated lines
Not translated lines return to English
Special characters and Cyrillic alphabet return to standard font
The reliable text version right now is English
Complete Changelog 0.9.12:
- Player's character doesn't drown, get hungry or rest while player waits on loading screen
- Dead player's corpses appear dead also to those who entered the server after someone died but before respawned.
- Fixed issue with floor segments being hard to remove. In addition:
* Floor segments need only 2 support points (e.g. 2 poles or one wall)
* Floor segment does not provide any support points to another floor
* Triangle-shaped straw roofs are removed together with adjacent roofs
- Reduced weight of ballista's projectile by 1,5
- New Builder's desks must be placed not higher than on the 7th floor
- All Builder's desks on every server modes decay after 5 real time days if not used.
- Cancel button (default: Esc) can be bound to other key
- Map button can be bound to other key
- Use button is used also when gathering (not only E key but also the one chosen by player)
- Quick use/equip button can be bound to other key
- Salvage option does not appear in container context menu anymore
- Full inventory does not prevent player from pillaging and destroying buildings
- "Full inventory" warning when exiting glider or unmooring a boat (actions that give resources back)
- /c and /C commands work the same in the chat window
- Building over boats is possible only if new building elements are more than 2.5m above the boat
- % symbol added to armour stats in the Character's window
- New! Steel doors and Increased durability of Bronze doors by 25%. Average amount of hits needed to destroy wooden/bronze/steel doors based on chance percentage:
* Chipped Stone 200/1400/3000
* Stone Axe 33/233/500
* Bone Axe 25/175/375
* Bronze Axe 20/140/300
* Steel Axe 14/100/214
- New! Stone door jamb
- New! Furnace II - can be upgraded from the standard Furnace. Need to be built in order to smelt steel or bake additional food.
- New! Smithy table - workshop required to craft bronze and steel equipment
- Improved building panel - new skin and tabs
- Improved various sounds including animals and walking in armour
- Position of UI windows is now saved and loads automatically
- /clearWindowsPosition command - sets position of all UI windows to default values (type in chat)
- Trebuchet does not require additional upgrades anymore
- Blocked possibility to break through walls with character's head which could be used to destroy e.g. walled Builder's desks
- Increased time to gather previously fired arrows by 15s
- Improved physics of rocks being destroyed
- Additional, basic information in main menu about server rules before each connection
- Achievements' descriptions changed and improved

- First iteration of additional languages!
* Find them in Options > General > Language
* Help improve translations at: Crowdin.com
* Not finished translations display percentage of translated lines
* Not translated lines return to English
* Special characters and Cyrillic alphabet fallback to standard font
* All the translations are made by players, feel free to give us feedback