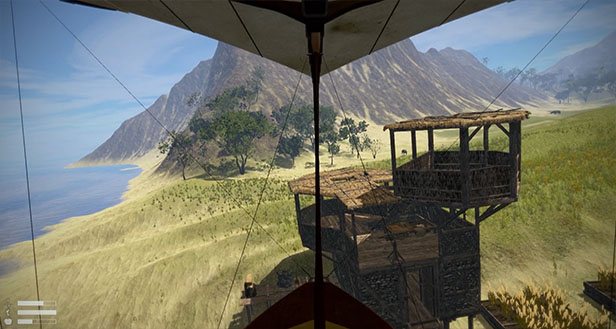 Another productive week full of updates behind us! This time, along with the most needed fixes and tweaks, we've managed also to release some nice add-ons to prolong the gameplay and let you guys stay busy on the islands.:)

Getting straight to the point:

Besides possibility to throw a rock at your opponent's roof (hold RMB to look down and LMB to fire), steering got buffed. These are the new stats of gliders:
-20% to speed lose when pulling up,
+50% to the launch speed,
+100% to the death-on-impact speed,
+25% to the nosedive speed
Flying became much smoother, take a look:

Mushrooms -> Look for them in the dark and damp places, eat to become less hungry or cook a mushroom stock to regain stamina. There is also a chance to collect mycelium and grow your own mushrooms in flower pots.

Corn -> Wild corns grow usually in the open and sunny areas. Collect them as yet another source of food and find seeds to start plantations.

Would you like to feel more safe in your stronghold? Upgrade your wooden, shanty walls to nice and solid half-timbered stone ones. Just enter the upgrade menu (default key: F6), aim at a building element, choose an upgrade and confirm with E.

We are not able to translate the game into all of the desired languages, but if you like, you can help us! Please visit this page in order to provide us with your translations and we will make sure that they will appear in Out of Reach in the upcoming weeks! Also let us know if you would like to add another language :)

Crowdin.com

Full version of the patch 0.9.7 Changelog as always available on Steam: Steamcommunity.com