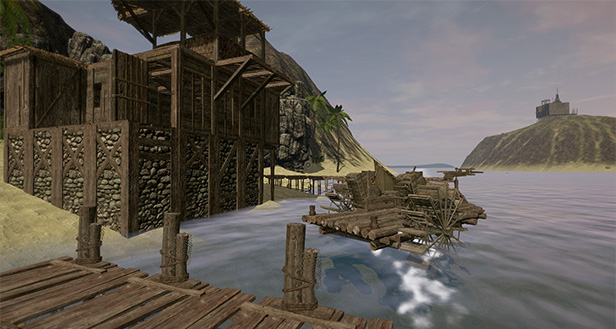 Hello guys,
next week next announcement.

Most of you probably know the changes we've made in the past few days but we've also received feedback that forum patches threads are not enough so we would like to remind you in a few words what happened since version 0.8.5:
Changes according to players and idea-threads on forum:
- Arrow recovery
* click 'E' while looking at arrow and try to recover it
* you have 50% chance for recovering
- Sorting on server list
* Sort by server name, players count, ping and game mode by clicking column name
- Mooring bollard
* use building panel (F5) to build the mooring bollard on a foundation.
* click the bollard and choose a boat to moor
* mooring costs 1 rope
* moored boat cannot be burned or used
* destroyed bollard unmoors the boat
* burning base sets boats on fire
* building rights (from Builder's desk) are needed to use the bollard

- Stone upgrade (only foundations in this update)
* open upgrade panel (F6), aim at foundation, confirm an upgrade
- PvE servers: Builder's Desk gets damaged every 5 days as before but now player can open its menu torestart the timer.
- Boulder traps damage increased by 100%
Server and client fixes:
- Rebuilding ceilings having wooden pole on them is now possible
- Manually triggered boulder trap deals damage again
- Improved selection of building element to upgrade (freeze issue)
- Upgrading of not own building is not allowed (you need to have building rights or clan membership)
- Fixed torches and bags not being removed properly from boats
- Fixed one rare connection issue (Dandinen server)
- Game optimization regarding sounds
- Optimized the loading phase (the initialization algorithm was rewritten)
- Grass is properly cut in the middle of the first island (between the mountains) when building bases on it
- The algorithm responsible for removing plants under and near building elements was upgraded
And today's patch 0.8.9:
- Trebuchets can't destroy a damaged Builder's Desk (it didn't have influence on protection time but players couldn't repair the desk)
- Increased resolution in trebuchet's counterbalance (more stones to put for better accuracy)
- Reduced cost of stone for counterbalance from 10 to 5
- Trebuchet's projectiles don't lose impact on frames and pillars
- Changed dust colour after destroying something with a trebuchet
- Fixed strange arrow behaviour when hitting one with another
- Building cost reduction does not desynchronise inventory anymore
- Fixed a few levels of Builder and Smith achievements not giving profits
Thank you for all the reports, we collect each of them and put in queue to check, even if we cannot reply to every message!
What's new to come:
We see (and hear) more and more players who would rather play as a pirate than survivor/castaway/medieval guy and we decided to give it a shot. In the upcoming updates we will provide you with some features that both pirates and survivors like the most starting from treasure hunting, maps, compasses and new non-craftable and rare items to find. You should also expect world to stretch and give you more opportunity to explore!
Last, but definitely not least, just in a matter of hours you will be able to watch our new trailer containing most of the features that the almost-a-year-old-Alpha video doesn't have. It will probably become the official homepage and Steam store video and will be the final trigger for us to go ahead with ad campaigns.