Cargo Drones
Imagine that your brave colonists departed to extract the minerals needed to stop the leak in that ill-fated nuclear reactor…
Here they are slaving away in the depths of the mine, forming neat piles of freshly mined minerals at their feet. But who will bring the resources to the base? Will one of the colonists have to give up this undoubtedly exciting activity? We pondered upon this and decided – nope! After all, it's year 2325 and technological progress marches on.
Meet Cargo Drone – an unmanned aerial vehicle. Functioning in automatic mode, this little helper will tirelessly deliver a variety of objects from point A to point B. Just adjust its priorities, and it will do the rest on its own. However, Cargo Drone's combat capabilities are limited, so the transport routes should be protected as far as possible.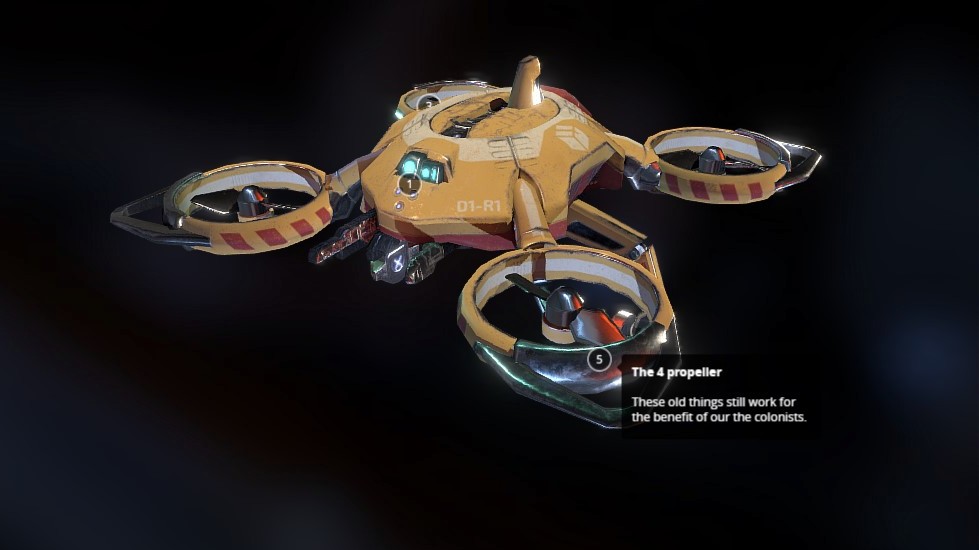 First sketch of drone's appearance: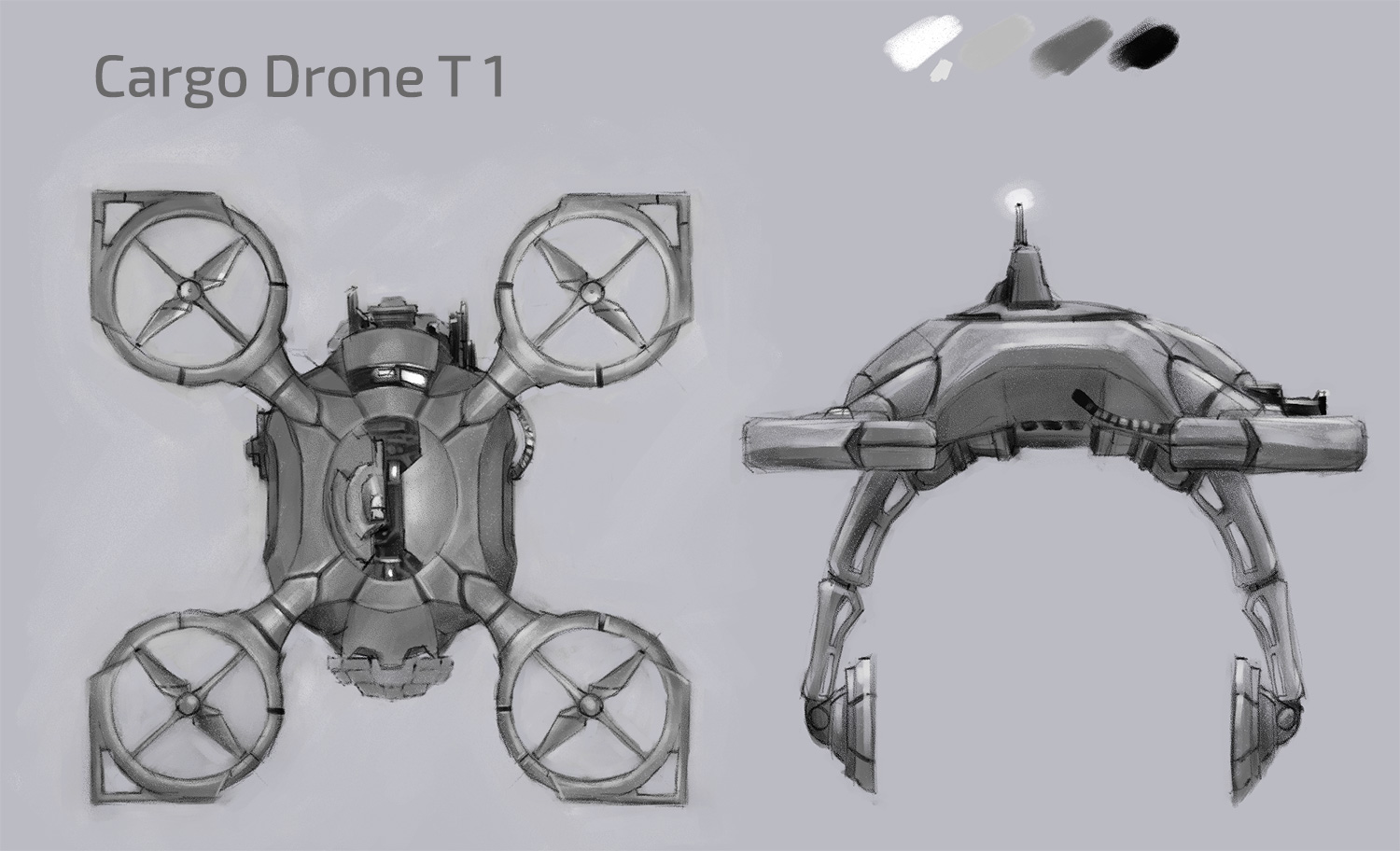 That's how they look now in the game: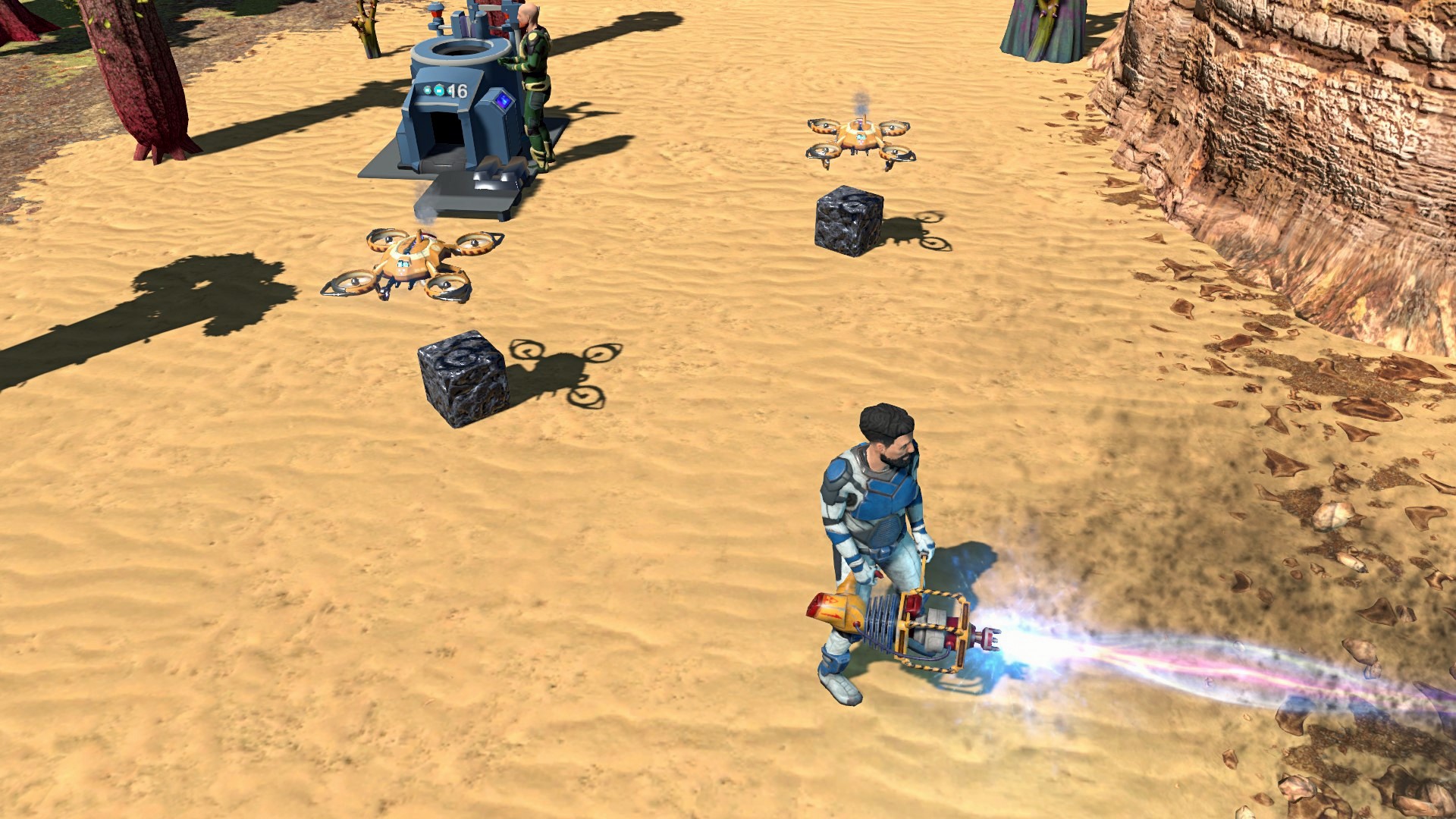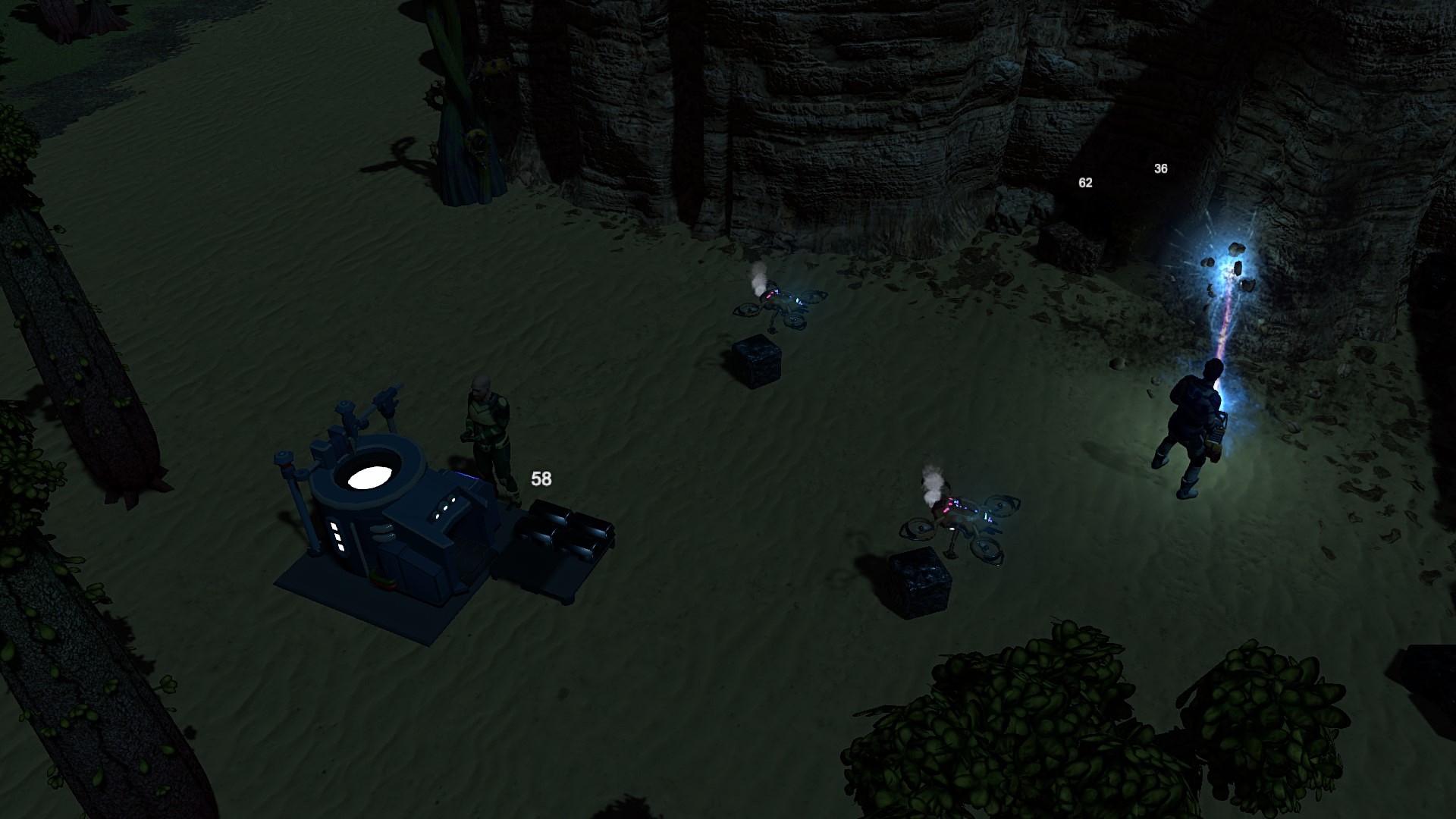 We plan to give players ability to enhance and boost drones – you will be able to modify their appearance, capacity, speed, protection from external threats and other important parameters. And in the future, who knows, maybe we'll add combat drones too. What are your thoughts on this?
Take a look at Cargo Drone model in full 3D below.
Interface: Night and Day
Our perfectionist designer is doing his best to make GUI visually laconic, eye pleasing and intuitive. It is still work-in-progress, but he has already managed to create a fluorescent lighting effect, which is rather helpful, considering there will be a day/night cycle change in the game. You can see the results of his heroic efforts on the screenshots below.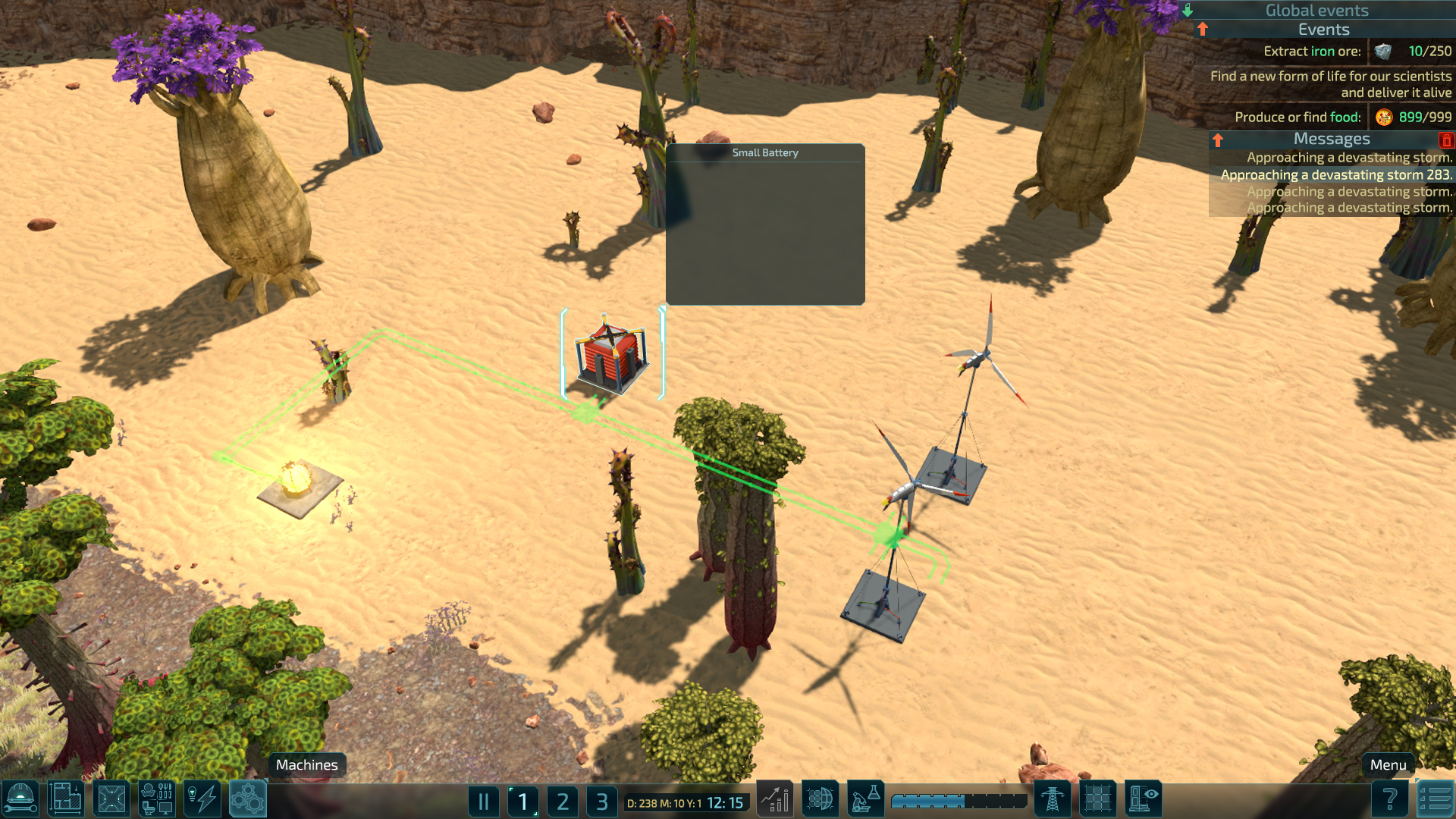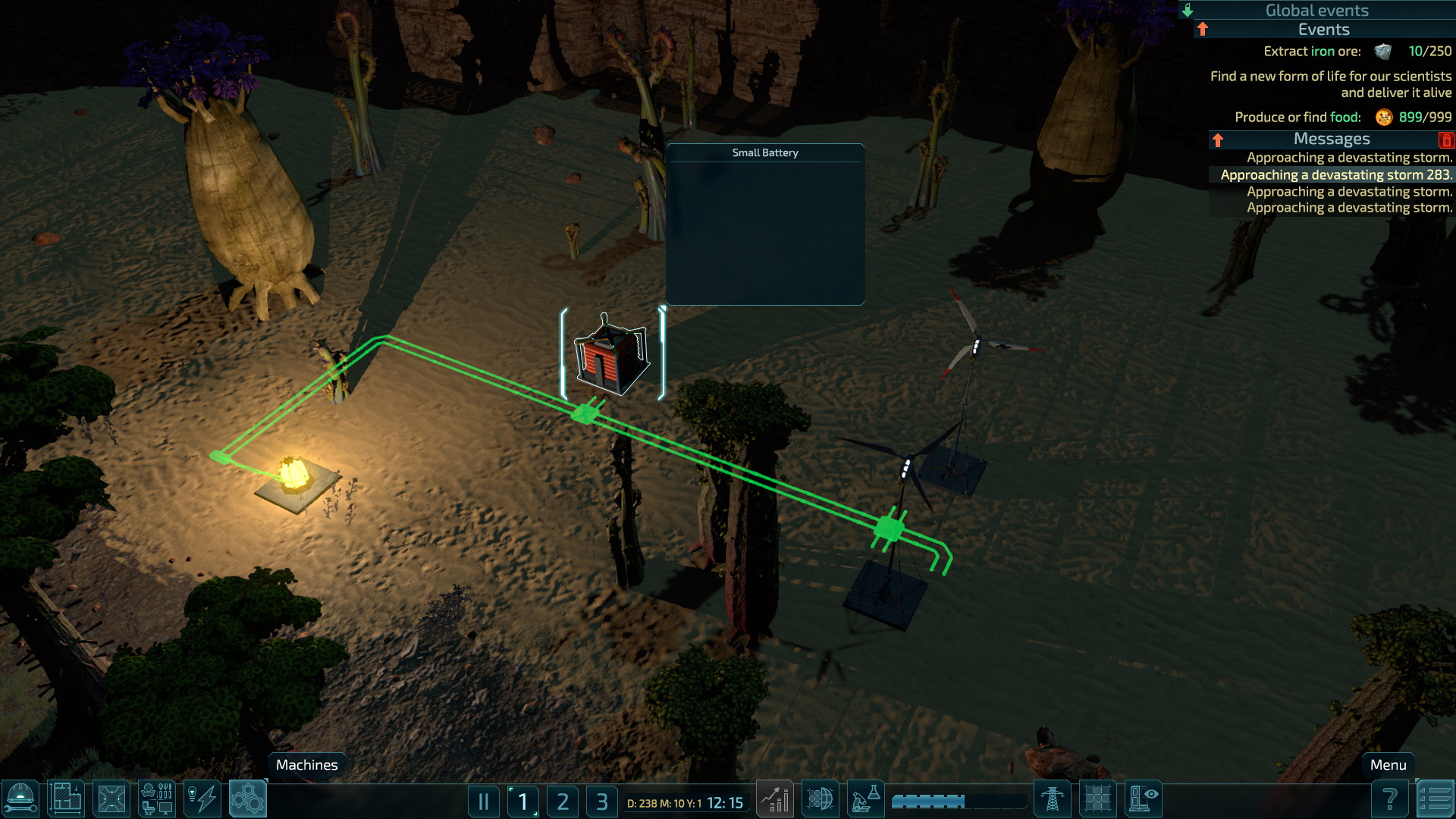 P.S. Also, we've created a somewhat meditative gameplay video for those who's in search for relaxation:
Building electric networks
Even in the most forsaken corner of the galaxy the colonists are doing their best to make their lives more comfortable. And what comfort is there without electricity?
As you probably already know, our game will have several types of electricity generators – powered by wind, solar radiation, nuclear energy etc. They all have one thing in common – something that will connect them to lighting, blaster turrets and production stations. Electrical networks.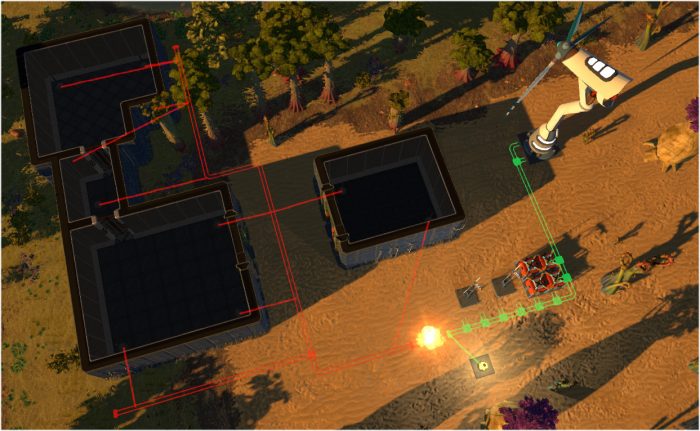 We're trying to make a convenient mode for designing electrical networks and rearranging them should a need arise. For example, switch the power to the reserve generator if the main one is destroyed by the invading man-eating mole-people or flash from the nearest star.