Dwelvers first day on Steam

Trailer video
Dwelvers on Steam
(20% off first week)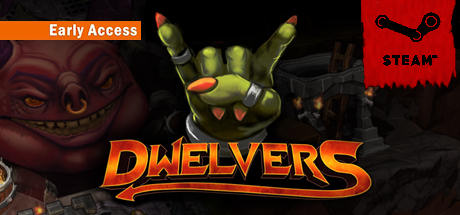 So how to sum up the first day on Steam... First off, it have been a lot of fun :D And I am very relieved over that we haven't had any unexpected incidents. There are some bugs with the game of course, but that was expected.
The reviews have been really good, and for that I am very happy!
Steamcommunity.com
We also have a lot of new screenshots:
Steamcommunity.com
Blitzkriegsler has uploaded his latest Dwelvers videos, and for that I am really grateful! This goes out to all the other YouTube reviewers of Dwelvers, don't forget to add them here, you will get a lot of views and Dwelvers will get publicity, so it is a win / win situation :D
Steamcommunity.com
I have been a little worried about the Steam forum and that Dwelvers wouldn't be ready for it. But so far everything has gone well, and the players have been really nice and understanding that Dwelvers is an Early Access game.
The sales has been okay, we were on steam top 100 for an hour or two and then we disappeared again. But it is nothing that worries me, Dwelvers still has a year of development left at least, and I would be really surprised if Dwelvers don't get a good bump now and then during that time. Also, remember that Dwelvers is still an Early Access game, and those are waaay harder to sell on Steam than full games.
I don't know how many steam keys I have given away to reviewers that has asked for them, some of them were really big while others was a little smaller. Hopefully some of them will review Dwelvers so that we get some extra publicity before the end of week :)
Steam keys
All the steam keys to the pre-orderers has been sent out now, if you haven't gotten one, then contact me from Dwelvers.com and I will send the keys.
There was also a issue that some people thought that I meant that the pre-orderers should get four steam keys and not three, they thought that they paid for the first key and get three keys for free. While I meant that you get to download the game from the website and also get three steam keys. I have made a topic about it at the steam forum:
Steamcommunity.com
So if you feel like I tricked you and that you were expecting 4 keys, please contact me at: Dwelvers.com and I will send the extra key Smile
Future updates
Right now there are a lot of administrative work that is keeping me away from the development, and I hope everyone can understand that. I will focus on getting the steam page ready with a to do list and a FAQ so that new players knows what stage of the development Dwelvers is and gets some of the more common questions answered. I will make a fresh coding start on Monday and also explain what we have planned for the next version, and as usual, the more feedback the better :)