Hello everyone! Im glad im finaly able to bring you another version of Blasted Road Terror. I think we can finaly consider this version a Alpha release. Sure its still missing like 80% of planned content, but most of the important systems are in place or the game engine is ready for implementing them without problem. But as i need to keep something for next article, lets talk about current build and what it brings in to the game.
New vehicles & weapons
As we mentioned in artcile two weeks ago, there are two new vehicles. Sabre - which can be called "light" marauder with minelayer ability. And Scorpion - a kinetic damage specialized attack vehicle with great mobility.

New weapon is the Scorpid Missile Launcher. It fires volleys of explosive missiles at long range, so there is finaly a effective way how to bring enemy fury shields down from the distance. Its a heavy weapon, so only attack vehicles can rotate this turret, it have low dps, but slow ROF so be prepared for enormous alpha damage.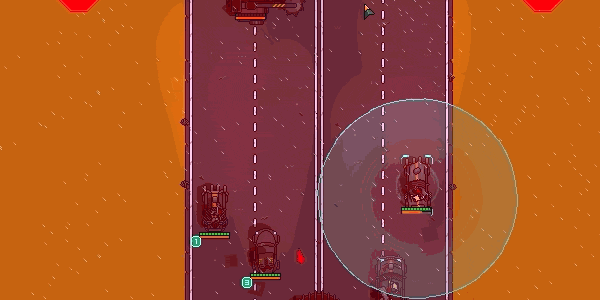 Scorpid, even its dps is quite low is capable to bring down fury shield of any vehicle in one volley and if rng gods are with you, it can even one shoot weaker vehicles with its alpha. However its low dps will be noticable during boss fights or agains highly armored targets with lots of hp as explosive damage is weak against high armor values. I ll let you figure out its use on your own as i dont want to spoil all the fun, but it have its place in most encounters if you know how to use it.
Weather System
Is finaly in place! Its still in work in progress state and small improvements will be added over the time, but right now we have Dust Storm, Thunder Storm and Light rain events as you probably noticed from the gifs floating around this article. Right now, the weather have just cosmetic effect and does not have any effect on gameplay it self but this will change sometime during beta stage when we ll get there.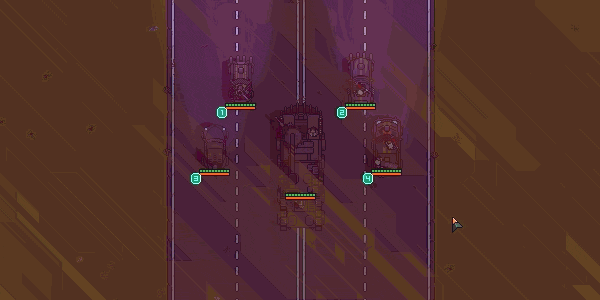 Announcers & Loot boxes & Ghoul Ambush
Added little thing i call "Announcers" which dispays event name once an encounter starts during patrol mission as i tought its good if player is informed whats going on before the battle ll actualy start. Its just a litte quality of life improvement, but i think it adds bit both to the game atmospehere and general polish level.

Ghoul ambush is first of many events which im planning to add in to the patrol missions. Its an easy event where you can earn bit of extra scrap, however you have to maneuver your vehicles well to avoid most of the damage.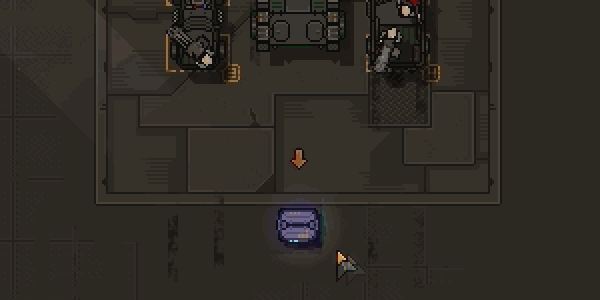 Early version of lootboxes was implemented as everyone likes opening mysterious crates with purple pixel items;-) Right now, it is dropped by every boss you ll encounter during Assasination Missions. In the future they ll be awarded for completing side quests during patrols or as a reputation rewards.
Download & near future
You can download v0.22 by clicking button below. Hope you ll enjoy it even is not bringing any significant changes when compared with last release, but game is getting really near to the stage beign ready for tons of content updates. Next update will be again about adding small stuff and polishing(sorry) and im planning to release it till end of the month. However i have some big plans for summer, like giving you access to both Highlands and Tundra locations(along with its own enemies) and finaly turning Patrol missions in to the adventure-like experience i want it to be.
Thanks for reading, support & feedback!
Tryzna