Hello everyone!
A few weeks ago, we launched an experimental campaign on Epocu, a social "kickstarter" website designed to allow indie developers to get the kind of social buzz their game needs in order to get it off the ground and have it noticed. Dungeons of Daggerhelm is currently a running campaign on Epocu!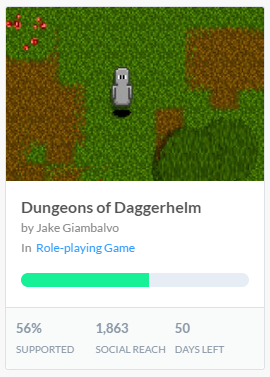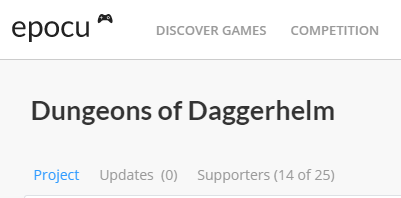 We wanted to set the amount of supporters to complete the campaign on the low side, for specific reasons.
#1: We're not a big indie dev. group. In fact, we are a very, very small indie dev. group. If we asked for too much support (more than 25 supporters), we probably wouldn't meet our goal.
#2: It is a social experiment to see how many people would support the game. This doesn't mean we aren't taking it seriously; it means that we want to see raw numbers of who actually would play the game outside of this website and others than we've been posting in. So far, our outreach has been impressive to us.
#3: The game is still in early stages and a campaign this early for anything more would probably not be successful. After accessing some of the pitfalls involved with having a higher supporter number to complete the campaign, we decided 25 was a good starting point, at least for a game this young and small.
In spite these reasons, within a week or so, our supporter count went from the first 4 initial supporters (friends, family, etc) to 14! That's more than half of how many supporters we've asked for! Wow!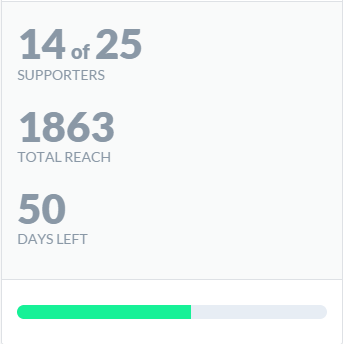 We're very excited to see how this campaign will turn out! And you can help us reach our goal, too!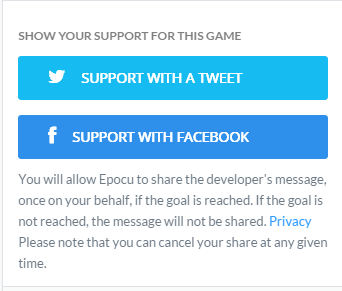 You can choose to support Dungeons of Daggerhelm through either Facebook or Twitter, just by signing in through one of those two social media. Once the game reaches 25 supporters, Epocu will send you a message letting you know that it has reached its goal, creating more buzz and more social exposure!
You can find the game campaign here: Epocu.com