Version 0.8 changes:
Fullscreen mode can be now enabled throughout the game (F11 key, Windowed mode is still recommended way of playing)
Hero now moves only one tile when monster is chasing to prevent accidental multiple attacks
Fixed crash when monster jumps while chasing
Fixed monster can still chase hero after jumping
Fixed coin animation is not shown sometimes
Added new silver chests (50% chance to get gold coins or turn out to be a trap)
Implemented 3 new blessings: Regen, Berserk and Protect (only one can be active at a time)
Added a mirror image of High Wizard Bhudab that will grant you a blessing of your choice
Added charactersheet button for easier access to upgrades
Improved explanation in perks menu
Fixed some typos in tooltip text
Fixed text color coding issues in message box
Some game balance tweaks
How enemy movement works in this game?
Some concerns were raised in comments about enemies not moving in combat. Below is a brief explanation of enemy movement in game.
By default, no monster will chase you when you get closer to them.

Every monster has two statuses, alert and not alert.

These statuses are assigned randomly to each monster on level. So a level 4 monster may not be alert while a level 1 monster can be alert.

Once you attack a monster that is alert and move to a new tile, it will start chasing you.

A monster that is chasing you will attack if you move to new tile and take a turn.

At any time, only one monster can chase you, so a swarm won't be coming after you.

Once you attack an alert monster, the only way to stop it from chasing is to kill it or attack a new weaker monster that is alert.

The game visually indicates alertness of each monster by showing '!' next to level number or [ALERT!] in tooltip.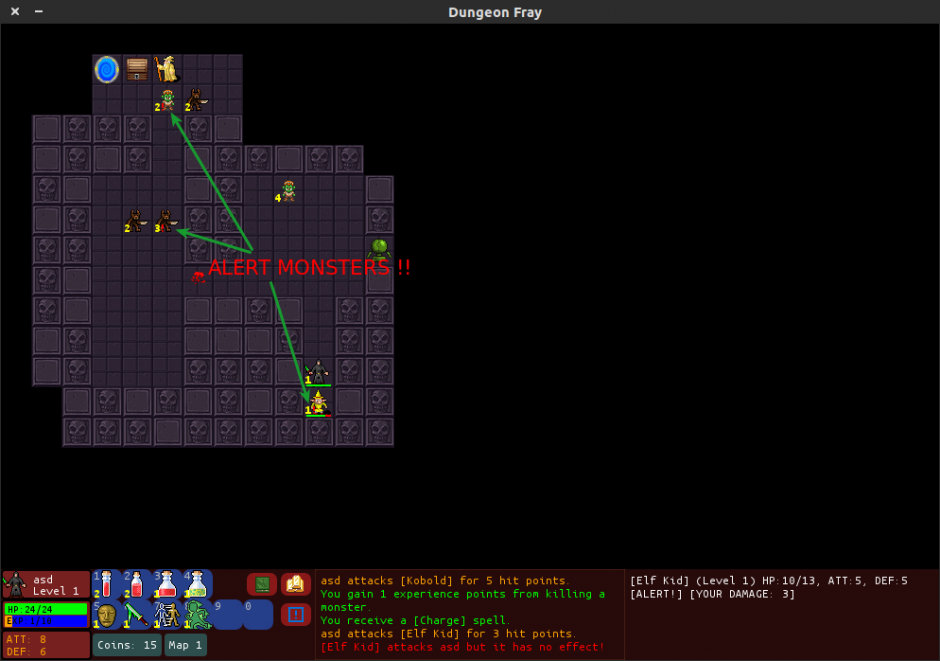 Why enemy movement is not similar to other roguelike games?
All monsters are static by default as the game aims to be a mix of rougelike/puzzle gameplay. The game doesn't want you to be on toes all the time but rather it focuses on choices you make and how well you spend your resources (coins, spells, bots, blessings etc.)
Unlike other roguelike games, the game has no camera, minimap and scrolling. You will always get a bird's eye view of entire dungeon. Moving enemies in small dungeons would make things messy as there will be less room for hero to escape. Plus the game aims to be fast paced, where a dungeon can be cleared under 10-15 minutes.

Any suggestions/comments are welcome.