______________________________________________________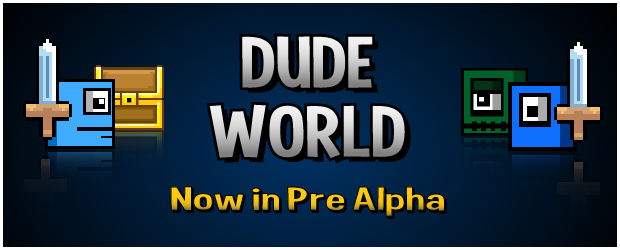 Dude World Pre Alpha 1.0 is available for download! This update include a new launcher/auto updater, a multiplayer mode and moar events.
In addition, we are going to launch a new concept for Dude World next week end, it's called Dude Dare.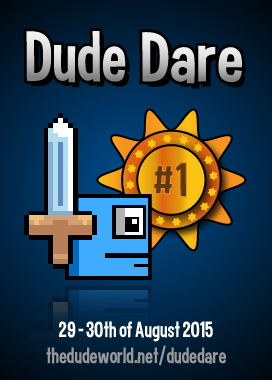 Dude Dare is a 48 hours competition where players have to create the best world possible with a given theme.

Everyone can participate without any condition : you just need to upload your themed world before the end of the event.

You don't even need a premium account, as long as you create a world and upload it, you are in!
You can found out more information and the rewards list here : thedudeworld.net/DudeDare
NEW FEATURES:
30 New Worlds Made By The Community (You can download them here : Download)
Multiplayer
Multiplayer : Servers (You can create your own servers)
Dude World Launcher (With Auto Updates and everything)
Event Math Parser
Event Syntax Parser
Editor Paint Bucket
Multiplayer : Player versus Player (PvP)
Multiplayer : Choose any world you want for your server
Improved Select Boxes
Event Condition : Player Types in Chat
Event Effect : Add Chat Message
Event Effect : Change Player Life
Event Effect : Delete Objects
Event Effect : Default Button
New Item Gameplay : Event Item (Triggers Events)
Tons of other stuff and bugfixes
DOWNLOAD DUDE WORLD: Click here
UPLOAD YOUR OWN WORLD: Click here
WATCH US IMPROVE DUDE WORLD: Click here
Here are some new worlds made by the community this past week with the ingame Editor.