Huge apologies for this delayed update!! Things have been absolutely insane as we have tons of stuff happening this year - a new team member joined Grimm Bros, production of all backer physical and digital rewards, development, and getting ready for our grand launch!
2015 is off to a busy start, and we are extremely appreciative of everyone's patience! We at Grimm Bros have had our heads down in our work, staying warm through massive blizzards, or dry through rainy monsoons, and pushing through the development of Dragon Fin Soup! We're getting closer and closer … So what's going on with us?
Hello World Ronan Roth Monif!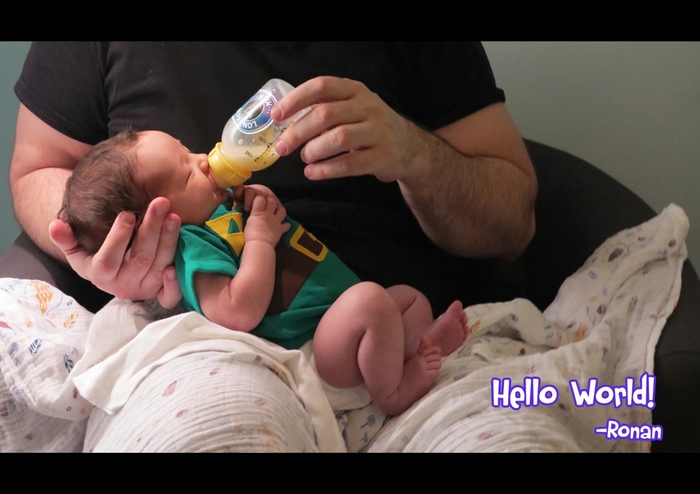 Ronan discovers Lon Lon Milk :)
As we speak, Ash is taking care of his newborn son, who was born on New Year's Eve! He has now learned to master the art of working 1-handed, late at night, and while carrying a sleeping baby :P
As a result of our tiny small new Grimm Bro team member, we would like to cordially introduce our evil minion "The Hunter" who is helping Ash out a bit while he cares of Ronan! You may have met "Das Hunter" at a one of the various conventions we've attended in the 2014.
Dragon Fin Soup At PAX East 2015!
Interested in getting your hands on the latest and greatest demo of Dragon Fin Soup? Tired of the endless snow? Come spend the weekend of March 6-8 with us in style, at PAX East 2015! This year, we will be premiering a brand new trailer, a playable PS Vita demo, and not one, but TWO amazing cosplayers, including Kara (@ItsElectricLady), who was with us at Playstation Experience as Morgiana, and April Gloria (@AprilGloria), who will be cosplaying Red Robin in a new outfit!

Last year, we were next to a giant VR hamster ball :P This year you will find us at Booth #11056 in the Northeast part of the hall, across from our good friends Wander.
Say Hello to my little friend… Tanuki-chan!
(Exclusive Backer Pet)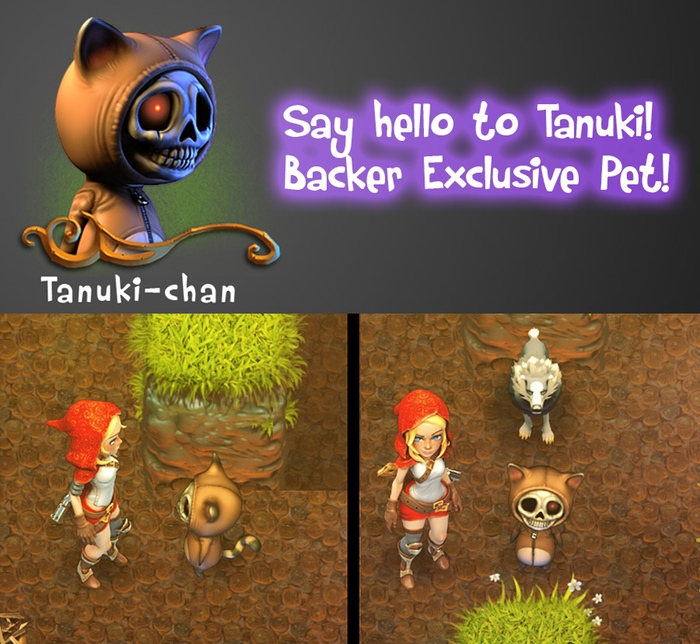 After a vicious bout of pet fighting (No pet familiars were hurt in this competition), your votes and the results of the Pet Familiar Extravaganza are in! Your exclusive backer pet will be…. Tanuki! This cute little skeleton wears a raccoon suit and will fight alongside Red Robin on her quest through Asura.
Share with us any of your DFS art!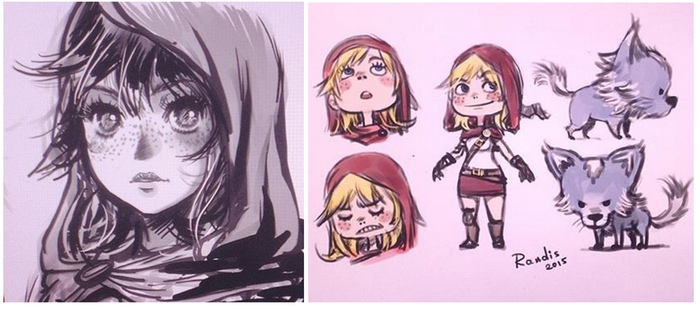 To all you amazing artists out there - do you enjoy our art? Want to show us what you've got? We're now accepting all fan created art! We want to share your work with our community, so feel free to make a Red Robin stick figure, High Quality Morgiana portrait, or write us a song! We will post it on our website and social media and share it with the world!
Also check out this awesome ‪cosplay made by one of our dedicated fans of our main character, Red Robin! Alex sent us some wonderful photos taken by Blanko Photography and it really made our day! We really wanted to meet Alex at PAX East, but all the tickets were sold out on day one. THAT'S NOT GONNA STOP US!! We were able to give her a 3-day pass so that Alex can join us to enjoy PAX.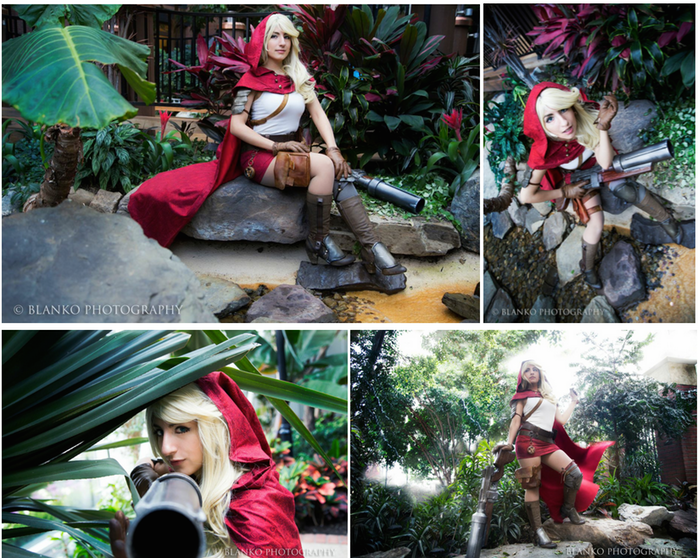 Reminder for Surveys - LAST CALL!
We now have solid first pass of backer info that we need to delivery your physical and digital backer rewards! However we still don't have everyone's info!! For those who still haven't sent us their info please do so ASAP! Click HERE to access and read the rules on the GHOST POOL, CREDITS, and MONSTER POOL Surveys.
A final follow up email will be sent out to outstanding Backers who have not sent us their info and also to finalize the Weapon and Magic Ring designs via email. Sorry we've been so busy! And to all of our OTAKU TIER backers - EMAIL us your portrait photo so we can transform you into an in-game Zombie!!!
Blood Ring Survey!

We'll be sending one more survey for Blood Ring rewards very soon! This survey is for ring sizes of all backers of the Blood Ring Edition.
Dev update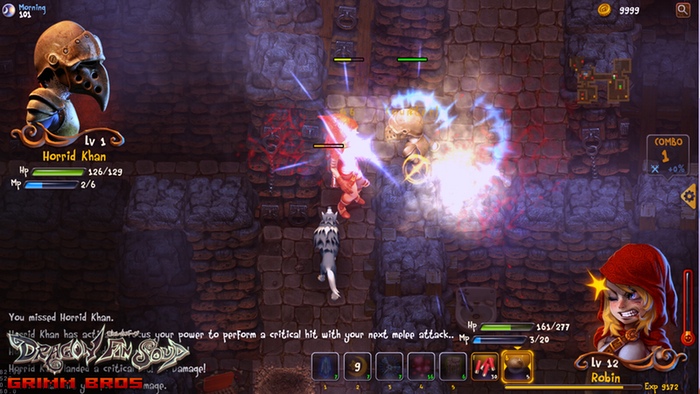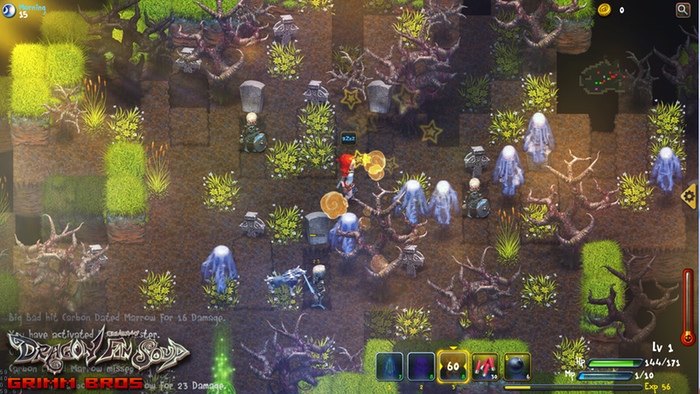 Last, but not least, what in the world of Asura is happening… in the world of Asura!? How's development going? Well we are extremely pleased to announce that the game is content complete, and we are currently in the process of QA testing, fixing bugs, and polishing every little bit of the game! This phase of development takes a lot of time and effort, so we very much appreciate your understanding and patience. We will announce official launch dates as soon as we are confident that Dragon Fin Soup tastes just right… :D Stay tuned!
Thank you all for your amazing support and understanding. We are entering the final stretch!
Take care and talk soon!
- Ash & Randis