DTA version 1.16's release on December 1st will come with a large number of gameplay changes, of which I'll cover the most notable ones here.
To start off, the the Allies and Soviets have both received a new epic tank.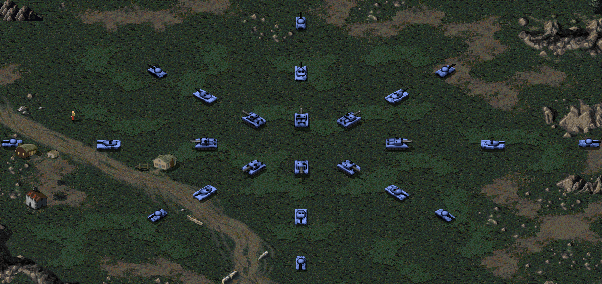 The Allied Tank Destroyer is able to snipe tanks while staying out of their range of fire and just like a real sniper, it's able to destroy most of its targets in a single shot. Only bigger tanks such as the Mammoth Tank and certain other epic units are an exception to this; as well as the Heavy Tank which only just survives the first shot thanks to its 5% increase in health points.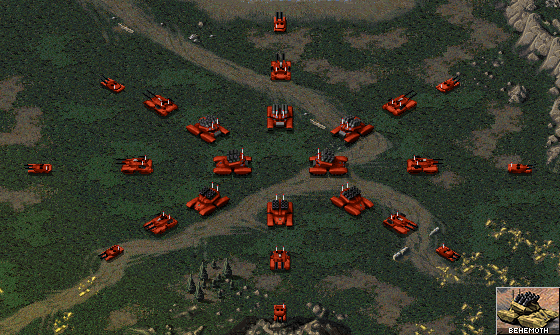 The Soviet Behemoth is even bigger than the Mammoth Tank and as you might have guessed, it also has tougher armor to match its size.
The Behemoth's napalm mortars are able to fry just about anything and surely make an invaluable asset for any kitchen.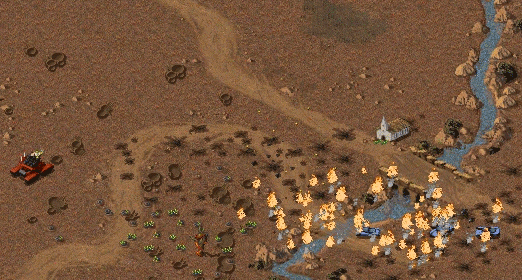 Even aircraft can be targeted and although the armor plating of tanks provide some protection against the fire, the Behemoth is still quickly able to turn them into toast as long as it's able to keep them at a distance.
The naval balance has had some thorough improvements and changes again.
Some of the changes are the replacement of the Gunboat's inaccurate heavy-explosive missiles with accurate armor-piercing missiles and the reduced area damage of the Frigate and Missile Cruiser's heavy-explosive missiles, resulting in more balanced fights between large groups of ships of different factions.
Deploying the Laser Corvette doubles its firing range again and the Sea Shadow now fires arcing missiles which while being easier to dodge, are also more painful when they hit.
Allied Cruisers on the other hand, now only do half as much damage to ships as before.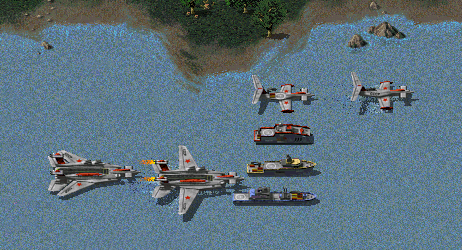 Naval yards will no longer be able to repair ships, but in turn all factions now have their own repair ship, visible on the right side of the image above (from top to bottom these ships belong to Soviet, then Nod, then GDI and finally Allies).
While identifying these repair ships, you were probably distracted by the big plane-like thing on the left. This is Soviet's new capital ship: the Ekranoplan Aircraft Carrier.
It does not replace Soviet's existing capital ship and unlike the Project 941, it does not have a build limit.
Ekranoplan Aircraft Carrier has similarities to GDI's Aircraft Carrier, but the range at which it launch its drones is shorter and it's able to fire Scud missiles at shorter ranges, making it far more effective against ships than GDI's Aircraft Carrier.
The Ekranoplan's wings also aren't for show: while the unit is still as slow as other capital ships when moving over short distances, its top speed will match that of a speedboat if it's given the time and space to accelerate.
Meanwhile on dry-land the Phase Tank is no longer buildable (in favor for the Tank Destroyer) and the Chrono Tank is a lot more vulnerable while deployed (but less so than when it's in teleport mode, where just 3 shots from a Rifle Infantry will already destroy it).
When you build a new Harvester, it will now automatically move to the nearest resources after it has left the War Factory and start harvesting.
In addition you can now also select an idle harvester and just press G (the key for the "Guard Area" command) to make it automatically find the nearest tiberium or ore and start harvesting.
There have also been a few slight changes to some base defenses: Allied gun turrets will require 50% more power and their price has been increased from 600 to 700. GDI's Guard Tower on the other hand was given a 25% increase in weapon range to match the Allied Pill box, while the Advanced Guard Tower was made 30% less effective against infantry.
And speaking about infantry, Tanya now takes 2 shots to kill most infantry and her weapon range has been reduced by 15%.
In turn both she and GDI's commando now do a lot more damage to tanks when they become elite.
Volkov is also buffed once he becomes elite: he'll then be able to fully heal himself by simply standing on top of tiberium, ore, scrap metal or gems (yes, infantry can now finally walk over gems).
Still on the subject of infantry, the Spy is finally available as a buildable unit for the Allies.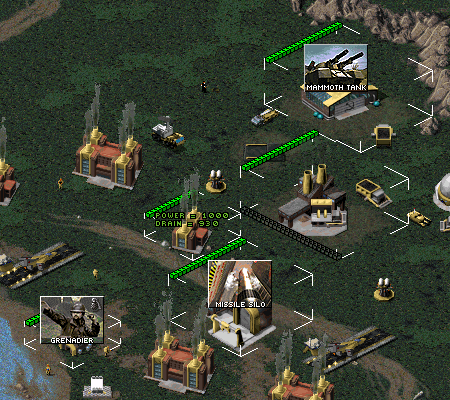 Thanks to the Spy's disguise, enemy human players are unable to distinguish it from one of their own rifle infantry and this gives it the ability to easily infiltrate one of their structures, providing intel that can be used to turn the battle in your favor if you use it right.
Depending on which structure your Spy infiltrated, you'll be given access to different information about the player who owns that structure:
Barracks, War Factories, Construction Yards, Helipads and Airstrips will allow you to see which infantry, vehicle, structure or aircraft is being produced.
A power plant will allow you to see exactly how much power a player has and how much power is being drained.
A Refinery or Silo will show you how much tiberium or ore is stored inside.
And possibly the most popular Spy target of all: the radar, which will reveal shroud around all units and structures of the player that owns the radar you infiltrated.
And these are all the changes I'll cover for now, but you can look forward to some more information next week.