You can now play Dreamcast DLC content in SADX PC!
November 2019 update: the legendary Kadomatsu DLC has been discovered! User Moopthehedgehog posted the DLC files on DCEmulation forums, and the whole SA1 DLC collection is now complete! The mod has been updated to include Kadomatsu content.
When the Dreamcast was still around, it had a lot of downloadable content for many games in its library. You would connect to the Internet using the Dreamcast's built-in modem, launch a browser (often directly from the game) and download the content to your memory card (VMU). When placed on the VMU, those downloads added or unlocked new features in the game.
Sonic Adventure also had a lot of DLCs. There were simple event DLCs that added decorations to Station Square, and there were also time challenges (with real prizes!) sponsored by different companies. There were DLCs that added new music, level decorations and Twinkle Circuit tracks. Together with other online features of Sonic Adventure (leaderboards, Chao Black Market) the game world almost seemed alive. Although I personally didn't have a chance to experience it back then, even now I can tell there is something special about starting the game on Christmas eve and discovering that it plays Christmas carols. You can even find a Christmas greeting from the mayor of Station Square. For a 1998-1999 game, it really seems like Sega was ahead of everyone else, trying to make the game feel "connected" with the player and the world in ways that weren't common at the time.
Sadly we all know what happened to the Dreamcast. When the console died, the online services went offline as well. In recent years, the enthusiasts in the Dreamcast community have been restoring a lot of online functionality for different games, and if you have a Dreamcast that can connect to the Internet, you can have an almost authentic experience of what it was like to use Sonic Adventure's online features back in 1999-2000. Thankfully, the DLC content has also been preserved, and if you have a Dreamcast you can download them or copy them from a burned CD. However, up until now there was no way to access DLC content in the PC version.
Thanks to sonicblur's tool for decrypting VMU downloads I was able to extract model, texture and sound data from SA1 downloads. Some time ago Daguar pointed me to the structure in the DLC file that contained information about objects (position, rotation etc.), and soon after that I began recreating SA1 DLC content in SADX.
Obviously this isn't an exact 1:1 recreation. There is no Internet connectivity, and the results of time challenges are only displayed on screen. I also did my own take on the HUD/timer, which scales well in HD resolutions. Other than those, the DLC recreations are pretty close to the original downloads because they use the same models and position data from the DLCs. So if you've never played the Dreamcast version and want to learn more about the DLCs, this mod will give you a fairly accurate impression of what they were like.
Here's a list of my DLC recreations for SADX:
1) Samba Grand Prix - this download was originally made to celebrate the release of Samba de Amigo on the Dreamcast. The mod adds an extra Twinkle Circuit track that you can play by going through the gate that appears in Station Square main area. When playing as Sonic, the usual Twinkle Circuit music will be replaced by an instrumental version of Super Sonic Racing (or you can make it play for everyone, not just Sonic). An additional feature of the mod that wasn't present in the Dreamcast DLC is access to other Twinkle Circuit tracks that were never officially unlocked in the original game or SADX. To access them, go to the same Samba GP gate as Tails, Knuckles, Amy or Gamma. You can still play the regular Twinkle Circuit course if you go to the Twinkle Park entrance. You can also select which character can go to which course.
2) Y2K Millenium Celebration - an event download to celebrate the arrival of the new millennium. Big golden rings were placed in different levels. They showed a message and played music from Sonic CD when you touched them. Although there's no counter to show how many rings you've found, it's still fun to look for them in different stages. Twitter's DLC of choice.
3) Famitsu Hide-and-Seek challenge - a contest sponsored by the Famitsu magazine in Japan. You have to find 5 pictures of a real-life hedgehog within a time limit. The original download was exclusive to Japan, so I translated it myself.
4) QUO card challenge - another Japan-exclusive event. The idea is similar to the Famitsu contest, but this time you have to find 6 QUO cards with the portrait of Hidekazu Yukawa (also known as Mr. Sega) in Station Square and Mystic Ruins. QUO is a kind of prepaid cards that can be used at convenience stores, hotels etc. nationwide in Japan. They're still around actually! To fully enjoy this challenge, make sure you're playing with the latest version of Sound Overhaul 2, as it adds Yukawa's ridiculous "Yuss!" voice clip that plays when you find a card.
5) Dreamcast Launch party - 3 very similar downloads released in Japan, the US and the UK to celebrate the Dreamcast launch. The download places balloons and posters around Station Square.
6) AT&T "Sonic 2K Contest" part 1 - Assault on Speed Highway - a contest sponsored by AT&T and the Dreamcast Magazine. Sonic has to run through a slightly modified version of Speed Highway Act 1 within a time limit. The level features AT&T banners and rotating platforms with AT&T logos on them.
7) AT&T "Sonic 2K Contest" part 2 - The Sonic2K Hide & Seek game - another contest where Knuckles has to find 4 treasures hidden in the Mystic Ruins main area.
8) AT&T "Sonic 2K Contest" part 3 - The Sonic2K Sand Hill Attack - the final contest that features a modified version of Tails' Sand Hill with 10 gates to go through within a time limit.
9) Reebok DMX challenge - a European contest sponsored by Reebok. You go to a modified version of Emerald Coast with Reebok banners and posters, and collect 5 pairs of shoes stolen by Dr. Robotnik. When you collect the first pair of shoes, the music changes to the track you hear when fighting other characters in the story. Pretty fun and challenging event.
10) Halloween event - a download that added graffiti and jack-o'-lanterns in Twinkle Park. There isn't any meaningful gameplay involved with this DLC, but it's still nice to have those decorations.
11) Christmas 1998 - a DLC that only came out in Japan. Places many small Christmas trees around Station Square that show messages and play music when you touch them.
12) Christmas 1999 - another Christmas download, but this time it places four large Christmas trees around Station Square that play music from NiGHTS and show a message when you touch them.
13) Kadomatsu - the DLC that was long believed to have been lost due to lack of preserved copies. It is similar to the Christmas 1998 DLC in overall design. Kadomatsu (traditional New Year decorations in Japan) are placed in Station Square and play music and show greetings when you touch them. Supposedly there were two versions of this DLC - the original version, which had a bug preventing the player from finishing Knuckles' story, and the fixed version, which surfaced in November 2019. The mod is based on the fixed version, but I've included two additional decorations in the Casino area to make it possible to see two greetings that would otherwise go unused. Since both greetings mention Casinopolis, I think the Station Square Casino area contained two decorations in the original version of the DLC, which were removed in the fixed version.
In addition, you can select the character whose voice will be used in all menus. SADX uses the last character you played by default, but you can make it a specific character like on the Dreamcast. There's a lot of config options, so check it out in the Mod Manager: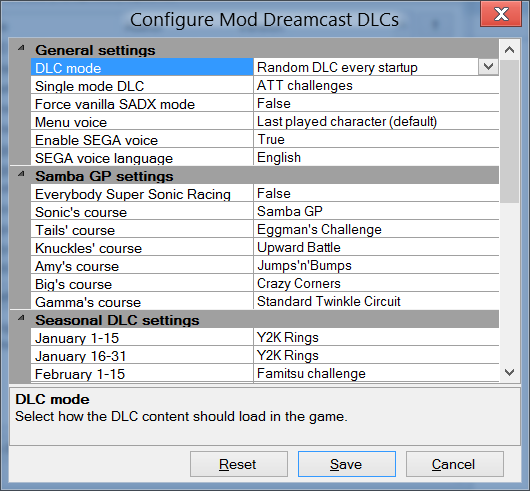 Download the Dreamcast DLCs mod here or use my installer to get it.
In the original game and older DLC mods certain DLCs could interfere with the story - e.g. the Christmas tree from the 1999 DLC would block the card needed to enter Speed Highway as Sonic. To avoid issues with the story, the unified DLC mod does the following:
1) When playing as Sonic, one of the Christmas trees doesn't spawn if Speed Highway isn't cleared
2) The Reebok DLC doesn't load if Emerald Coast isn't cleared
3) The AT&T challenge for Sonic doesn't load if Speed Highway is open but not cleared
Have fun!
PkR