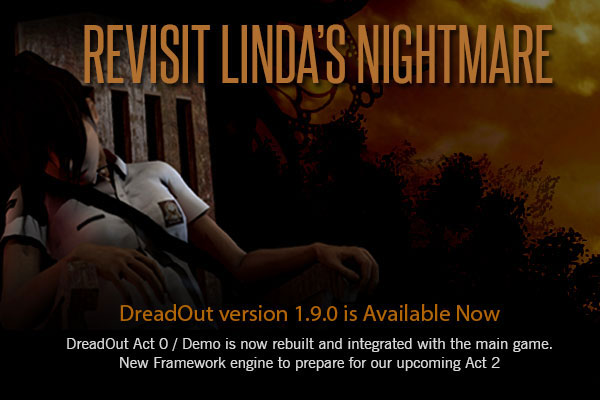 Hello everyone,
We're happy to announce that DreadOut version 1.9.0 is available now. This new version brings major updates to DreadOut, with some of the biggest highlights being:
DreadOut engine is updated to prepare for our upcoming Act 2 release.
DreadOut Act 0 Prologue (which is also available separately as DreadOut Demo) is now integrated with the main game.
DreadOut Act 0 Prologue / Demo can be seen as an integral part of DreadOut story, so if you guys have not played the Demo yet, you can now revisit Linda's nightmare as a prologue for the Act 1 directly from the main menu.
Release Notes:
DreadOut 1.9.0 is a new build with a completely new framework.
Be aware that this new release will be breaking your save game. So, if you're in the middle of playing Act 1, you may prefer to defer the update up until you've finished the game.
This new version discarded multi-language support for the time being, it will be incorporated again later.
This new version is asset-optimized for 32-bit system. Many 64-bit users might notice some textures' downgrade, we will resolve this issue with hi-res texture pack for 64-bit system later.
Updates to our Steam Cloud integration so users will not be required to have a file system friendly name anymore. This eliminates cases where some users were forced to rename their Steam's display name for the sake of playing DreadOut.
Some minor tweaks to DreadOut shaders and input system.
a new addition of experience setting, for turning on or off clue and ghost vignette, limbo distance, Limbo message etc. so that you guys can play it at your own preferences.
For you guys who wondering about DreadOut Act 2, there are some of ​the WIP shots. You can see more screenshots on ​DreadOut website.
Thank you again for all of your supports, we couldn't done this far without all of your supports.
All the best!
Digital Happiness