Hi everyone,
Less than 2 months ago I've said that v2.2b will be the last version for a long time... well, there we are with a new version! It's a small update, but it fix a bug which become really annoying if you often forget a few mods that you want to add and close the mod order window without saving... It also add a few other things (read below the changelog).
Still the project is no longer actively developed, but I will push an update each time a bug is fixed. New features may be added with future relase but are not planned right now.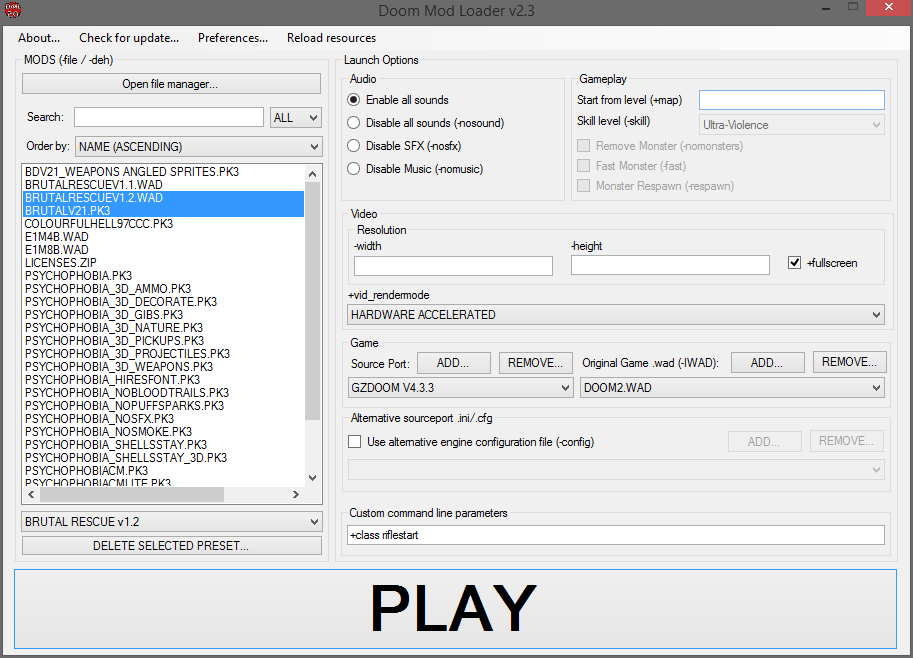 Changelog 12/04/2020 - v2.3
---
Added "REMOVE" button in the mod load order window, that allows to remove the selected mod without the need to close the window, deselect
the mod fom the mod list in the main window and click play again (NOTE: preset must be saved in order to keep changes) (Thanks eviltechno for the suggestion)
Changed the "REMOVE SELECTED PRESET..." button's text to "DELETE SELECTED PRESET..." to make more clear that you're not just unloading it from DML 2.X (like the other "Remove..." buttons) but you are deleting it from disk.
Bugfixes
Fixed bug where all the mods in the mod list will deselect (or revert to the initial preset state) if the mod order window was closed before saving (or updating) the preset. (Thanks Silent-Death for reporting it)
Known bug:
GZdoom "Quicksave.sav" files gets saved in the same directory as the dml 2.X executable instead on the gzdoom one.
(This is only the latest version changelog, you can find the full DML version history here)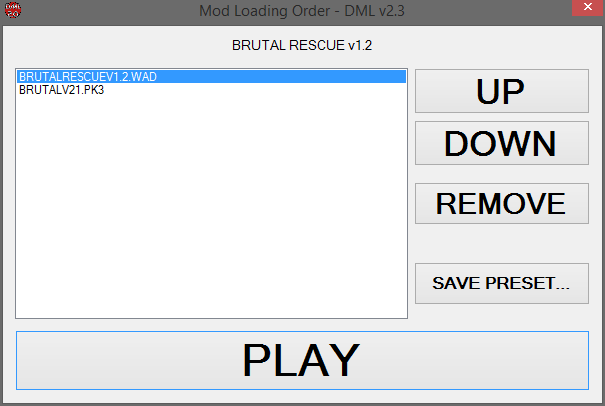 Supported sourceport
---
As for this version, the only tested source port are:
FULL COMPATIBILITY:
-GZdoom (v4.3.3), -height and -width do not work due to gzdoom way of handling resolution)
-LZdoom (v3.85)
-Zandronum (3.0)
-Zdoom(2.8.1)
-QZDoom (2.1.0)
-Skulltag(98d)
PARTIAL COMPATIBILITY (Some DML features don't work):
-Chocholate Doom (3.0.0)
-PRBOOM PLUS(2.5.1.4)
-GLBOOM PLUS(2.5.1.4)
(As long as it follows the zdoom command line standard, any engine should work fine)
---
Thanks for all the support!
-Matteo
P.S. I'm working also on other doom-related projects, keep an eye on my twitter @premo36 where I'm more active.
---

---
---
Check out the project on Github (Beta version and Release Candidate can be found here)!
---
Contacts: