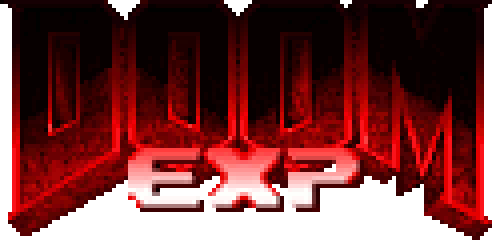 Doom Exp v.2.4 has some exciting new features that I am proud to announce to you. You will see new things like the Halloween Special mode, an extra life system, new voxel models and some new offensive-/defensive-oriented upgrades.
Voxels
The existing sprites for the orb pickup, power node container and loot boxes, have been converted into full 3D voxel models. Embrace the oooooh and aaaaaaah looking models since they are pretty rad.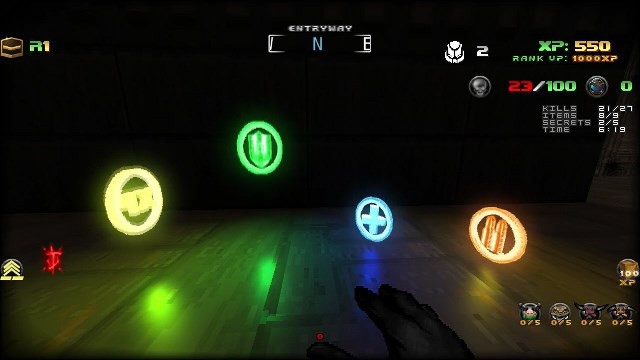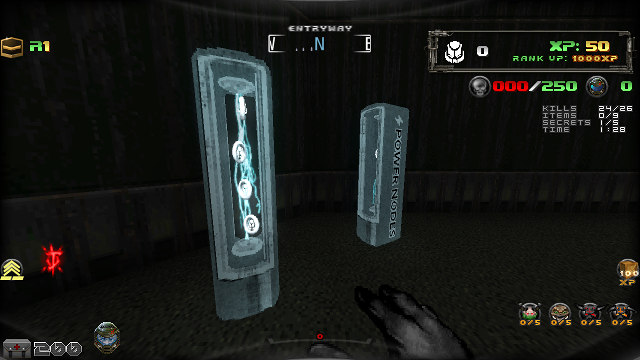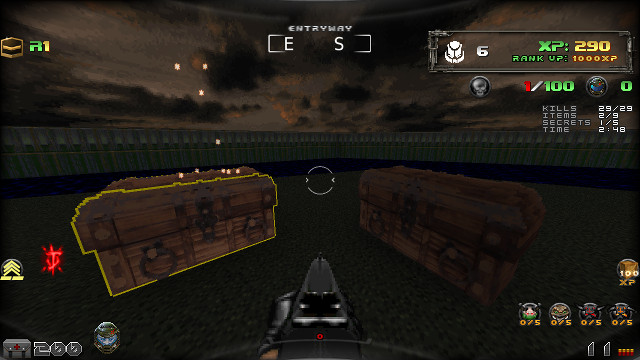 Extra Life
You'll be able to have this option turned on or off. You can also set the kill amount for when the player earns an extra life (100, 250 or 500). As long as the player has an extra life, you will enter into a death state when killed but dramatically resurrect again, causing a radial explosion to clear the path when being surrounded by hordes of monsters.

GloryKill Improvements
Halloween Special
As posted in the previous article, you'll be able to turn on the Halloween Special mode in the Monster Management Menu. With it enabled there will be some pumpkin props replacements and random pumpkin throwing skeleton spawns that can happen at anytime while killing something or breaking the props. Furthermore you will also be fighting Cacolanterns, Bats and Spiders.
Some props will get replaced with laughing witches or crying little girls. Get too close to them and you'll be in for a surprise.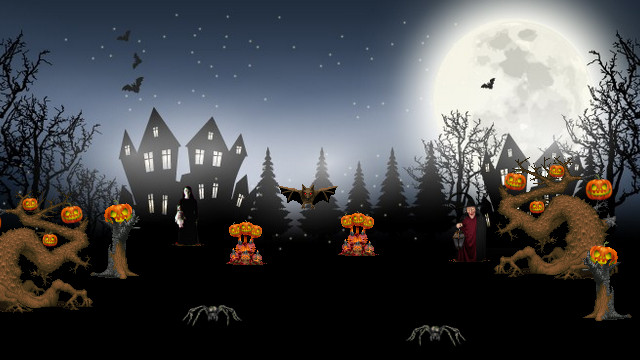 Changelog:

- Voxel models added.
- Voxel Pickup On/Off option added.
- Extra Life system added.
- Uppercut added to glorykill animations.
- Crucible charge value option added.
- Slide kick added.
- Slide kick on/off option added.
- Fire/Frost/Lightning grapple hook added.
- Frost kills make monsters drop extra health orbs.
- Buy Menu rearranged. Added more sub menus.
- AllMap and Infrared are now completely replaced with the power node container.
- Power node containers have random amounts of power nodes inside.
- All new power up sprites by Angel Soul : mytheriadesigns.deviantart.com
- Low ammo capacity option added.
- Dash Attack added.
- Kick and blade glory kills shortened to a single animation.
- Removed a lot Hud icons that don't really give the player important information.
- Stomp Attack upgrade added.
- Mini Bosses now have individual spawn chance settings, except Archons of Hell and Pyro Demons, since they are both a Baron replacement.
- Marauder can't spam shields anymore. First after he fired his shotgun 5 times, he'll be able to use it again.
- Added and changed Marauder See and Look sounds. Taken from the Doom Eternal Marauder in-game dialog.
- Chainsaw fuel recharge upgrade added (5PN + 5K Xp). When reaching 0 fuel it will take 20 seconds before the fuel starts to fuel up again.
- Added new permanent upgrade (100% Armor Absorption).
- Hud icons rearranged (Green is the armor absorb).
- Pooping monsters removed.
- Halloween Special option added to monster management.
Feel free to join our discord server for exclusive info or to share your thoughts and suggestions. If you are experiencing problems you might get a faster response there as well. Also get early access to development builds of the mod.