Hello all, we might be a bit late to the party but we sure can be the life of it. I'm happy to see recognition of the game already across platforms. Now that it is pending release it's only fair that things are updated.
Since the beginning of development I have been updating a Unity Forum thread with tons of juicy detail and if you want to give that a look I'll leave a link here.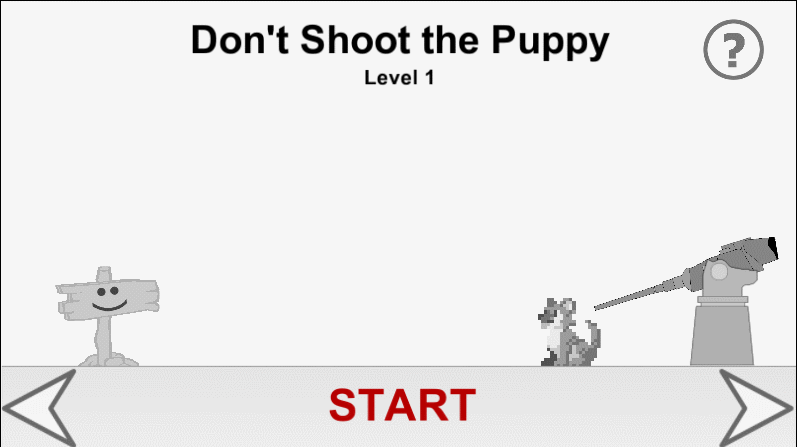 If you're the type that needs a tl;dr or just all your information in one place, I've got you covered.
Summary of forum page:
There are 30 public levels currently. This will probably be increased in the future.
The game has a full achievement system with 23 separate achievements
The game will release as free with no microtransactions
Ads appear every four deaths. They can be skipped after 5 seconds. While play testing I thought this was reasonable and non-intrusive. If you shoot four puppies you deserve an ad anyway.
Checkpoints are every 10 levels and unlock previous levels up to that point.
If you want some background, here is some official text from the game page:
Don't Shoot the Puppy was originally created by Benjamin Donaldson of rrrrthats5rs.com as an experimental flash game asking the question "How hard is it to do nothing?". From thousands of comments, Don't Shoot the Puppy proved how difficult inactivity really was by either causing people to move involuntarily or succumbing to the distractions the various levels offered. Despite each level being seconds in length, a great number of people simply gave up and knowingly killed the puppy.

Don't Shoot the Puppy became very popular over the internet reaching 40,000,000 views. Eventually catching the attention of Benjamin Turley, Don't Shoot the Puppy was ported to iOS with permission from the original developer.
Given all things go well, Don't Shoot the Puppy will release as an app on iOS and Android phones. This will most likely happen within the month. Later tablets and then possibly expanding to more platforms with more levels.
Make sure to give some love to the original developer of Don't Shoot the Puppy as well whose game I am porting from. Here is a link to the page.
All in all, I'm super excited for the release and I can't wait to show you more non-puppy-killing action in the future. Sorry for the block of text. In the mean time, here is a happy sign.