Dominoze Week #1 Wrap
After maybe 3-4 hours of actual work over a roughly ten day period (I've been busy lately), the Dominoze design is coming together!
Dominoze is a multiplayer crossplatform game where you and your friends can create your own domino sets and watch all the dominoes fall. You will earn coins based on how big and intricate they are. You can also post your domino sets online, and other players can sponsor your domino sets and let you earn more. Coins are used to buy things like new contraptions to add to your domino set, as well as different skins for existing contraptions and more room for bigger domino sets.
Presently, Bryan Taylor and I are ironing out the user interface so that I can implement it in our existing Unity live mock-up which you can see at Gamieon.com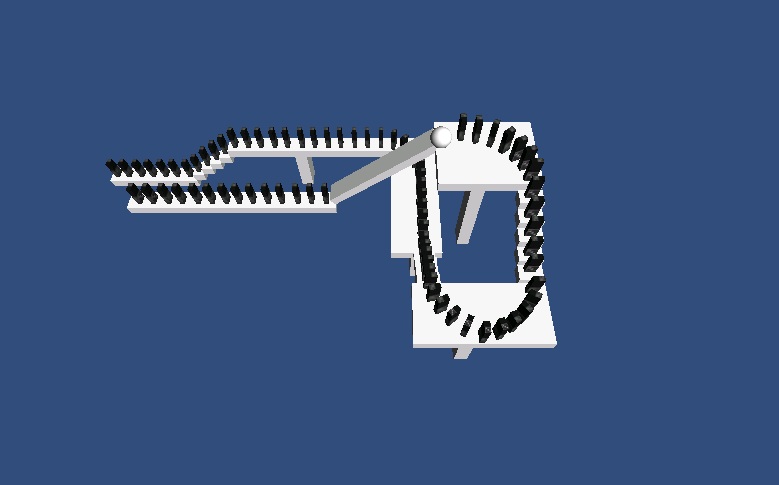 There's not much to see right now exact for basic navigational functionality. The set that appears in the link is just a model I built in 3DSMax.
I've commissioned Meta3D studios to help us turn the model into something that fits the art style we agreed on: Papercraft and patchwork. While inspired by games like Nintendo Land, Animal Crossing, Paper Monsters Little Big Planet; we're working with Meta3D studios to make our own flavor of things.
There are going to be four modes of play in Dominoze:
Tutorial - Here players learn how to build domino sets by making small changes to existing ones so that all the dominoes fall. A guide will help players along.
Challenge - This is like tutorial mode without the guide and with more complicated domino sets. Players must figure out how to align all the objects in the set so that they all fall down.
Sandbox - Build your own domino sets from scratch and post them online.
Gallery - Browse other peoples' domino sets and knock down their dominoes.
Once Meta3D studios gets back to us with some sample artwork to use for planning out all the art assets, and the GUI layout gets decided...then I will be free to begin programming an actual playable implementation.
More details and the complete lowdown can be found on the publicly shared Dominoze Design+ Document at:
It's still a mess, but gradually getting more split out and cleaner.
If there are any contraptions you'd like to see in the game, please e-mail me or comment on this posting!