With the current release of Domi Bellique the ruleset is complete (but a lot of work must be done to proper balance the game).The game can be played from the start to the end.Still some minor features (pillage, railroad) are missing, but they will be added in future.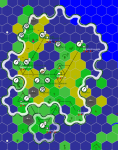 Latest addictions are:
- Espionage
- Religion
- Vassalage
- Great person
- Diplomacy with trade
Still a lot of bugs need to be fixed.
The AI continue to improve incrementally and now understand almost all the rules to win the game (except espionage and religion). With a high level of handicap the computer players have significant bonuses that make them quite impossible to be defeated. I have played several games, always with standard settings (Size standard, Pace normal, Handicap Deity) but it always ends with me defeated almost fast. I just played one single game without handicap and with my great surprise I wasn't the player with the higher score, with one of the player controlled by the computer that conquered all the cities of a continent.
New city indicators
Now several details of the city can be seen under the city name, without opening the detail dialog.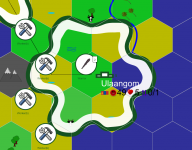 The flag represents the civilization owner of the city.
An hammer the number of unassigned slot of the city production.
The number after the red face the number of estimate turn before a city revolt.
An hearth indicate that the city is growing (the number indicate the number of turn needed for an increase of population).
A green face indicates that the city do not produce enough food and it will reduce the population.
The two arrows is the number of trade routes available but not set.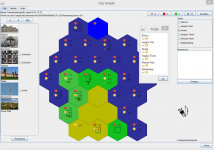 What's next
The next release will focus mainly on AI and UI improvement, to provide a better understanding of the game. Also a new series of articles will describe the distinguish features of the game.