Well well it seems unbelievable, but I have ended! It's a beautiful liberation!
I don't waste other time and I immediately introduce you the mod!
There are a lot of differences from I have written in the summary, the game satisfies only partly the original promises; miss in fact the famous Localized damages (I'm sorry with rahx but at the end I didn't make it), the ingame customization of the character and finally the same game multiplayer!.
Finally resolved the problems of balancing of the weapons and created a very simplified HUD ( very similar to Quake III Arena XD).
The lack of these peculiar characteristics of the mod makes it a common third person shooter but I hope this can tickle your thirst of mod however!
This for now is the only mirror: in case the link doesn't work, you can look for "Doll Carnage" on www.FilePlanet.com.
Guide to the installation ( valid for Windows )
1)Once unloaded the file DCInstaller.exe, launch the program.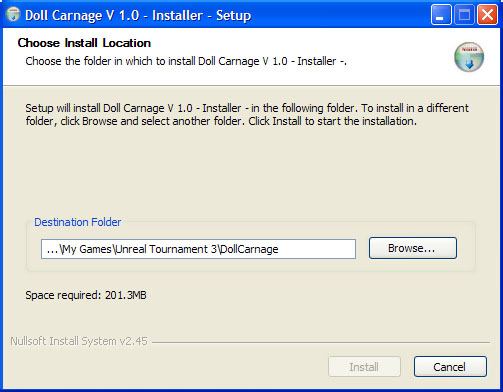 As you see the key "Install" is inactive so it's necessary to insert an attainable address. Precisely, you need to add the lacking part to the address written in the box.
The Folder of which you have need is contained in:
...\Documents\My Games\Unreal Tournament 3\DollCarnage
Attention!!! It's absolutely necessary that the Folder in which the game is installed calls "DollCarnage" without spaces.
2)Done this, the program will install the files, here is what your folder should contain (I apologize for text in Italian):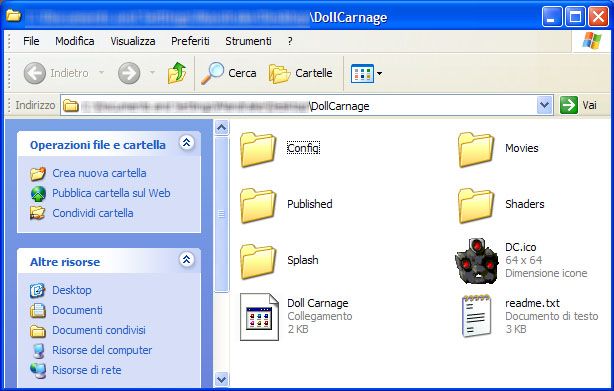 Well, what interests to modify isand' the "Doll Carnage" shortcut: priess right mouse on the icon and click on "Properties":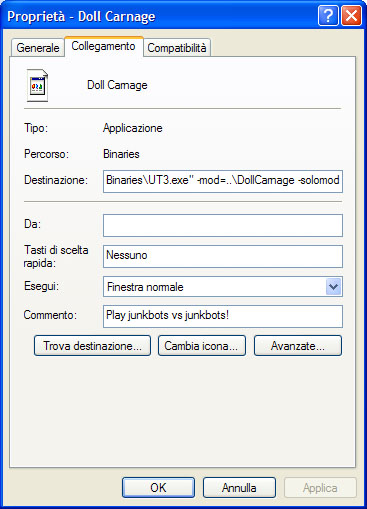 What needs to modify is contained in the field "Destination."
You can notice that in the box there and' written this:
"C:\Programmi\Unreal Tournament 3\Binaries\UT3.exe" -mod=..\DollCarnage -solomod
Part to modify is contained between quotation marks and it must be replaced with the exact location of your file UT3.exe.
Hint!! Normally on the English versions of Windows, Unreal is installed in the directory...Program Files \ Unreal Tournament 3.
At this point press the key "Apply" and press on the shortcut to begin to play!
For whatever problem write a comment to this news.