The Kar-Kiya, as introduced in the previous Dev Diary, are by 1836 on the verge of revolution. Inflation is strangling the citizens of the realm, and the ineffective measures taken by Amir Rostam Kiya are plummeting the popularity of the monarchy.
After the Constitutional Revolution breaks out, and as the player you decide to have Amir Rostam give up his absolute powers and establish a constitutionalist regime, a new set of decisions will open up.
Nationalism is one of the strongest currents in the Constitutionalist revolutionary ideology, and as such you will be able to encourage the formation of para-military nationalist guerrilla in neighbouring Persian nations. Should they rebell and take over the government, you will get an event allowing you to fast-track the unification of Iran.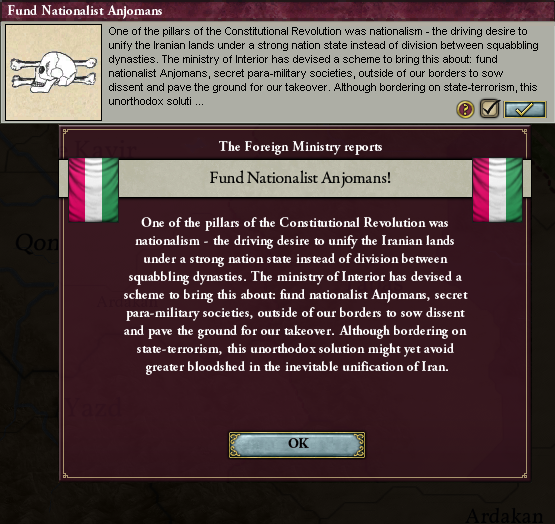 You can move the capital from Lahijan, the old Kar-Kiya monarchical centre, to Rasht, the cradle of the revolution and traditionally the key outpost for trading with the West through the Levant. The province of Rasht itself will get a life rating and population boost.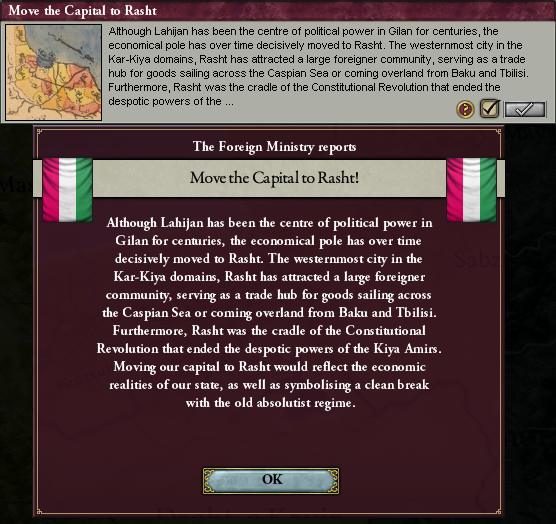 In order to end the currency shortage and the resulting hyperinflation in your realm, you can encourage tea plantations in Lahijan, replacing the old silk trade that the West permanently re-routed to India after the Ottoman Civil War.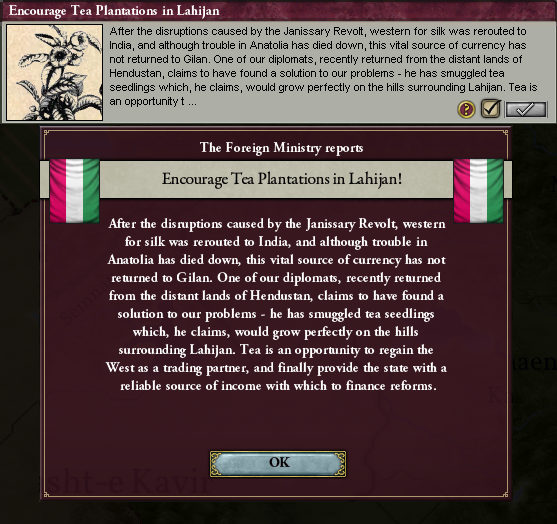 One of the key geographical features of the Kar-Kiya realm are the Alborz mountains, which are the home to the Daylamite people. With a long tradition of forming elite army unites dating back to Buyyid times, you can encourage the training and organisation of a Mountain Troop Corps, gaining military and research bonuses.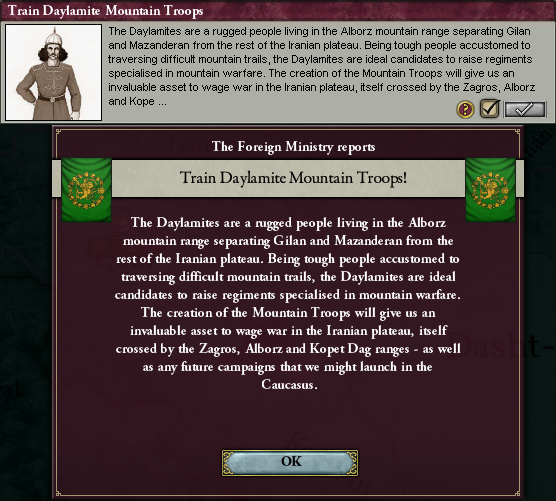 These bonuses will be needed, for much conflict lays in your path towars unifying Iran. One of your most formidable opponents will be the Shaki Khanate, under whose realm a sizeable minority of Caspian Iranians live. You can choose to core this area, therefore allowing you to conquer Tabriz, one of Iran's largets metropolises.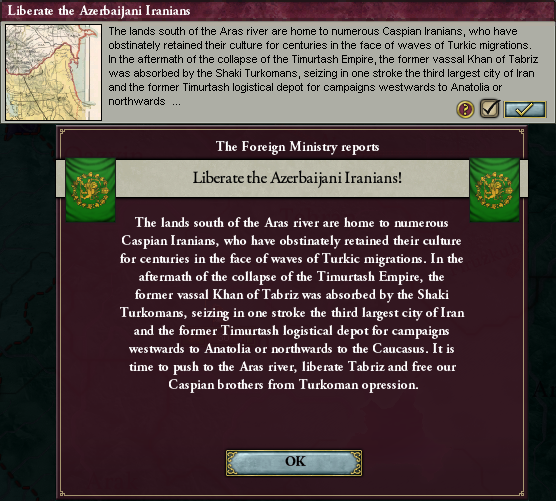 Last but not least, you can enact land reform and re-distribute the old Kar-Kiya crown lands, increasing the agricultural output of your realm.