We've been missing those fun weapons without iron sights, great movement and tight pacing you could see in games from around the millennium. Simply remaking those mechanics with stunning visuals wouldn't satisfy us though.
Distinctions is influenced by Defense of the Ancients and adds many unique mechanics to the mix. Oh... and what sort of game would this be if we didn't have achievements, visual customization and unlockables?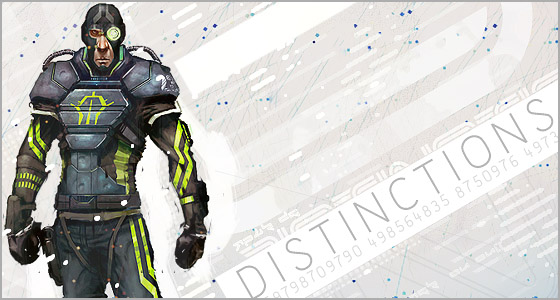 Quick summary
Genre: Multiplayer FPS with competitive edge
Engine: Unreal Development Kit
Influences: Quake, Unreal and Defense of the Ancients
Visual theme: Cyberpunk influenced sci-fi with emphasis on unique look
Gametype: Team based with classes and abilities
Special Movement: Sprinting and trick jumping

Game rundown: Players fight over control of nodes that gather resources. First side to gather required amount of resources wins. There are periodically spawned AI units that are attacking the nodes. Controlling certain nodes makes advantageous spawn points available.
Every player can get different enhancements and upgrade them. These enhancements aren't permanent - they are tied to a specific game and can help further tailor each match to your play style and needs.
On top of that there is exciting trick movement that requires perfect timing for the best performance (it's limited by stamina so you can do a few trickjumps every once in a while).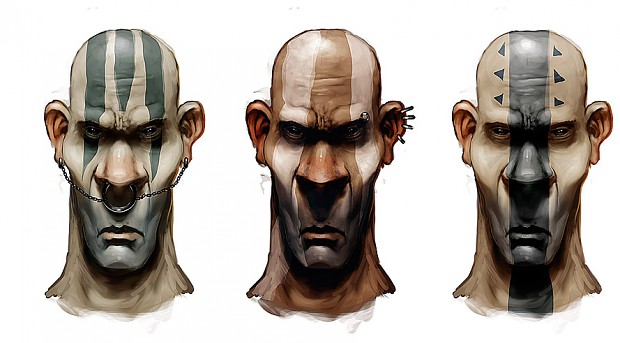 Our approach: We love diversity and support it. Be it your play style (choose your class, weapons, abilities and perks) or visual taste (tweak visuals and unlock unique looks). We also love team play which is why classes benefit from each other. Cooperation is the key to victory.
We are aware that public games and clanwars are two separate worlds. Distinctions offers two sets of settings each tailored to specific needs of their user base.
Development related: We admit that Distinctions is a fairly ambitious project but we're keeping the scope managable and we're avoiding the infamous feature creep. Our primary goal is to get out game that is highly polished, visually attractive and most of all fun.
There is a high degree of organization. Our development team consists of very dedicated members and we focus on quality. We have a lead programmer (masters degree in software engineering), two brilliant concept artists (one of them is lead artist in a design company), talented mappers (honorable mentions for best graphics & best DM/CTF level in MSUC phase 3) a sick sound engineer and a great game designer.


Here's how our internal infrastructure looks like: Forum for media updates and discussions, Skype chats for emergency issues, Wiki for development setup, Subversion for keeping unified build, Bugzilla for bug tracking and finally a design document for keeping the vision.
Did we grab your attention and would you like to be part of the team? If you feel prolific and you could commit to this project then let us know about you! There are positions that we need to fill but we're always interested in people talented in various areas. Feel free to drop us a line at shaftling@distinctions-game.com
Job Openings
Applications without examples of previous work aren't going to be considered.
Effects artist - Should possess ability to produce stunning visuals for character abilities, weapons and environments.
Concept Artist - Creative approach and ability to fit the current style is essential. Concept artists will be making weapon & environment concepts.
Animator - Ability to create believable animations is essential.