The Disorder team has been making progress! We now have Jasoon on board as lead programmer, and EcksBLACK as a map artist. While trying to assemble the team, I have modeled and skinned the Colt 1911 and Mac 10 models. While the full weapon list hasn't been revealed, you can see the style of weaponry that the player will find throughout the story.
Also I'd like to introduce one of the enemy types planned for the game: Bikers. These disfigured bikers will be one of most dangerous enemies during the vehicle sequences. They will try to ride up beside your car and spray you with bullets, so your best defense will be to try to run them off the road before they get a chance.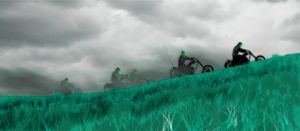 Check out the website if you're interested. We still have need for player modelers, map designers, sound designers, and texture artists. Now would be a very good time to join if you have map-designing talent, because we are about to start planning out the levels. Finally I encourage anyone interested in the project to introduce themselves on the forums, and post any ideas you have.
Thanks and we'll be back with more info soon.