Hello and welcome to the news of Disorder in Space!
Update news
In this update some asteroid bugs got fixed, collisions got optimized and thruster balance. In the buildmode we added the symmetry mode and the building blocks now have armor. Also, you now cant use every weapon type at once anymore, only one at a time (but having more on the ship) you select the weapon you want to fire with number keys 1-5.
In 0.935 its no longer a sandbox mode, now you have to buy the building blocks with your aquired score. Each block has its own price based on they're features (Armor, weapon strength).
The buildmode got some fixes too, for example, you cant place two blocks inside of each other anymore.
Future Plans and visions
Our plans for the story mode or campaign also get to a point where I can tell you how we are going to make it. So, our vision for the campaign is that there was a nearby galaxy that collapsed and is now creating problems, (asteroids, debris, everywhere in our galaxy/solar system) that you as a player have to resolve in form of missions and levels. While doing these missions you collect scrap materials to refine to get more build blocks.
The Symmetry mode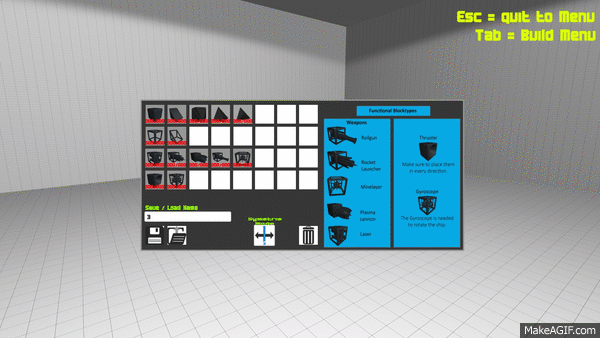 The Enterprise, making use of the new rotatable camera
The Enterprise being destructed