Thank you for your visit. I'm Lee Yun-Seok, creator of YGGDRASIL STUDIO. Today, I've updated the game(July 10th, 06:00 PDT).
2nd major updated:
Add 5th sprites(Backgrounds, inactive): It includes a Wall and Bridge of the Life.
Add new Gallery: Breast-feeding, Fellatio, Riding style.
Add Save and Load buttons to Bookmarks screen.
Add sprites(Integrated with 4th sprites): Material for Bridge of the Life(Inactive).
Fix 4th sprites: Remove room background(It was replaced with the existing room).
Fix Autoplay toggle function: If you toggle the autoplay function to Pause, the autoplay is disabled and text speed is change to faster. If you toggle the autoplay function to Play, the autoplay is enabled and text speed is change to default setting.
Fix BGM: Sea of nectar(Remove melody).
Fix Configuration: Remove Text Speed function.
Fix consistency of Characters name.
Fix event cutscene: Grasping Reality part(Improved visibility).
Fix Gallery: Riding style EX
Fix Key Binding- P key: Integrated with fixed autoplay toggle function.
Fix Main menu.
Fix some typos(my mistakes).
Fix some grammar.
Fix Quick menu(ingame): Stop the Autoplay and keep the screen(when if you entering the menu screen).
Show Language option on Configuration(Inactive).
Main Menu
I had to change the title screen. Add background, and move the buttons to the right. Also had to change the button-type as a grid(Ready to support the controller).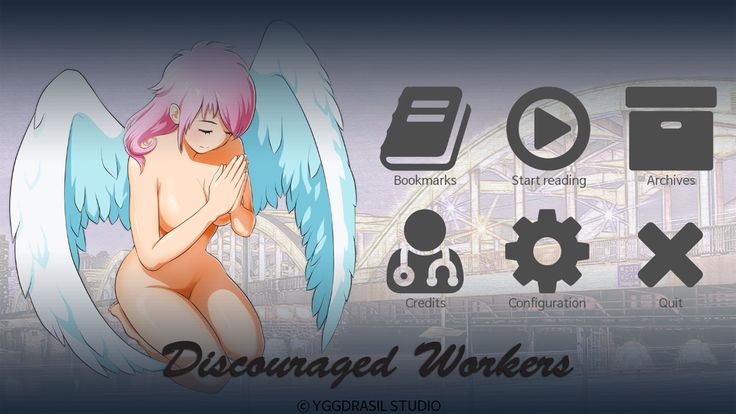 Add new galleries
'Riding Style' was applied division on Gallery Archive. Now you can see the 'Breast-feeding', 'Fellatio', 'Riding Style'. Also improved visibility the 'Riding Style EX'.
New arts is yet.
The new arts was not yet complete. But I've updated build because I received the feedback of Brian. Fix several typos, and grammatical has improved.
3rd Major update planned(The end of July):
Add remaining parts(Self-inflicted, Bridge of the Life, Flowery Mornings and Moonlit Nights).
Add new arts: First Love, Frustration, Pusillanimous, R.I.P, Vomiting, +@.
Add new Objects: Pencil Holder, Cutter knife, Diary(It was completed, but except in this update).
Add new Steam Achievements.
Change BGM: Sigh Day(If possible).
Change Bookmarks screen.
Change Configuration screen.
Change Credits screen.
Fix Steam Achievements.
Realignment BGMs.
Other updates planned(The end of July):
Add new trailer(Early Access Trailer).
Change Steam Capsule images.
Fix Play Edit Trailer.
Fix README.
Prepare the Manual(PDF).