Hello and welcome back to another update of Forgotten Hope. We apologize for having been away for a few weeks now, and we have been working very hard to get 2.3 ready for release, but for now, we have an update which will bring more variety to the infantry world of FH2.
First and foremost, we have five brand new knives for the common soldier in both the US and German armies. From top to bottom we have the Fallschirmjäger Gravity knife, the Hitler Youth (or HJ) knife, the Luftwaffe knife, the Heer knife, and the US M1918 Trench knife.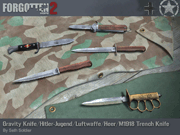 The Fallschirmjäger paratrooper, model OTF knife was true a gravity knife, in that the user had to point the weapon down and let gravity draw the blade out. Then it could be locked in the open position to assist if a solider had to cut himself free from a tangled parachute. The HJ knife was given to members of the Hitler Youth to be worn as a part of their uniform, and the Luftwaffe and Heer knives were given to troops in their respective units. Lastly, the M1918 Trench knife originally saw action in WWI. Its primary feature was a metal knuckle guard with small spikes to prevent anyone from grabbing the weapon, but also to improve the striking power of the solider using it. All knives will be present in various German and American kits in 2.3, and were made by Seth Soldier.
Also in the next patch will be the new knife system designed by Kev4000, which will make the average player much more effective when using a knife, as well as make the average knife fight in FH2 much more interesting.
That's all for this week, but be sure to come back next time for another update. Until then, feel free to visit our IRC channel and our public forums.