Brief
Hey everyone! Thanks to everyone who downloaded and tried out the game; without your help the game wouldn't progress. For all the new users, I'd like to invite you to join the regular players and more new users on the scheduled event nights to have some fun! Events are posted and most up to date on the official game page; however you can always invite your friends on! :D There have been lots of changes and additions from A1.3 to A1.5; and I've been really busy with work and setting up the new internet service, so, I do apologize for not being online with new users or regular players.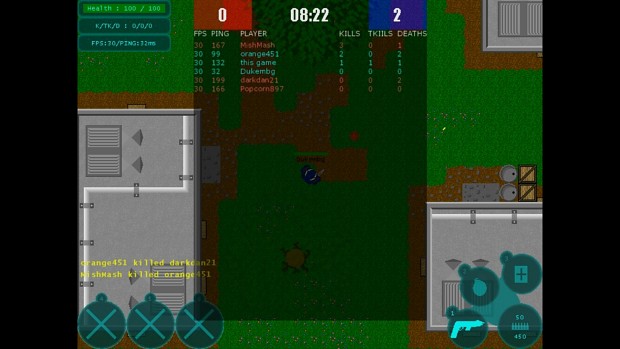 Events
Please join me online for these events until a community is built.
Friday, June 5, 2015 @ 7:00 PM (UTC-05:00) Eastern Time (US & Canada)
Saturday, June 6, 2015 @ 7:00 PM (UTC-05:00) Eastern Time (US & Canada)
Friday, June 12, 2015 @ 7:00 PM (UTC-05:00) Eastern Time (US & Canada)
Saturday, June 13, 2015 @ 7:00 PM (UTC-05:00) Eastern Time (US & Canada)
Friday, June 19, 2015 @ 7:00 PM (UTC-05:00) Eastern Time (US & Canada)
Saturday, June 20, 2015 @ 7:00 PM (UTC-05:00) Eastern Time (US & Canada)
Version A1.4
To sum up A1.4, this update was mainly experimental for diagnosing those losing connection with little progress. It took a while to get all the information about those losing connection, but I had to be sure. For all users with a dialup speed, this game is not for you; but after much hard work to get the game working for a tester, I was able to keep a dialup connected and playing in game for longer periods of time. The connection between a dialup and the server is fine, but the data sent back and forth needs more speed and bandwidth; and communication loses some emphasis. The results of having a dialup in game may crash other clients, so, this issue will continue to be dealt with in future updates.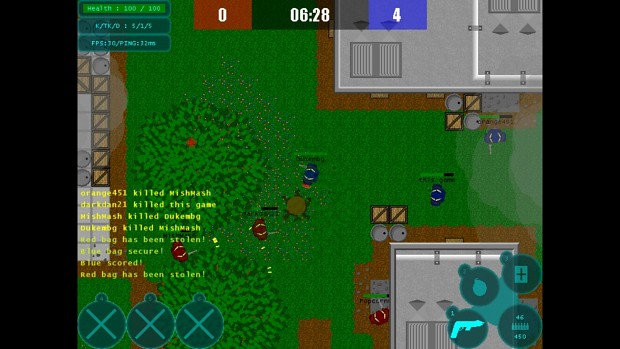 Lots of changes in version A1.4 to make the game more balanced and to make the game make more sense. If you'd like to make any suggestions please feel free to e-mail, comment, etcetera. I'm always looking for suggestions that get called more than once to implement.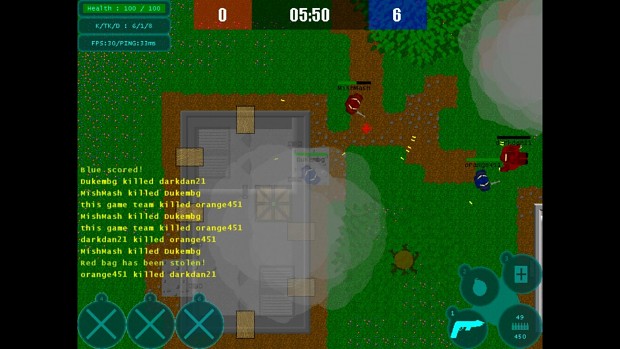 Version A1.5
Version A1.5, I feel, was a big layer of finishing touches and polish for what is done so far for the game. Although the game will never be feature complete, the basic features are almost done and the server has (at this point hopefully) all the kinks worked out, so we'll be moving to beta probably in time for Desura release.
The most notable feature in A1.5 is the leveling system that brought with it the XP gains and notifications. For now the leveling system is a show of experience; but in the future, we'll find ways to make use of the higher levels such as unlocked weapons, maps, and game modes.
Expected Future Content
This game will never be feature complete, instead it will continuously grow. For version A1.6, I plan on fixing any issues that arise from A1.5, implementing your suggestions, and adding the rest of the basic features to the game that include more options controls, player tags and password change, 2 more small maps, join game menu displays more information about the game, create game menu will have a name text field to identify a unique game and password text field for private games. These are not set in stone, and may be added in different updates.
Update Log A1.4 & A1.5
Bug Fixes A1.4
+Hashtag is outputted as return line in chat prompts
+Server crash when two players grab the same bag
+Server crash from mine data create
+Profile default at game end
+No longer use abilities while dead
+Use empty ability crash
+Changing teams doesn't change color

Changes A1.4
+You cannot block spawnpoints with mines
+You cannot have more than 10 mines on the field at once
+Timeout increased to 20 seconds
+Laggers will be paused and the timeout clock will display until they get a response from the server
+Smoke grenade smoke spreads less
+Shotgun damage decreased
+Deathmatch game menu only shows player instead of blue and red
+Deathmatch player color is green

Additions A1.4
+Digits 1..6 change to corresponding weapon
+Incorrect version error will trigger a dialog asking to download new version (pressing yes will give you a direct download link to the latest version)
Bug Fixes A1.5
+Join menu error
+Various server resource management and crashes

Changes A1.5
+Smoke Grenade Smoke last longer and spreads less
+Shotgun damage increased
+Ping system
+Profile menu displays level and experience
+Bullets go 100% faster
+Player list displays level and in game
+No more timeclock

Additions A1.5
+Right Mouse Button heals self with medkits
+Menu button hover sound
+Game join sounds
+Capture the bag sounds
+Laggers get warning
+Leveling system
+Experience, Level Up, and Ability sounds
+Experience, Level Up, Ability notifications
+Kill, Kill Streak; and Capture the Bag steal, secure, and score XP gain
Download
No Install. Download and Play!