Brief
Thanks everyone for participating in last weekends events. With your help, I've found a few more bugs, implemented your suggestions, made the game more efficient overall, and you've proved that players can play with anyone around the world. Dire Days version A1.3 is here and is already available on all the outlets. Some new media has been uploaded including some shots and a new walkthrough video for the changes and additions for version A1.3.
Version A1.3 Update
The Game Maker Community has been a tremendous help to make the game that players want. The default movement has been changed to traditional TDS movement and players can choose to keep it or switch to the FPS style movement. The invisible walls on the edges of the map now fade in when you get close to get rid of the clunky feel. A few modifications to the ping have been made and freed up a lot of unnecessary network traffic.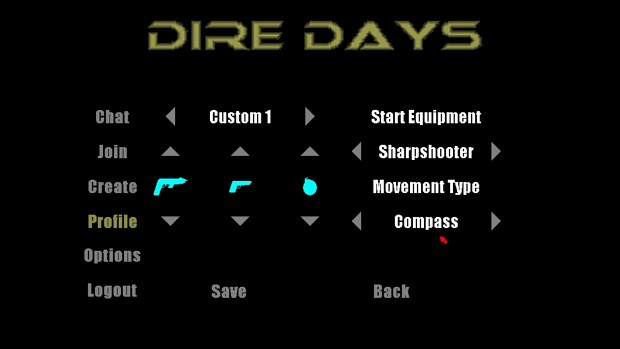 Version A1.3 Additions
From the chat menu, players may now select other players in the list for a shortcut menu to whisper or join their game. The profile menu now has the option to select movement type. "Compass" for tradition TDS and "Toward Cursor" for FPS like movement. A new game mode has been added, "Capture the Bag".
Capture The Bag
This is a team game mode where each team has to steal the other teams bag and bring it back to their bag to score. Your team cannot score if your team's bag is stolen. When a player dies with a bag, the bag is dropped. You may get your bag secure by killing the opposing player that has your bag and picking up your bag.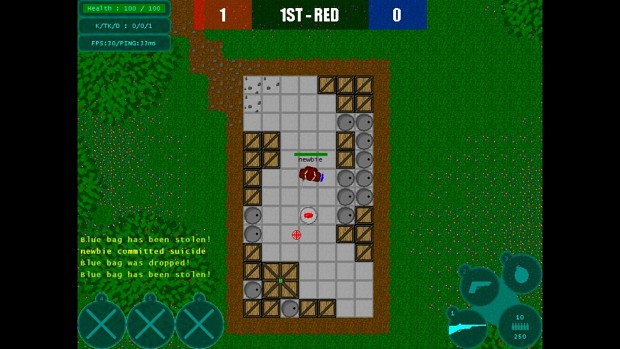 Version A1.3 Log
Bug Fixes A1.3
+Create or join more than one game (high ping players)
+Ping duplicates
+Client local variables conflicting with asynchronous events
+Spectator player leave (client side)
+Sending empty whispers
+Join list selecting
Changes A1.3
+Default movement is "Compass" (W,A,S,D) correspond to (Up,Left,Down,Right)
Additions A1.3
+Select player in lobby chat for shortcut menu to whisper or join game
+Error codes displayed for joining game, profile save, and option save
+Movement type select in profile menu
+Map boundires fade in as player gets close to them
+New game mode: Capture the Bag
Hotfix A1.3.1
+Profile settings don't save or revert to defaults
+Capture the Bag Game Mode interferes with other game modes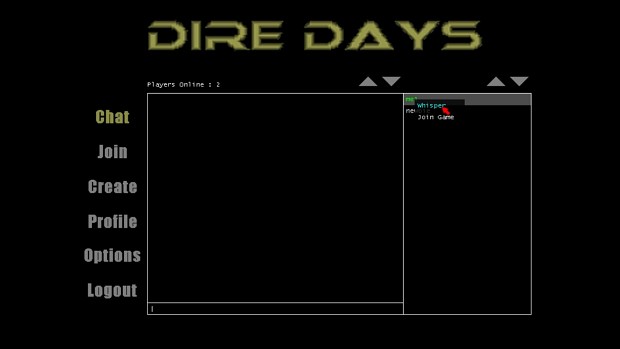 Expected Future Content
Dire Days will continually grow and get updates such as new maps, game modes, community features, user interfaces, weapons, and anything else I can think of. Future game modes I have in mind are Zone Control and Base Defense. I plan on expanding the profile and adding friends, and tags to put in front of your name to associate with a group or rank. The join game menu will be expanded and show more information about the game you have selected. All menus and game graphics will eventually get a make over to look more organized, and appeal to the eyes.
Upcoming Events
Join me online at the following times to play with others until a community is built.

•Friday, May 29, 2015 @ 7:00 PM (UTC-05:00) Eastern Time (US & Canada)
•Saturday, May 30, 2015 @ 7:00 PM (UTC-05:00) Eastern Time (US & Canada)
Other News
This Thursday, May 28th 2015, The internet service will be upgraded to support more players. Expect the server to be down Thursday afternoon into Friday Morning; and a new client version will be uploaded to accommodate the new network settings.

This June, 24th 2015, Dire Days will be released on Desura.