Brief
First, I would like to thank everyone who participated in the past weekend events. With your help, I've found a few more bugs and made the server way more efficient. Dire Days version A1.2 is here and is already available on the official web page; and you can always get the most up-to-date version there. Some new media has been uploaded including some shots and a new walkthrough video for the changes and additions for version A1.2
Version A1.2 Update
Thanks to the players this version is much more solid. Ping now shows actual ping to the server in milliseconds and works with the timeout which has been increased to six seconds for players on the other side of the world. It would be best if players with high ping play with other players with high ping and vice versa. The overall mechanics of the server have been fixed freeing it from conflicts that crash or give the server adverse effects and at the same time free up memory.
Version A1.2 Additions
The fun and critical part of the gameplay has been added! The abilities allow you to radio in powerful strikes that can drastically shift the battle. You gain abilities by getting kills and the kills don't have to be consecutive. First is the Air Strike: 10 kills. Artillery Strike: 20 kills. Tactical Nuke: 30 kills. Each ability displays it's area of effect and time to effect when place and when the ability is fired.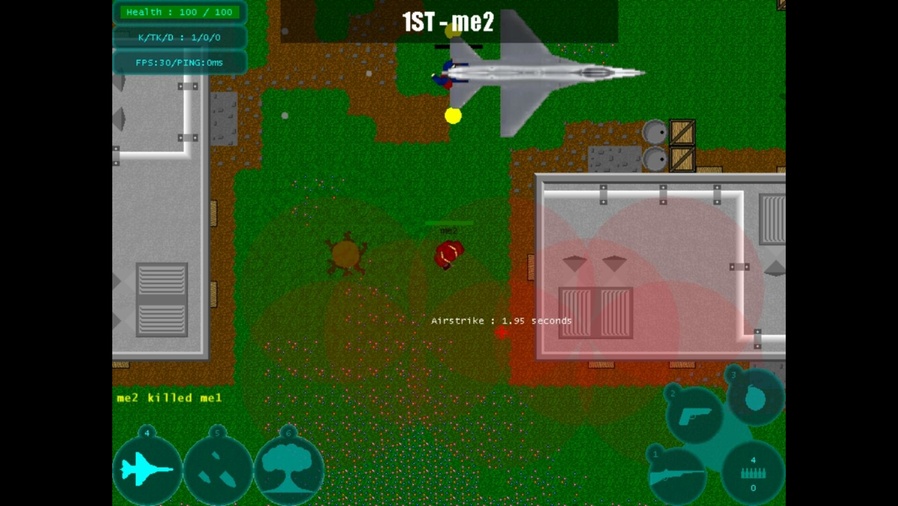 Version A1.2 Log
Bug Fixes A1.2
+Ping
+Sync data
+Login fields
+Server local variable conflicts and asynchronous events
Changes A1.2
+Map "Test" now called "Outpost"
+Timeout increased to 6 seconds
+Lobby players indicate ingame
Additions A1.2
+Air strike ability
+Artillery strike ability
+Tactical nuke ability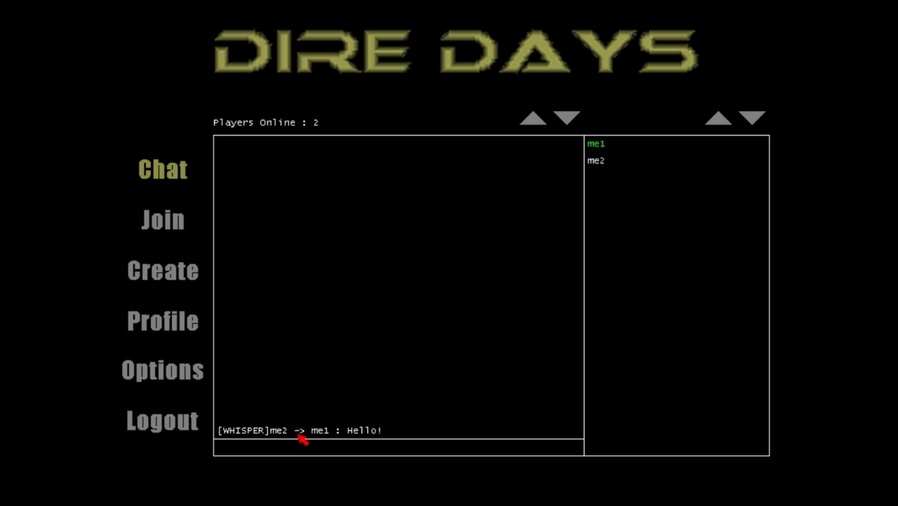 Expected Future Content
Dire Days will continually grow and get updates such as new maps, game modes, community features, user interfaces, and anything else I can think of. Two must have game modes in the future will definitely be Capture the Flag and Zone Control. I plan on expanding the profile and adding friends, and making the player list more interactive with shortcuts to whisper and join game. The join game menu will be expanded and show more information about the game you have selected. All menus and game graphics will eventually get a make over to look more organized, and appeal to the eyes.
Upcoming Events
Join me online at the following times to play with others until a community is built.
•Friday, May 22, 2015 @ 7:00 PM (UTC-05:00) Eastern Time (US & Canada)
•Saturday, May 23, 2015 @ 7:00 PM (UTC-05:00) Eastern Time (US & Canada)
•Friday, May 29, 2015 @ 7:00 PM (UTC-05:00) Eastern Time (US & Canada)
•Saturday, May 30, 2015 @ 7:00 PM (UTC-05:00) Eastern Time (US & Canada)

Other News
This Saturday, May 23rd 2015, The internet service will be upgraded to support more players.
This June, 24th 2015, Dire Days will be released on Desura.