The final weeks are at hand! The dinosaur invasion is upon us! Dino D-Day is just days away! After two-and-a-half years in development the game that packs Nazis and dinosaurs into one explosive package is now ready for release...mostly.
While it is true we were shooting for a March 1 release on Steam we will instead push that back to March 29. Reason being, to make things like this: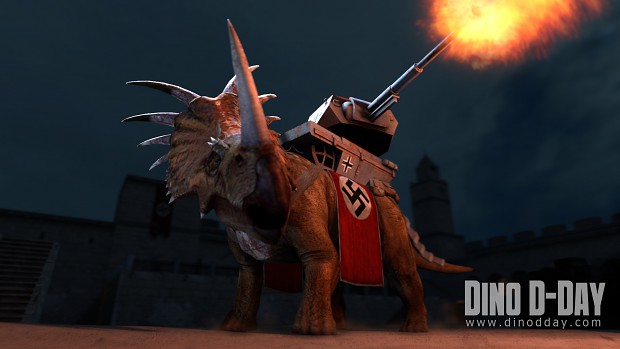 You will encounter this dinosaur if you play Dino D-Day!
In the coming days we will be distributing Beta keys for the game. The Beta will include all classes and all playable dinosaurs. It will ship with one map that will be playable in two game modes - King-of-the-Hill and Team Deathmatch.
Details of how these Beta keys will be distributed is forthcoming but hopefully everyone here at ModDB will be interested and excited in taking part. If you're interested, drop me an email and let me know. We're looking for people who want to help us make the game better not only in these final weeks before release but as we move forward from there.
One other note: very soon I'll be creating a page for the game on IndieDB since Dino D-Day is now a full-on Indie game that will soon be available for purchase on Steam. For the time being though I'll continue posting news to this page.
Thanks to all for playing the mod! We on the team really hope you enjoy playing the full-game as much as we've enjoyed making it!
Abe