Over the last few weeks the team here at Max Gaming has been working on several different areas of Dark Horizons: Mechanized Corps. and while we are working to get a stable patch out on Steam, we wanted to share our progress.
Engine update status
As we dug deep into some performance issues on Windows and Linux we looked at the latest updates for our game engine to help resolve some of these problems (as well as provide new features). As such we made the decision that for the past few weeks, our programming team would put some new features on hold so we could do a major update that will benefit everyone.
While this meant that we were not able to put out updates to features like Faction Wars as quickly as we had initially hoped, the good news is that most of the issues that had been blocking updates are now resolved! So we should have a patch up soon.
Art Updates
While our programming team has been tackling this engine upgrade and performance issues the rest of the team has been hard at work in several other areas.
One of the most significant updates has been with updating the weapons and mechs that are currently in the game with more detailed geometry and textures. Though we are only part way thru these visual updates, we will be integrating this new content as we complete it. Here are a few shots including a updated Viper mech with new mesh detail, texturing, and a sampling of some of the weapon updates we have done.
Mech chassis updates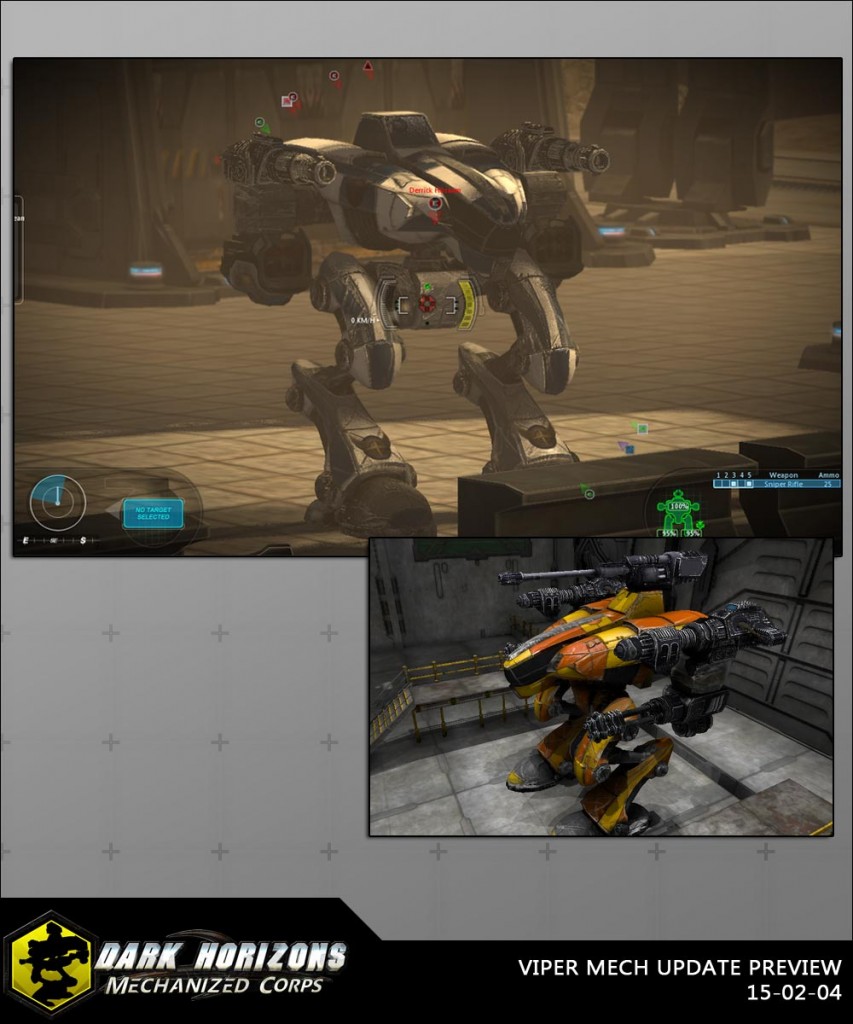 The art team has spent some time looking at the current mech chassis and starting adding more detail into the geometry and in the texturing. The Viper chassis (being the first mech that we made for the game) is the first to get a makeover.
New weapons textures
Below you see the latest Viper chassis with an assortment of the updated weapons models.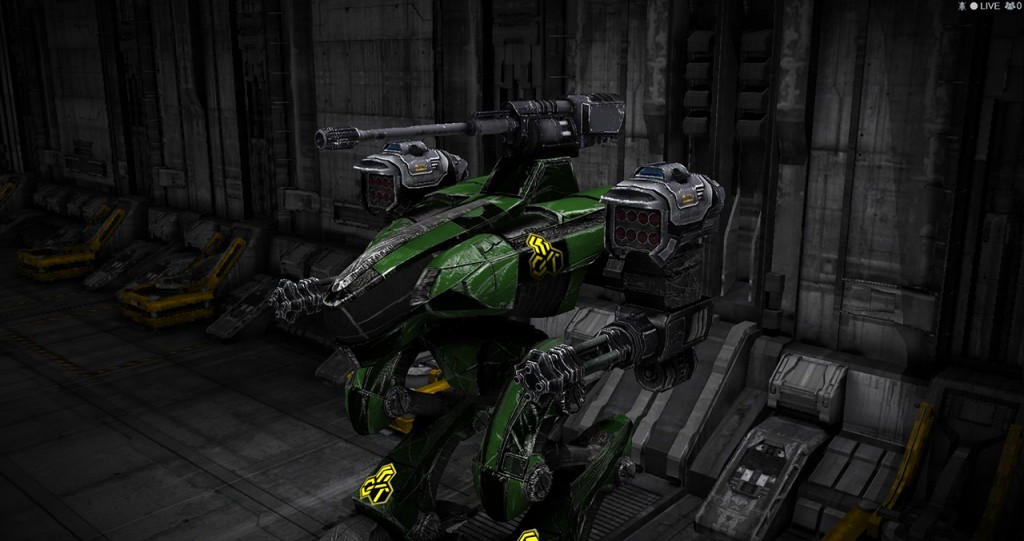 Is that a new hanger you see in the background? Why yes it is!
Weapons balancing updates
We have been lucky enough over the last couple months to be able to collect more data around the weapons and also see how different players outfit their mechs. During this time we have found some imbalance issues and have been working on updating all weapons to better fit their designed functionality.
Though not all weapons will change, we have touched about 70% of the values, with that we will be posted a detail of the changes once they are live. Why? Because any current configuration will likely be affected.
We have also added in some chassis specific power plants so configurations can get the custom power and system specifications it needs.
Faction Wars
Though not in the immediate upcoming patch, more Faction Wars functionality is coming very soon with the ability for individuals and squads to join Factions and the Faction interface to include initial functionality.
We will be holding a mock war event in a few weeks which we will post soon including the dates for the event!
Linux and SteamOS
Now that the engine upgrade is completed we can now finish the Linux/SteamOS client port. The initial release of the Linux client will be very early alpha, but with the new engine upgrade we have improved performance a good bit. For more info on the port please visit this forum post:
Shout out to our supporters
We want to thank everyone whom has shown their support for the game, and to help celebrate you, we are going to start looking thru posted screenshots and then share our favorites on the forums. The team would especially like to thank Sophisanimus for his extensive thoughts on the weapon balancing and of course dedication to the game. Thanks again, and we hope to continue to earn your support.