Team Goals
At World's End is a team of skilled artists, programmers, designers and come together to create an asymmetric Virtual Reality experience using the HTC Vive and four human PC players. ONESTRIKE is apart of the #MAKEITSUPERHOT MODDB contest with a goal to create one of the first engaging asymmetric Virtual Reality games while also aiming for a $50K publishing contract.
Game Goals
The Vive player must utilize patience, concentration and the ability to slow down time to defend against and take out the other four PC players roaming the shadows by striking them with a sword in order to win. The PC players must hit a target located on the chest/torso of the Vive player using a handful of weapons in order to win.
---
Features
A factor of the contest is to utilize a portion of the mechanics and visual aesthetics of SUPERHOT and develop a fun new way to use them. Many entries before us seem to focus heavily on the concept of having time move only when the player moves, which is a major part of the SUPERHOT experience. However, since we are aiming to create a multiplayer experience using two different systems including Virtual Reality, having time only move when everyone moved would be a bit cumbersome and would break immersion for the players. Thus, ONESTRIKE uses time as a counter offense for the VR player to defend themselves from unknown aggressors at a moment's notice. Our concept features are as follows:
4 vs 1 asymmetrical gameplay between a player in the HTC Vive and four PC players.
Ability for the Vive player to wield a sword, that once drawn loses length overtime but can be recharged by sheathing the sword again.
Ability for the Vive player to use a "time slow"/"bullet time" mechanic when drawing/launching their sword as a counter offense.
Other opportunities for smaller bullet time events caused by PC player attacks.
Ability for the Vive player to melee PC players and pick up weapons.
Ability for the Vive player to use a sonar pulse to detect where players are in environment.
Ability for the PC players to navigate environment using standard first person controls.
Ability for the PC players to see in the dark.
Ability for the PC players to pick up thrown weapons/ extra in the environment.
Ability for the PC players to wield melee weapons and throw them.
Ability for the PC players to melee.
A constantly shrinking/ shifting level forcing PC players to enclose and engage the Vive player.
Binaural audio (multi directional sound) that signals PC player locations to the Vive player.
Network play for easy connection among friends and strangers wishing to play as either Vive or PC.
The PC players can trigger sounds and visual effects will traversing the environment, acting as warning cues for the attentive Vive player as to where an expected oncoming attack from the shadows could be warranted. Besides binaural warnings, the Vive Player uses sonar to attempt locating the enemy.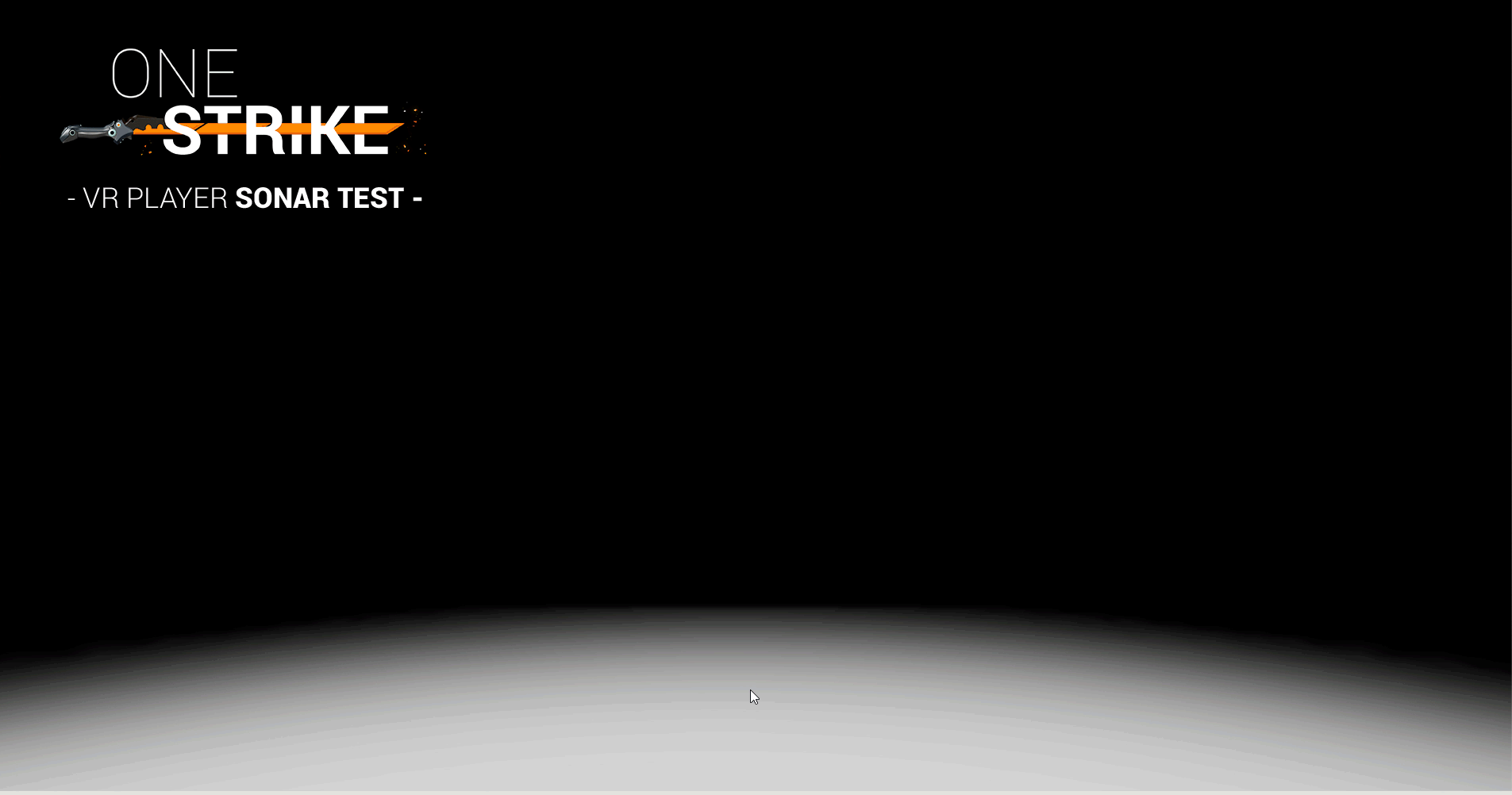 Extended Features
These features are the future goals that the team wishes to expand upon after the contest closes. We anticipate this list to grow as we balance ONESTRIKE gameplay mechanics.
Single player Vive mode where the Vive player is pit against AI bots.
A recap/play of the game feature showing off the player's moments before victory.
Ability for the Vive player to teleport between multiple predefined locations.
Multiple maps with possibility for randomization of obstacle and weapon layouts.
---
Art Aesthetic
In keeping with the theme of SUPERHOT, character model detail will be low poly, and with exaggerated angularity between vertices to give an uneven surface topology. Character models will have flat, uniform lit shading to extenuate the low poly aesthetic.

Weapons will be of higher detail and will follow a sci-fi/simulation look and feel to them. They may even by realistic in nature. There will be lots of vibrant neon colors in particle effects and trails for the swords and weapons. This is to make the VR player experience more interesting, allowing them to look at something up close with great detail while also providing the PC players an easy way to pick out what is a weapon in a low poly environment.
Environments and the props that fill them will be flat shaded. Levels will be in a maze design, leading to central "arena" zones where the Vive player will be stationed, awaiting combat. The central theme of the environment is an abandoned warehouse with left behind equipment and materials.
Sounds will be iconic video game/ arcade sounds when killing enemies or swinging swords.
---
The Team
Producer & marketing: Nathan Trimboli
Creative director: Corbin Barney
Lead programmer: Matthew Cummings
Lead artist: Noah Hunter
Lead sound designer: Christine Wright
Programer : Tyler Quillen
Animator & 3d modeler: Keanu Davis
Animator & 3d modeler: Jordan Brown