It's been about 2 weeks since my last Robot 505 update. Rest assured there is a reason for the brief hiatus. I've been plugging away on refining, fixing, & polishing the current game build. Along with that, I have been getting a constant stream of feedback, and ideas. Things to fix, things to rethink, and thinks to maybe add. Which is great cause it's slowed me down a bit to focus on player experience vs just building to build. I'm loving the develop / demo as you go approach. The feedback seems more potent and genuine. It's kinda like working with a team – more heads and ideas – the merrier.
I mentioned in my last update a few things to expect in the next demo… One of which was a 2nd level. Well this still holds true… There will ALSO be a 3rd level too! I wanted to have a more complete version of a demo for people to play. This will allow for difficulty progression.. Easy to harder. As it stands right now.. It's just hard. Which is okay, but I would like to lessen the frustration right out of the gate for new players. I have to remind myself that – I'm not the only player!
Fall death still seems to be an issue. It's an issue I am okay with. I'm finding it's really a matter of player preference. With that said it's spawned some great ideas on how to handle it. One of which is not an entirely new idea but one that's brought up a lot when discussing this issue. A Jet-pack Perk that would give you momentary hovering ability. I haven't fully implemented this, but the idea is that it would be an earned perk, and could be used to save yourself from fall height deaths, along with the un-intended ability to hover and attack, which would lessen some of the jumping and jump pads.
What to expect in next DEMO update:
Fixed the crushers. They finally work as intended :D

Also added the ability to the crushers to just miss the player – based on player positioning. If you are moving along and the crusher just nicks you, you get injured a tad and do not die. Like a close call.
Level 2
Level 3
Added a mini boss - "The Quantum CPU"
Jet-Pack Perk
Shape shifting crates – maybe an enemy – maybe a perk.
Less frequency of elevator music
Duration of stun lessened – from flying patrolers.
Quick shot of the mock-up of Level 3: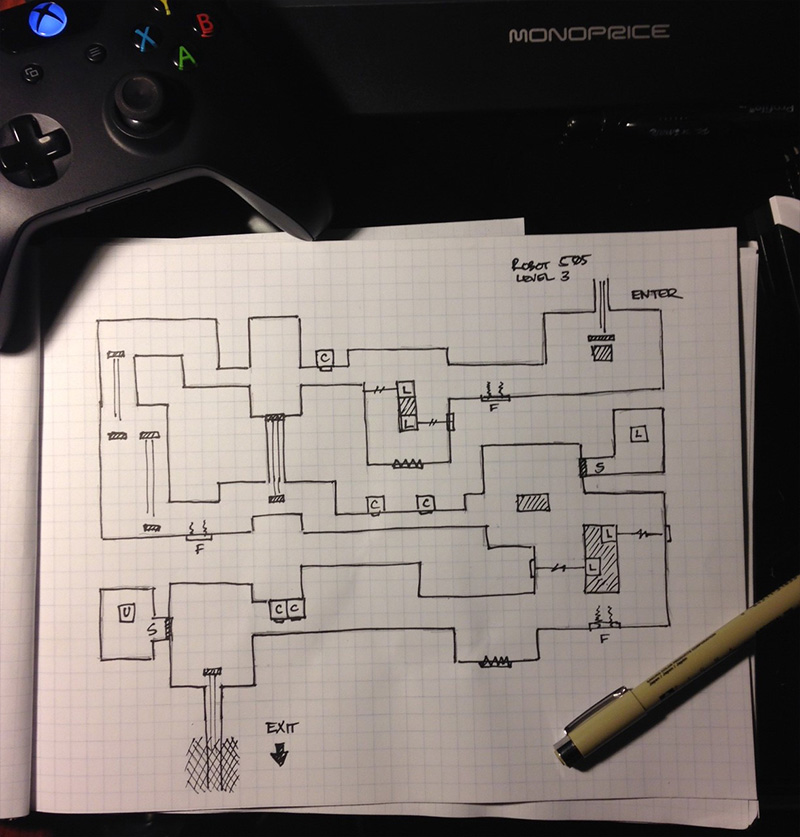 I'm shooting for an update to the demo by Friday (hopefully) If everything goes smooth and I don't run into any major issues. I'm likely going to make sure that at the very least that All three levels, and major fixes will be available by Friday. Implementation shape shifting crates and jet-pack perk will depend on how smooth the development of them goes, and maybe reserved for another future update.
To all those playing, sending feedback, and uplifting comments, Thank you!
Cheers!