So, hello everybody! Welcome to the first official developer blog for Dyadic! I'm Jack, Creative Director for Handsome Dragon Games, and I'm in charge of all of the design and management aspects of the game, so these developer blogs are my domain. I'll be putting up a new blog every Friday, so be sure to keep an eye out for them.
This week has been one hell of a week on the design front. We're building this game on top of a ~30 minute demo we made for an exhibition a few weeks back. We're planning on expanding it to create a two to three hour experience, so that means we need to add several more levels, and to do that, we'll need several new mechanics to keep them interesting. So, let's take a look at those, shall we?
Let's start with a staple of the puzzle genre - levers. Hell yes, we've got levers. You pull the lever, it'll activate something. You pull it back, it'll deactivate that thing. Pretty simple, but immensely useful. Not only does is provide us with new ways of constructing puzzles, but it also serves another useful purpose. Education. The simplicity of levers allows us to communicate one of the key factors of our puzzles: just about everything is binary. It's on or it's off, that's it. So levers are something you can expect to encounter very early in the game, to help you get to grips with everything.
Next up, we've got the elevator, which moves in a way similar to a piston. This handy device is used for moving players and items around the levels, either by lifting them up, or pushing them around. The main purpose of this new mechanic is to create opportunities to expand the level, as well as to give players another puzzle piece to make use of in their escape. One of the benefits of their design, is that they can be used to both help and hinder your partner in the game. Want to get them out of a pit? Activate the elevator and lift them up. Are they trying to pull a lever you don't want them to? Activate the device and push them away. The possibilities are...not endless, but rather numerous.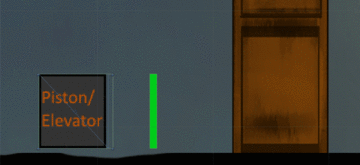 The elevator in action. Is it really an elevator if it's on its side?
Elevators were actually intended to be included in the initial demo of the game, however due to time constraints they were removed very early on. We later discovered that because of that (and a couple of other early removals), all of our mechanics had simply become various ways of opening doors. Which worked, but sounds exceptionally strange when you say it out loud.
Lastly, we've got a small collection of mechanics that put together, alter the tone of the game and the player dynamics wildly. All of these mechanics are centred around one other: death. Both players can now be killed by traps in the ruins. Primarily the classic moving walls and descending ceiling traps. And more often than not, it will be up to the other player to save them from that trap. Or not. Neither player is essential to completing each level, so if one dies it's not the end of the world.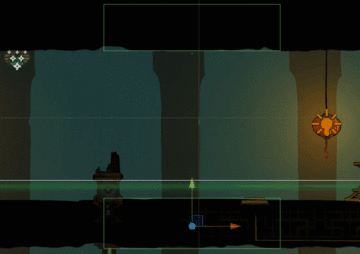 Don't worry, they won't move this fast in the full game.
Though that's not to say that there aren't benefits to having both players alive. Both players co-operating will allow them to access different paths through the level. Paths that are likely going to be easier if they can work together. But these paths will also require you to share the jade statue, your valuable prize, much more freely. Can you really trust your partner with it? That's up to you to decide.
However, should one of you die whilst working together, worry not, this is not the end of your adventure. A new device has been added, currently dubbed the 'Revival Shrine', which does what it says on the box. It revives you. If one player is feeling particularly generous, or just wants to have the opportunity to try and kill the other again, they can activate this shrine to revive their partner at a corresponding shrine on their side of the level. But if the two of you can't manage to work together, again, don't worry, if you died in a puzzle, you'll be revived automatically at the start of the next level.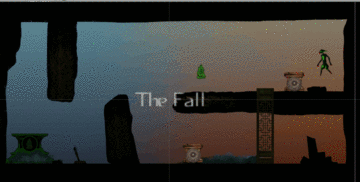 The implementation still isn't perfect, but you get the idea.
So, now you know what to expect from some of the new mechanics we're bringing to the table. There's a few more that I haven't listed here simply because there isn't room, so they'll just have to be a surprise. If all goes according to plan, all of our new mechanics will be fully implemented by the end of today and I'll be putting them into the levels next week. Want to find out how that turns out? Come back next Friday.
Until next time,
-Jack

Our Website: handsomedragongames.com
Our Facebook Page: facebook.com/handsomedragongames
Our Twitter Page: @AHandsomeDragon