Hello everyone, it's been a little while since I made a update devlog. So today I will be going over some MASSIVE changes to the game, this includes the graphics and the combat formulae's. So let us jump right into it.

Graphics:
The graphics are the biggest part of Beyond Online. This is what captures peoples attention and makes them want to play the game. Thus, I have changed the graphics of the game and made them look retro. Similar to SNES games, heres an example.

Alongside this, there are a few armours and swords, but there are NOT many at this point in time, I'm having to do them from scratch.
Bronze Armour + Sword:





Steel Armour + Sword:





Black Armour + Sword:




There are a few more items but they're a secret for now


Combat:
Okay, so now a big issue but the combat system is a lot different. Specific NPC's can be set up to do damage in different ways, such as magic or physical damage. Pretty cool?
Well, something even cooler is that Bow's and Staff now have "Ammo" fully set up, which gives an advantage to melee fighters, however as you all know bows and staffs are long range. So I guess it balances itself :p

That's all for combat.

MISC:

Crafting:
Crafting has been fully integrated! There is crafting for different things, this includes...
Component Crafting
Armour Crafting (Tier 1 - Tier 5)
Food Crafting (Cooking)
Alchemy
Weapon Crafting
There is basically crafting for everything


Tilesets & Resources;
The tilesets and resources are being changed! So far, we have a 2 new tree's in the game to match the new sprites;
(Thanks to Time Fantasy!)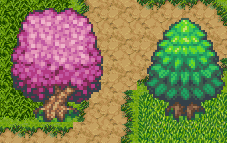 Anyway, that is all!
Best Regards, Bradley
Founder and Developer of Beyond Online