Hi everyone!
We are working very hard on the final touches of our Campaign Mode to launch it on PlayStation 4 at the beginning of 2018, but meanwhile we wanted to continue with our series of devlogs. In this video we show you the basic mechanics of Phobos Vector Prime, as well as its gameplay and the skills of each spaceship.
Within the basic mechanics of Phobos Vector Prime one of the most important is the movement of the spaceshift (obviously), which is handled with the two joystick as in a twin-stick shooter but with the difference that in our game you can control the burst shot using the R1 button. Our intention is that the player can handle the ship with smoothness, but without losing precision both to dodge and to aim.
We've recently incorporated a new mechanic that supposes an additional help to the basic movement; it is the dash, a small quick move that makes it easy to dodge shots, get in the combat and exit from it. The use of the dash is unlimited, but it has a short waiting time that serves to prevent the player from overusing it.
In addition to movement, another of the basic mechanics of Phobos Vector Prime is the shot. It is a key piece in the attack and can be modified with power-ups that are within the map: the basic ammunition (unlimited) can be changed by another type of projectiles (limited) that cause more damage to structures, minions, enemies...
An aspect of vital importance on the combat of Phobos Vector Prime are the Integrated Combat Systems, a set of special abilities of each spaceship that are designed for the MOBA Mode but that we have also implemented in the Campaign Mode giving it a narrative charge. In this devlog we show you how three spaceships models work, one of each faction:
· Dark Moth (Renegade): this model is aimed at resistance combat, that is, it behaves like a tank. It has skills like 'Battle Respite', which generates a force field that makes it invulnerable to damage for a limited time. In addition to that, Dark Moth has a power shield that causes impact damage and a powerful special ability that deploys a destructive wave capable of killing enemies in seconds.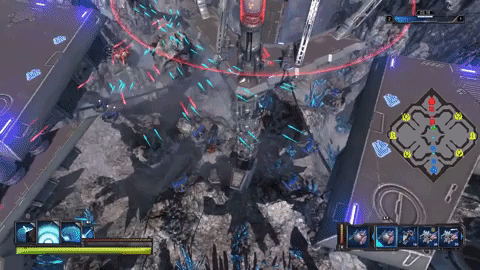 · Eagle (Milician): his game system is similar to a DPS. Its first skill increases the rate of the basic shot, which allows it to hit twice as fast in the enemy defenses. But what really stands out from this spaceship is its ultimate; its name is 'Infernal Rain' and consists of a powerful attack in the shape of an open cone that raves at the enemies that are inside that area.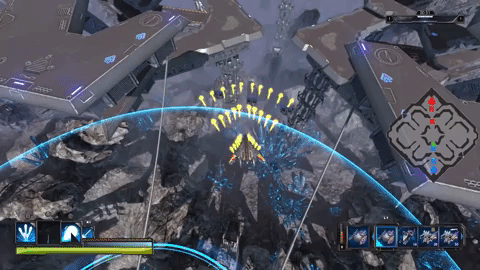 · Goose (Bounty Killer): these mercenaries have a fleet of space vehicles designed for tactical combat. Its skills oscillate between stealth and power, so the Goose can become invisible to enemies and deploy undetectable mines by the radars of adversaries, but at the same time it has a particle accelerator that allows pilots to generate lightning that goes through all those who put themselves ahead. In addition to using Integrated Combat Systems, players can expand their offensive through Tactical Personalization, a system that allows you to choose what type of drones you want to deploy. How does it work? In each online game players can hack one of the many drone factories on the map and with the points they can decide what kind of drones they want to use in the next waves.
There are many more skills and mechanics within Phobos Vector Prime: some of them are in the final version of the game, others are ideas that can only be realized with your support. Anyway, we hope you enjoyed this video, see you in the next devlog!