Why, hello there, you Handsome looking reader! So nice of you to join us. I'm your host, Jack, Creative Director for Handsome Dragon Games, and as always, I'm here to keep you up to date with the ins and outs of Dyadic's development. This week we've hit another big milestone, the demo! That's right, we've got a demo out right now, ready and waiting for you to give it a try! But it's not something that just came together overnight, we've been adding and adjusting all kinds of things to get it ready.
First and foremost, our fantastic UI programmer (and PR specialist), Callan, has completely reworked all of the game's menus and interfaces. So this means we now have a whole host of new art and animations for all the various aspects of the menus; the art being done by Angelica, of course. So, now our main menu looks like this: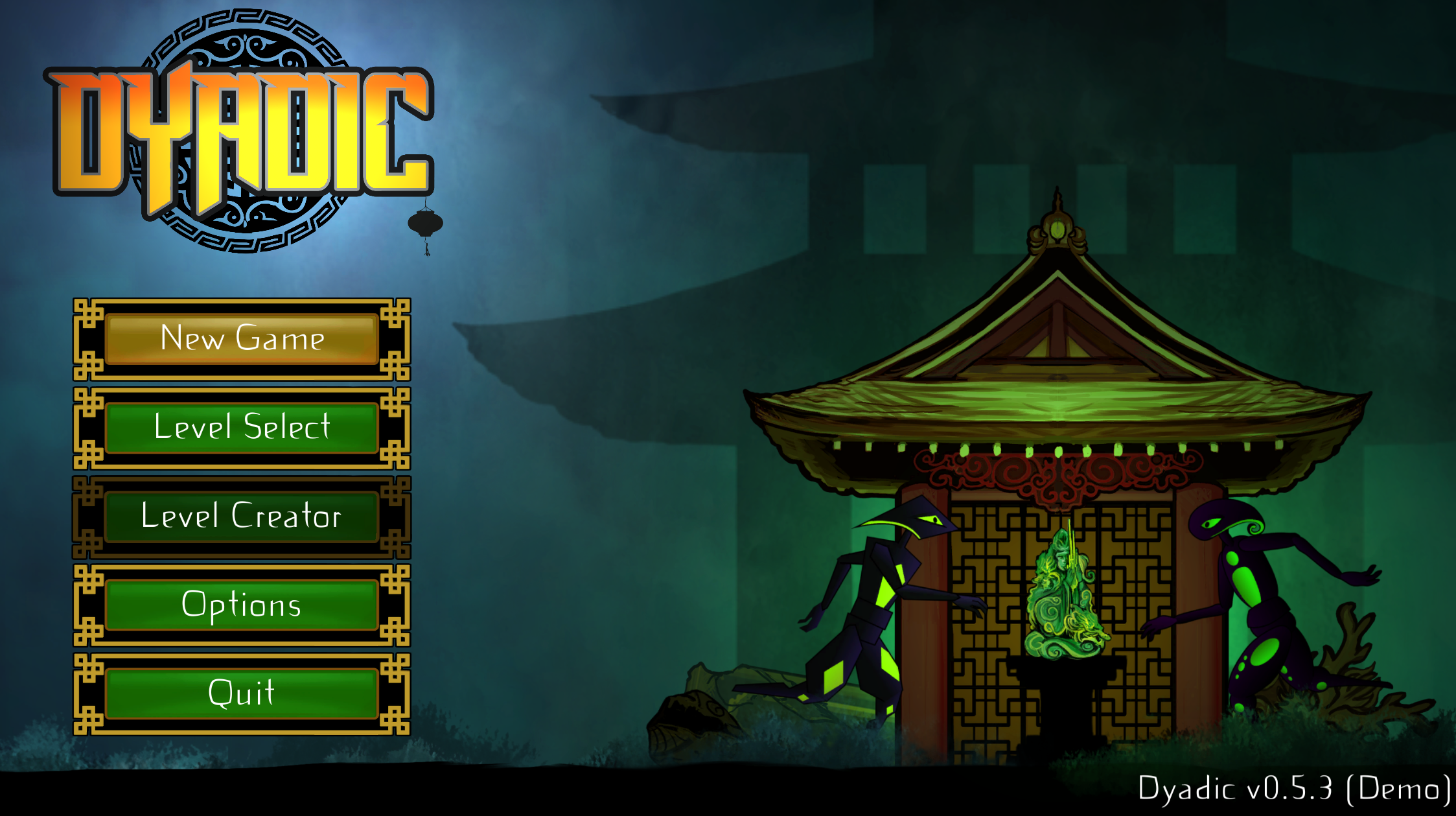 Isn't it beautiful?
A significant improvement over the previous version. Additionally, these interface updates improved the pause menu, improved the options menu, added a loading screen, and added several splash screens, to name a few. Unfortunately, we haven't had the time to make the splashes skip-able, but don't worry, there's only a couple.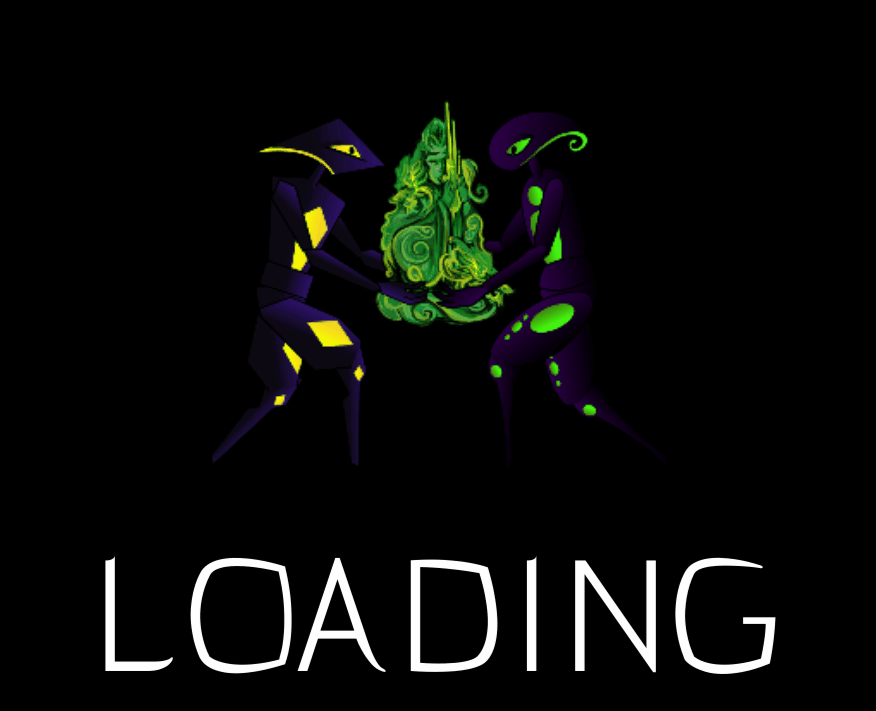 They're never going to stop fighting over that thing. Never.
Beyond this, the game now supports all three control schemes! This means you can now play using the traditional '2 on 1' style, where you and your partner share the same controller; '2 on 2', where you and your partner each have your own controller because you can't stand the thought of having to be physically close to each other; or keyboard controls, where the two of you will use different ends of the same keyboard. Now that these have been implemented by Jared, it means that anyone can play, regardless of if they have a controller or not! Well, anyone on a Windows machine anyway, Mac and Linux aren't quite working yet, unfortunately.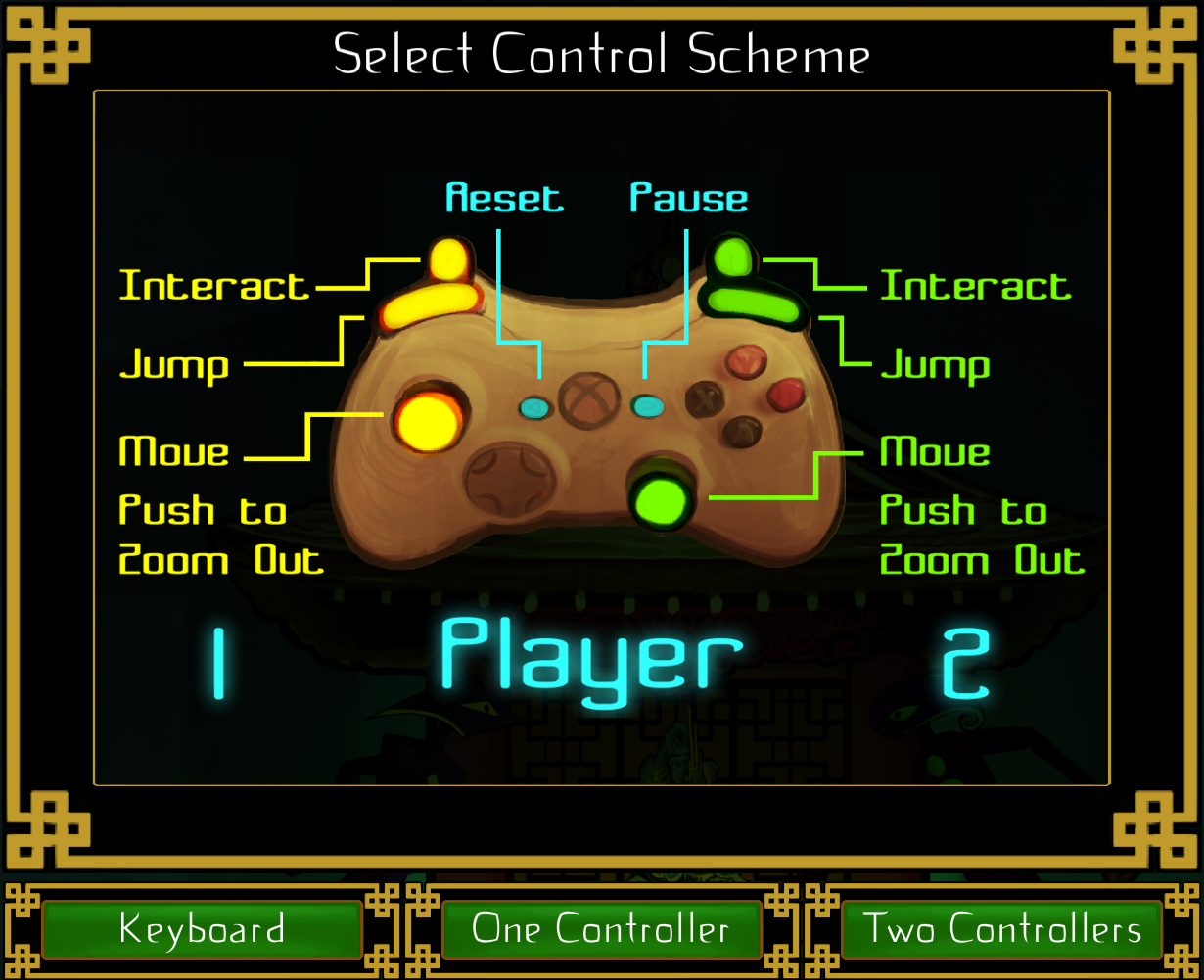 Let's be honest, '2 on 1' will always be the best choice.

I myself have been going through the levels and tweaking all kinds of things. Shifting this puzzle piece out a bit, changing the layer of these sprites up and down, that sort of thing. Corey and I have been working closely together this week to try and make the elevators as fluid and useful as possible. So now there's a brief delay after activation before they start moving, so you can still get on, but most importantly they now also move significantly faster if neither player is standing on them. Is it possible for this to be exploited for speed runs? Yes, but I'm not telling you exactly how.
So that's the week for Dyadic. Again, be sure to try out the demo and let us know what you think! You won't regret it! Or you might. But if you do, make sure you let us know, so we can feel bad, but also so we can try to make the game better. And let us know if you don't regret it too, that's also a useful thing for us to know. Look, just play the game then tell us about it okay? Please? Cool, thanks.
Until next time,
Jack
Download the Demo (For Windows) here: dyadic/downloads/dyadic-demo-windows
Our Steam Greenlight Page: steamcommunity.com/sharedfiles/filedetails/?id=491366195
Our Website: handsomedragongames.com
Our Facebook Page: facebook.com/handsomedragongames
Our Twitter Page: @AHandsomeDragon