Demo V5
Hot off the presses, Demo V5 launched just today bringing with it a LOT more color. It's by no means as huge of an overhaul as Demo V4, but it has a few key changes.
Download Demo V5:
You can grab Demo V5 from Itch.io (and it will be coming soon to our website!) Available for Windows, Mac, and Linux! Don't forget to vote for Robo's World: The Zarnok Fortress on Steam Greenlight!
Day of the D-Pad
In addition to being a whole lot more colorful, Demo V5 should be a lot easier to play with a Playstation controller with the added support for swapping your movement axis.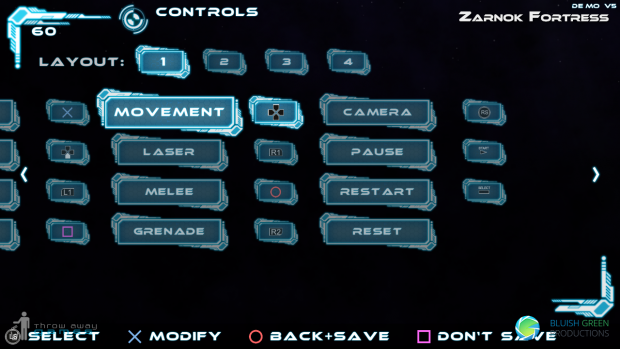 Swap between Playstation, Xbox, and XBone Button images
You can even swap your Camera Axis if you are so inclined! And if you really want to, you can map Movement to the Right Analog stick. Don't know how many people will make use of this, but it's possible!
The Big Change: V3 to V4
Since I didn't get around to discussing this last week, I thought I'd take a moment to go over what made Demo V4 such a big change and why we felt it was necessary. As much as I promote Robo's World: The Zarnok Fortress as a "Mega-Man style Action-Platformer" players would prefer to run up to enemies and try punching them to death. Nevermind the fact that your Melee only does 1 damage while your Laser does 3, it also opens you up to being hit by enemies who hit for 2 damage. Basically, players were artificially inflating the game by going at it slappers only. Enemy Zarnok Robots didn't show up until level 6, which was rather late all things considered. Originally I was trying to make sure that players were properly comfortable with all the other mechanics of the game before they had to worry about Combat, but players are far more trigger happy than I originally anticipated. The biggest reason for the re-shuffle was the original Level T7. It was the introduction to the Dash ability and featured some of the most difficult platforming challenges in the game, followed by a puzzle which most players found far too complex for something this early in the game. When the opportunity came up to redesign Level T7, I suggested instead designing a new level that would slot in after Level T3. This new level would still introduce players to Dashing (3 levels earlier) and it would introduce them to Enemies. Critically, it would introduce players to Enemies before they learned about the Melee ability. Plus, since players were now properly equipped to deal with Enemies earlier in the game, it meant I could include them in more levels.
TL; DR: Level T7 was too hard and players keep punching enemies instead of shooting them so I swapped the level order around to teach players to shoot enemies before they learn about the melee attack.
Until next week!
Demo V5 is the last big update to the game's free offering, so with that done look forward to something different next week, perhaps I'll get to talk about New Game Plus which I've been meaning to mention for a while now! Either way, Follow us on IndieDB to stay in the loop and follow me on Twitter for more frequent updates!