Hey :D
I want to show you our new project Devastated: Andrew's Dictaphone.
We (Angela, Christopher and myself, Daniel) have been working on the project since September and plan to release it for free in Q1 of 2018. It will be available for Windows and Linux!
At the moment we are halfway down the road. We needed some time to figure out the art style but we are relatively sure that we won't stray much more from our direction from now on.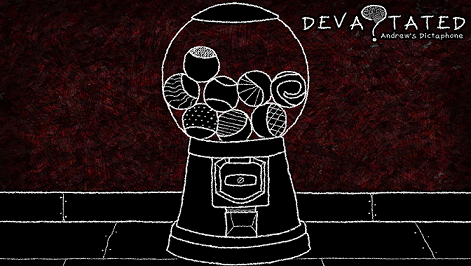 Right now we have finished most of the soundtrack, one quarter of the soundeffects, half of the graphical assets (but we need to revise some of these graphics) and one quarter of the text finished. In the first months we mainly focused on gameplay. It may be a little bit confusing why a Point and Click Game needs this much time for the gameplay but we wanted to ensure the best possible experience. Our last game (Intra-System: Trust Issues) suffered a bit in this regard and we wanted to optimize it from the start.
I'm working mostly on the story (but also on audio and some other things; our roles within the team aren't really defined, especially not mine) and trying to convey the narrative in the best possible way. I want to write majority of the script this week.
Due to the fact that all of the scenes are made in 4K Madame Yavi has some technical difficulties which slow down the process (the old AMD FX aren't great at handling Photoshop (or Photoshop isn't great at working with these cpus)). Also, we want to create some gifs to give the right impression of the setting.
Chris is currently figuring out ways to make the game more performant but working with OpenGL can be a pain in the ass sometimes. We also want to ensure not only that the loading times of the game are relatively short but also that the player doesn't need to wait for a new scene. Especially the 4K resolution may cause some problems.
We hope that we manage to finish the beta this year but we will have to see how it goes. We need to do almost all of the voicefiles soon but this shouldn't be a big deal.
So, that's it! :D I want to update this devlog every monday at least but hopefully I'll manage to do it more often!
If you want to know more check out our website and we are also at Twitter